Auction ended on October 25th, 2008 UTC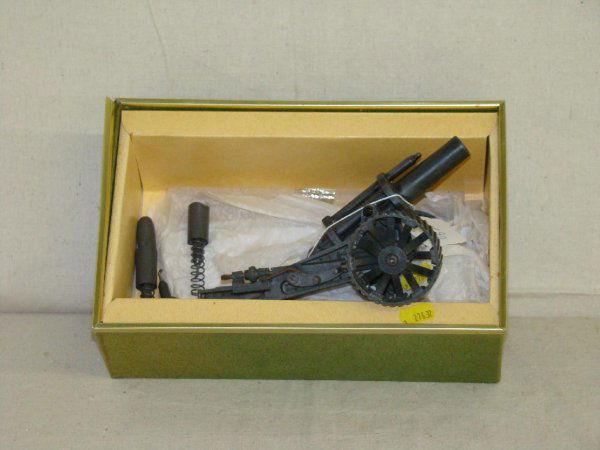 Accepted payment methods

:
Important Note On Internet Absentee Bid: Items Offered Are Part Of A Live Auction At Philip Weiss Auction's Gallery. Items Are Offered In Numerical Order And Are Auctioned At A Pace Of Approximately 75-100 Lots Per Hour. Please Note Ebay's "Time Remaining" Time Stamp IS NOT An Accurate Reflection Of The Hour At Which The Lots Will Be Offered. Absentee Bids Left On Ebay Live Auction ARE NOT The Same As Bids Left With The Auction House Directly. They Are Executed From A Proxy Computer Terminal In The Room Against Other Internet Bidders. Other Competitive Bids Include Bidders On The Telephone, In The Room, And Absentee Bids With The Auctioneer. Ebay Does Not Provide The Ability For Auction Houses To Incorporate Absentee Bids From Ebay Live Auctions With Those Left Directly With The Auction Staff. Therefore Tie Bids May Occur Between Ebay Absentee Bids And Other Bidders. Tie Bids Are Broken By The Order In Which The Auctioneer Accepts The Bids NOT When The Bids Were Entered With Ebay. For Example, If There Is A Tie Bid With A Live Present Bidder And A Ebay Live Bidder, Preference Will Be Give To The Live Bidder Present. In All Cases The Auctioneer Has Final Discretion Over Which Bids To Accept. This Is Due To The Fact That Ebay Does Not Release To Philip Weiss Auctions The Actual Top Bid Amount But Rather Each Consecutive Increment As The Live Bidding Progresses. We Are Not Responsible For Inadvertent Bids, Or Problems Arising Due To Internet Connections, Incorrect Computer Settings Or Other Website Related Problems Beyond Our Control. Please Note: Everything in our Auctions is SOLD AS IS, RETURNS WILL NO LONGER BE ACCEPTED, and WITH NO EXCEPTIONS! All of our descriptions are written as accurately as possible, with all sizes approximate, and all apparent faults noted. Because of the volume of material we place in each of our sales, some descriptions may contain erroneous information or minor faults could be missed. It would be in your best interest as a serious buyer, for yourself or a reliable representative come to our Gallery to Pre-view the items in person, or at the very least, call us during pre-view hours so one of our representatives can look at the item while you ask specific questions. You, the customers, are the experts. While our staff has a wide range of knowledge in the collectibles and memorabilia field, we cannot possibly have expertise in every specific category of collectible. PLEASE BE COMFORTABLE WITH THE ITEMS YOU ARE BIDDING ON, IF YOU HAVE ANY DOUBTS, WE PREFER THAT YOU DO NOT BID! This is not because we don't value your business, but more the fact that WE WANT HAPPY CUSTOMERS! Any Claims As To Authenticity Must Be Brought To The Auctioneer's Attention Within Two Weeks Of Auction Closing. Lots May Be Withdrawn By Auctioneer Prior To Sale Without Notice. Estimates Printed In Our Catalogue Reflect What We Feel Is A Fair Market Value Of Said Item(S). Terms For Payment May Be Made For Large Purchases Prior To Bidding, Kindly Inquire For Details. All Items Remain In Custody Of Philip Weiss Auctions Until Payment Is Made In Full. Please Note Group Lots Should Be Expected To Be In Mixed Condition With Items Ranging From Low Grade To Higher Quality Condition. Please Ask For Specific Condition Information Before Placing Bids. Grading And Conditions Are Subjective And Should Only Be Used As A Basic Guide To Aid In Your Bidding. New York State Residents Must Add 8.625% State Sales Tax Unless You Submit A Valid Resale Certificate. All Domestic Buyers Are Required To Pay The Proper Shipping And Handling Cost Including Insurance, And International Buyers Are Required To Pay The Proper Insured Air Mail Delivery Cost. All Items Shipped Outside The U.S. Will Be Declared At Full Value For Customs. Philip Weiss Auctions Is Not Responsible For Any Additional Customs/Duty Taxes That May Incur. All Buyers Must Confirm Purchase Within 3 Days Of Auction Close. Actual Payment Must Be Received Within 10 Days Of Auction Close. Payment Must Be In U.S. Dollars Only. Accepted Forms Of Payment Are: Bank Check, Bank Wire Transfer, Personal Check (Must Clear, And Be Drawn On A U.S. Bank), Cashier's Check, Money Order, MasterCard, Visa, Cash (In House Only) Sent At Your Risk, Or Paypal (Domestic Only). Unfortunately, We No Longer Accept Paypal From International Buyers. International Buyers May Contact Us via Email, Phone or Fax with Credit Card Details. Both Domestic And International Buyers May Call Us At: 516-594-0731, Mon - Fri. 9am-4pm (Eastern Time) And Give Us Your Credit Card Details, Or If You Choose To E-Mail Your Charge Information, Be Sure To Include The Type Of Credit Card, Entire Card #, Complete Expiration Date, Name As It Appears On Credit Card, Issuing Bank, And Security Code. Local Buyers May Also Pick-Up Items Directly. Buyers Of Larger Items, I.E. Furniture, Should Contact Us Prior To Bidding And Arrange Carrier Service / Pickup. In Some Circumstances, We Can Arrange Shipping, But Again This Must Be Arranged Prior To Purchase. Bidding In This Or Any Of Our Sales Constitutes Acceptance By The Bidder Of All Above Terms And Conditions. Thank You And Kindly Check Our Other Auctions For More Interesting And Great Items.
Bid Anywhere, Anytime. Download the LiveAuctioneers App.
Available on the App Store
Android App on Google Play