lots of lots
Auction ended on October 14th, 2006 UTC
1021: SGND BRIAN COOLE, AMERICAN SHIP IN HARBOR O/C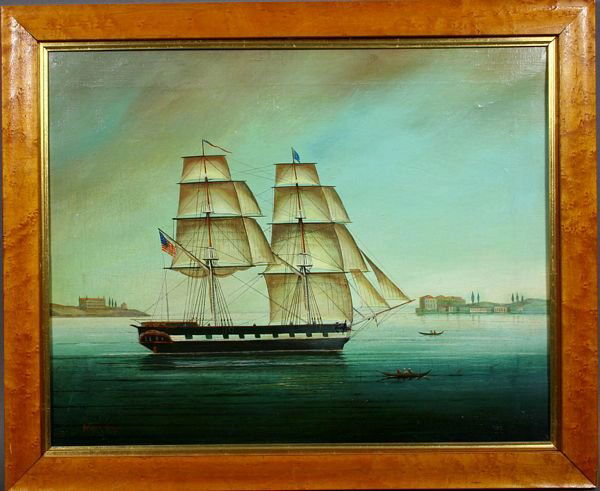 Brian Coole (20th Century), American Ship in Harbor, o/c, 16" x 20", in figured maple frame 18 1/2" x 22 1/2", signed LL. Good condition.
Taxes
Massachusetts sales tax of 5% applies to MASS residents. If you have a current Resale Tax Certificate, the number and a copy must be provided to Kaminski Auctions for adjustment to your invoice. The initial invoice you receive LA cannot be revised for Sales Tax.
Payment
We accept PayPal, personal business checks, money orders and cash. We no longer accept credit cards.
Shipping
Shipping Arrangements IT IS THE BUYERS RESPONSIBILITY TO ARRANGE AND PAY FOR PACKING SHIPPING. WE DO NOT MAKE SHIPPING ARRANGEMENTS OR QUOTE SHIPPING CHARGES. ALL BUYERS MUST CONTACT A SHIPPING COMPANY TO MAKE ALL PACKING AND SHIPPING ARRANGEMENTS INCLUDING PICK UP, SHIPPING CHARGES, AND CLAIMS. IF ITEMS ARE NOT PICKED UP WITHIN 30 DAYS A STORAGE FEE OF 10.OO PER DAY WILL BE CHARGED Final arrangements and agreements are strictly between the buyer and the shipper. Kaminski Auctions is not responsible for the buyers choice of a shipper or for any occurrences during shipping. Although we do not offer packing or shipping service, we can recommend the following shipping companies: PARCEL PLUS at 978-921-0478 or by email at: team.beverlyparcelplus.com. Please note Parcel Plus offers our customers a 20% discount. Specializing in small items, and small single pieces of furniture. THE UPS STORE at 1-781-224-2500 or email: store4423theupsstore.com. Website: www.ups.com. CRATERS FREIGHTERS at 1-866-278-3787 or 1-508-894-0123, email: BostonCratersandFreighters.com, Website: CratersAndFreighters.comequote LDG ANTIQUE DELIVERY SERVICE at 1-561-212-7159. Email: antiquedeliveryaol.com BOSTON TRUCK CO., INC. AT 1-800-899-8706 LEO COMEAU at 1-978-852-5767, for deliveries from MA to Atlanta GA. A BETTER MOVER at 1-866-466-8303 Email: abettermoveryahoo.com ALL ITEMS ARE PURCHASED 'AS IS' AND 'WHERE IS WITHOUT WARRANTY. ALL ITEMS MUST BE PAID IN FULL AND CHECKS CLEARED BEFORE THEY CAN BE RELEASED. Please notify us which company you have chosen, as we will not release your merchandise to anyone without your authorization.
Terms
Terms & Conditions of Sale 1. All property is sold AS IS/WHERE IS and all sales are final. While the Auctioneer will, to the best of his ability, describe the items for sale, there are no warranties, expressed or implied, that the property offered for sale is what it is described to be by the Auctioneer or the catalog. The bidder is solely responsible for determining the age, size, condition and value of the property before bidding. Neither the Auctioneer nor the Consignor will be held responsible for any descriptions of the rarity, quality, condition, size, importance, or provenance of the property, and no statement, whether oral or written, by the Auctioneer or by any representative of Kaminski Auctions shall be deemed a warranty or representation regarding the property offered for sale. 2. The buyer's premium on property purchased on eBay live auctions will be in the amount of 20% of the final bid price. 3. The Auctioneer, at his sole discretion, reserves the right to reject any opening bid, which he feels is unacceptable or too low. The Auctioneer also reserves the right to withdraw any property before the sale. 4. The highest bidder acknowledged by the Auctioneer will be the purchaser. In the event of a dispute between bidders, or, in the event of doubt on the Auctioneer's part as to the validity of any bid, the Auctioneer will have the final discretion to determine the successful bidder, or the choice to re-offer and sell the property in dispute. 5. Once the Auctioneer announces the word 'Sold', title to the property will immediately pass to the highest bidder acknowledged by the Auctioneer. Once title to the property has passed to the highest bidder, such bidder (a) assumes all risks and responsibilities (b) will pay the full purchase price plus buyer's premium (c) will arrange for packing and shipping of said property. 6. All items must be paid for within 7 business days of the auction. Kaminski Auctions will email an invoice to all winning bidders within 72 hours of the end of said auction. Failure to make payment arrangements within the 7 days will result in a Non Paying Bidder being placed on your eBay account. Kaminski Auctions reserves the right to hold items paid by check until the check clears. There is a handling charge of $25.00 for dishonored checks. 7. All purchases are subject to 5% MA sales tax unless purchaser has MA sales tax exemption number. Items shipped or mailed out of the State of Massachusetts are also exempt from MA sales tax. 8. All terms and conditions of sale are governed in accordance with the laws of the state of Massachusetts. 9. Kaminski Auctions will provide the names of local shippers with whom the purchaser may deal directly. Payment must have been received and checks cleared prior to the release of property for shipping. Please see shipping instructions for details. 10. Live Internet bidding is available during the auction. Kaminski Auctions cannot be held responsible for live internet bids that are not sent, received, or executed by the administrator. 11. Bidding on any item indicates your acceptance of these terms and conditions of sale.
Bid Anywhere, Anytime. Download the LiveAuctioneers App.
Available on the App Store
Android App on Google Play