Auction ended on February 19th, 2012 UTC
134: Antique 1923 Glass Five Masted Ship in a Bottle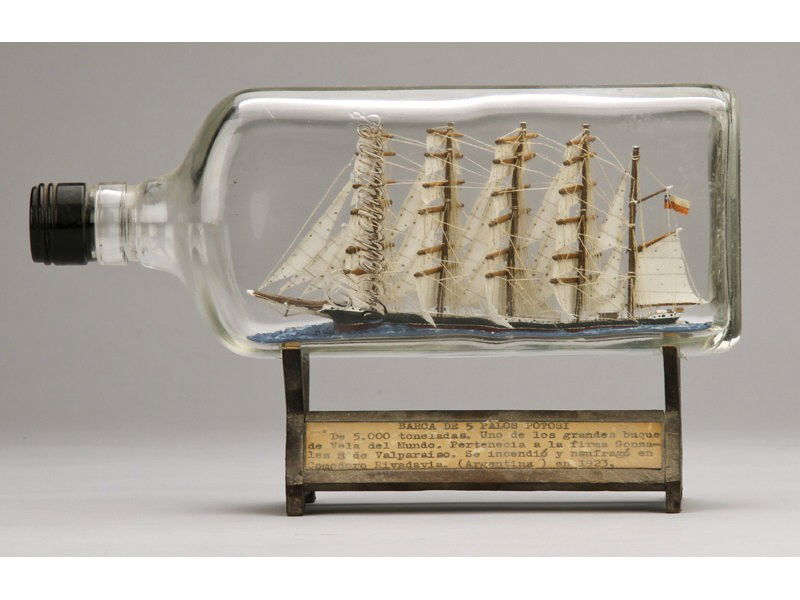 Glass Ship in a Bottle of Five Masted Sailing Ship. The glass ship in an old Ballentine Whiskey bottle with wooden stand titled in Spanish which details the specifications of the Barca de V Palos Potosi, Argentina, 1923. In good condition. Measures 6" high and 9 ½" long.
Accepted payment methods

:
1. Thank you for your interest in our auction. Placing a bid on our items constitutes your agreement to pay as specified in the Liveauctioneers guidelines. While every reasonable effort has been made to ensure accuracy, statements called from the auction block take precedence over any written material. On the fall of the auctioneer's hammer, the highest bidder shall be deemed to have agreed to purchase the offered lot in accordance with all of the conditions set forth herein and, thereupon will pay the purchase price in full. 2. Payment terms: All items are to be paid for within 10 days of auction end by a) Cash (in house), b) Cashier's Check c) Properly authorized Visa, MasterCard, d) Money Order in U.S. dollars, e) Bank Wire Transfer. WE DO NOT ACCEPT PAYPAL. No property will be released until payment in full is made on the items. 3. We reserve the right to reject a bid from any bidder. The highest bidder acknowledged by the auctioneer shall be the purchaser. In the event of any dispute between bidders, or in the event the auctioneer doubts the validity of any bid, the auctioneer shall have sole and final discretion either to determine the successful bidder or to re-offer and resell the article in dispute. If any dispute arises after the sale, our sales records shall be inclusive in all respects. 4. All sales are final. Notwithstanding any other terms of these conditions, any and all refunds shall be given at the sole discretion of Myers Auction Gallery. Refunds requested on the grounds of authenticity must be made within 20 days of the auction date, and such requests must be accompanied by at least one supporting statement in writing from a recognized authority. Any item lot in question must be returned to Myers Auction Gallery in the exact same condition as when sold. 5. Buyers have the right of rescission, provided that within 48 hours of their receipt of the property they inform us that the physical condition materially differs from the catalogue description (or from a provided condition report) or the catalogue description is inaccurate, to our satisfaction. Buyers must return the property immediately and show clearly any differences or inaccuracies with the catalogue and the property must be received in the same condition it was sent. 6. We reserve the right to withdraw any property at any time before the actual sale. Unless otherwise announced by the auctioneer at the time of sale, all bids are per lot as numbered in the catalogue and no lot shall be divided for sale. 7. Myers Auction Gallery expends much time and effort describing all items as accurately as possible. We provide quality images, detailed informative descriptions and take special care to note any imperfections and damage. Please bid with confidence and feel free to call 727 823 3248 or email us at auctions@myersfineart.com with any questions well in advance of the auction. All property is sold "as is" and neither we nor consignor makes any representation or warranty, expressed or implied, as to the merchantability, fitness or condition of the property or as to the correctness of description, genuineness, attribution, provenance or period of the property. In the event that a refund is authorized any and all shipping costs will not be refunded. 8. Estimated Prices - As a convenience to our clients, we furnish pre-sale estimates for all materials included in the auctions. These estimates are only our approximate valuations and should be taken as educated guesses based upon comparable auction values, not as "prices." Bidding normally begins at about one-half the low estimate, but the final bid price may well be less than or more than any estimate printed. 9. With respect to all property, a buyers premium of 15% of the successful bid price will be added thereto and is payable by the purchaser as part of the total purchase price. 10. With respect to sold property; all lots must be removed from our premises at the purchaser's expense, no later than twenty days following the date of the auction. We reserve the right to transfer non-removed property to a storage facility at the purchaser's risk and expense unless prior arrangements have been approved by the auctioneer. 11. All shipping arrangements and costs are the sole responsibility of the buyer. We are happy to assist in the transfer of merchandise to a shipper of your choice. Buyers should request a shipping quote prior to bidding. For your convenience local shipper Thad, at PKG Shipping has provided the following link: http://www.pkgsinc.com/myersfineartshipping.html to obtain individual shipping quotes on items. Once you click the link, scroll to the item for a quote. To the left of each description, is the shipping quote from PKG Shipping. You may also contact Thad Deye of PKG Shipping at 727-895-7547 or by email at: pkgs@pkgsinc.com. There are other reliable shipping companies to use and they include: (2) Ed Parsley of The UPS Store at (727) 528-7777. Ed also ships larger items, his email address store6173@theuspsstore.com and website: http://www.theupsstorelocal.com/6173. (3) Pack,Ship,Print Center, email address: pspcenter@verizon.net or tel. 727.345.8474 or 727.773.7347. (Ships primarily by DHL and FedEx, but will also give you other alternatives.) Please have the lot number, your zip code and the approximate size of the item for a shipping quote. LARGER ITEMS SHIPPING SUGGESTIONS Items too large for standard shipping such as furniture. (1) Plycon - Furniture Transportation Specialists. email: lisa@plycongroup.com and telephone: 954-978-2000 (U.S. only)website http://www.plyconvanlines.com/ You must submit request on-line. (2) All Directions Moving - Specialist in moving furniture from FL to NY. email: alldirections@comcast.net telephone 866-660-8440 (3) T S C Moving - Furniture Transportation Specialists. website: http://www.tscmoving.com/ email: info@tscmoving.com and telephone: 352-372-1702 (U.S. Only). (4) Craters & Freighters, email Tampa@cratersandfreighters.com, 813.889.9008/877.448.7447 (U.S. & International). (5) Vintage Transport http://www.vintagetransport.com, 800.333.0056 (Eastern United States) or 888.882.4442 (Southwestern United States). There are of course, many other local and national shippers located in our area. We are not responsible for any delays on the part of this third party shipper, should there be any. We recommend shipping all items insured. Should any damage occur to items transported by a third party, we are not held responsible. In the event that an item is approved for a return, shipping is not refundable. 12. We are prevented by fire, theft or any other reason whatsoever from delivery of any property to the purchaser, our liability shall be limited to the sum actually paid by the purchaser. Bid Increment Table Minimum Value Maximum Value Expected Bid Increment from US $ 0 to US $ 100 US $ 10 from US $ 101 to US $ 500 US $ 25 from US $ 501 to US $ 1000 US $ 50 from US $ 1001 to US $ 2500 US $ 100 from US $ 2501 to US $ 5000 US $ 250 from US $ 5001 to US $ 10000 US $ 500 from US $ 10001 to US $ 15000 US $ 1000 from US $ 15001 to US $ 50000 US $ 2500 from US $ 50001 to US $ 100000 US $ 5000 from US $ 100001 and above $1000000 $10000 US ALL PROPERTY IS SOLD AS IS. ALL SALES ARE FINAL. A 15% PREMIUM WILL BE PAID BY THE PURCHASER AS PART OF THE PURCHASE PRICE
Bid Anywhere, Anytime. Download the LiveAuctioneers App.
Available on the App Store
Android App on Google Play