Auction ended on September 9th, 2011 UTC
Nasco Italy Hammered Metal Ice Bucket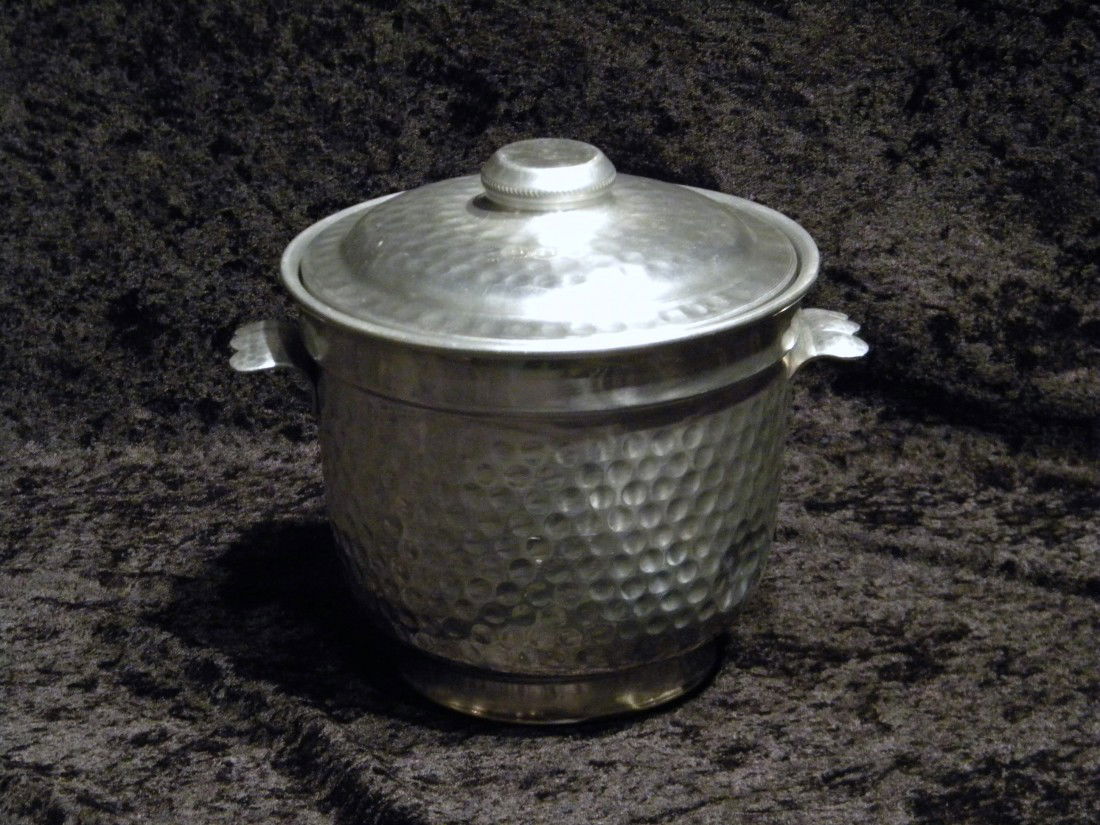 Nasco Italy hammered metal ice bucket, 8" high, 9" diameter.
Condition

:

PLEASE NOTE: Bloomington Auction Gallery makes every effort to completely and accurately represent items for sale. To that end, The ""Condition Report"" is still only an opinion. Items are believed to be in EXCELLENT CONDITION UNLESS OTHERWISE STATED ABOVE. The absence of a condition statement does not imply that the lot is in perfect condition or completely free from wear and tear, imperfections or the effects of aging.
Accepted payment methods

:
RESTOCKING FEE
A 20% restocking fee will be charged in the event that an item is refused, unclaimed, unpaid, or returned. This fee is calculated as a percentage of the total purchase price, including buyer's premium, and applies to all items unless misrepresented by Bloomington Auction Gallery, LLC in the written description. PLEASE CHECK ALL ITEMS FOR DESCRIPTION ADJUSTMENTS PRIOR TO THE AUCTION.
Payment
We accept: Cash, Personal Check, Money Order, Wire Transfer, MasterCard, Visa, Discover, PayPal.
Shipping
LOW SHIPPING COSTS Shipping is handled in-house unless otherwise noted in the description or requested by the buyer. Bloomington Auction Gallery does not profit from shipping. We only charge EXACT SHIPPING COSTS plus a very nominal handling fee to cover packing materials. The buyer is responsible for shipping and handling costs. INSURANCE IS REQUIRED - If you prefer we do not insure your item(s), please notify us IN WRITING that you will be assuming full responsibility for the shipment and absolve Bloomington Auction Gallery of any responsibility for damage.
Terms
TERMS AND CONDITIONS ________________________________________ *** SHIPPING WILL BE HANDLED IN-HOUSE UNLESS OTHERWISE SPECIFIED BY BUYER (this is in an effort to maintain the lowest shipping and handling cost for our buyers) OR OTHERWISE SPECIFIED IN THE ITEM DESCRIPTION*** 1. The highest bidder acknowledged by the Auctioneer shall be the purchaser. In the event of a dispute between bidders, the Auctioneer shall decide who was the successful bidder, or he may re-offer the disputed item for sale. 2. The Auctioneer reserves the right to reject any bid or raise not commensurate with the value of the article being offered on items upon which there is a reserve, Bloomington Auction Gallery shall have the right to bid on behalf of an absentee bidder. 3. Buyers premium of 20% of the final bid price will apply to online purchases and will be paid by the buyer as part of the purchase price. 20% Buyers premium discounted to 17.5% with invoices being paid by cash or check. Additional 5% discount will be applied to invoices of items removed from gallery day of sale. 4. PAYMENT DETAILS: Buyers must make payment WITHIN 5 BUSINESS DAYS OF SALE. Failure to make payment with in 5 business days of sale will be considered DEFAULT OF PAYMENT. In the case of Default of Payment, a formal dispute will be entered DAY 6 OF DEFAULT through LiveAuctioneers against said buyer, by Bloomington Auction Gallery which may result in suspension of bidding privileges in future sales (please also see item #12 below for additional information). Bloomington Auction Gallery's ACCEPTABLE FORMS OF PAYMENT INCLUDE: Cash, Wire Transfer, Certified Funds, Personal Check, PayPal, and Credit Cards (Visa, Master). 5. Bloomington Auction Gallery reserves the right to hold merchandise paid by personal check until the check has cleared our bank. Makers of bad checks will be prosecuted to the full extent of the law, and charged all the fees, Interest, legal and other, incurred by Bloomington Auction Gallery. 6. All goods sold must be claimed upon presentation of paid receipts only. 7. The record of sale kept by Bloomington Auction Gallery and bookkeeper will be taken as final in the event of any dispute. 8. ABSENTEE & PHONE BIDS are executed by a member of Bloomington Auction Gallery staff on the Bidder's behalf up to the amount spoken, or specified on the bidding form. Please call the gallery at (309)828-5533 to make arrangements. One problem that we have encountered using absentee bidding might occur when someone on the floor bidding the exact amount specified as a limit on the sealed bid. It is our policy to offer the option to +1 bidding (the next 1 bid) in this case to bid on behalf of the absentee bidder for the next raise, therefore he/she does not lose an item at the exact amount. Bloomington Auction Gallery is not responsible and shall have no liability whatsoever for phone bidders who cannot be reached during the auction. 9. PROPERTY WITHDRAWAL: We reserve the right to withdraw any property before and during the sale, as well as reserve the right to group one or more lots into one or more selling lots, or to subdivide into two or more selling lots. Bloomington Auction Gallery shall have no liability whatsoever for such withdrawal, addition or amendment. 10. Bloomington Auction Gallery shall not be responsible for the correct description, authenticity, genuineness of or defect in any lot, and makes no warranty in connection therewith. No allowance will be made or sale set aside on account of any incorrectness, error in cataloging or any imperfection not noted. No deduction will be allowed on damaged articles as all goods being exposed for public exhibition are sold "as-is" and without recourse. Prospective bidders are advised to inspect the property before bidding on-site or on our website. Since we are not professional conservators or restorers, we urge you to consult with a restorer or conservator of your choice who will be better able to provide a detailed, professional report. Prospective buyers should inspect each lot to satisfy them selves as to condition and must understand that any statement made by Bloomington Auction Gallery is merely a subjective, qualified opinion. All lots offered are sold "as is". ***RETURNED ITEMS*** If buyer returns an item for reasons other than faulty description, BUYER IS RESPONSIBLE FOR A 20% RESTOCKING FEE *** 11. A title passes upon the fall of the Auctioneer's hammer or utterance of the phrase, "Sold!" All bills must be paid in full before leaving the premises the day of the sale. Lots that have been paid in full are to be taken at the buyer's risk and expense at the conclusion of the sale. All items not picked up on the day of the auction need to be picked up or removed from the auction location no later than 10 Days from the auction date unless arrangements are made with the auction company. 12. In default of payment of bills in full within the time herein specified, Bloomington Auction Gallery in addition to all other remedies allowed by law, may retain all moneys received as deposit or otherwise liquidated damages. Lots not paid for or not removed within the time specified herein may be resold at public or private sale without further notice and deficiency, otherwise all expenses and charges of resale will be charged to the defaulted purchaser, including legal fees incurred by Bloomington Auction Gallery. If you are registering or executing a bid for someone else under your number, please bear in mind that you are responsible for the settlement of that account with us regardless of whether the person you're executing or registering for pays you or not. 13. Any additional terms or conditions of sale added by Auctioneer shall be announced prior to the auction. 14. SALES TAX: All purchases are subject to Illinois sales tax unless the purchaser possesses a sales exemption certificate. 15. Any bidding on any lot(s) in this sale; whether in person, by agent, order bid, telephone or other means, constitutes your acknowledgment and acceptance of all the above terms of sale. 16. By agreeing to the terms and condition, if you are paying by CC, and provide your CC number you are authorizing Bloomington Auction Gallery to charge the amount of your purchases plus any fees.
Bid Anywhere, Anytime. Download the LiveAuctioneers App.
Available on the App Store
Android App on Google Play