Auction ended on September 18th, 2011 UTC
697: 1950's Coca-Cola "Superior" round top garbage can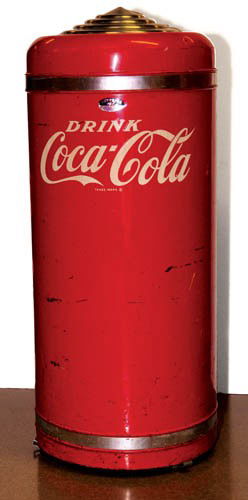 1950's "Superior" round top garbage can These are hard to find. This one is nice made by "Superior". Scratches, rubs and a few small dents. Nice piece
Accepted payment methods

:
We advise all bidders to read terms and conditions of sale set forth in this catalog. Those bidding / buying are bound by the terms and conditions of sale, stated herein, as well as amended by any oral announcements by the seller or representative of the seller, or posted notices, which together form the contract of sale between the successful bidder/buyer and the sellers of the lot. Richard Opfer Auctioneering, Inc. and the Schmidt Museum of Coca-Cola Memorabilia (hereinafter referred to collectively as "Sellers") and any person who submits a successful bid for the purchase of the items described herein (hereinafter referred to as "Buyer" or "Bidder") do hereby agree to the following terms and conditions. All checks, letters of guarantee, and correspondence shall be directed to: The Schmidt Museum of Coca-Cola Memorabilia 1) Condition of Goods: In the printing of this catalog, the Sellers have endeavored to accurately describe all items being sold, however; all items being offered are being sold "AS IS". All items are being sold "AS IS" as of the time of the sale, not as of the time of the exhibit. No statements made by the Sellers in this catalog, bill of sale, invoice or elsewhere by any representative of, or person, in the employ of the Sellers shall be deemed to be a warranty, expressed or implied, as to the physical condition, age, quality, size, history, importance, or provenance of any item sold. It is the responsibility of the prospective buyer to inspect the property before bidding to determine its condition, etc. 2) Disputes: If there is a dispute of any fashion between bidders, or if the auctioneer has any doubts as to the bidding on any item, the auctioneer will have the final authority to determine the successful bidder or to re-offer for re-sale the item in question. In any and all disputes arising after the auction, the Seller's records will be controlling. 3) Title to Goods: Title to all goods shall pass to the successful bidder at the fall of the auctioneer's "hammer". The purchaser shall assume full responsibility for the lot purchased once title has passed. 4) Removal of Goods: All property must be removed from the premises by 6 PM on the final day of the sale. It shall be the responsibility of the successful bidder to immediately remove the items purchased (see paragraph 8 for absentee bidders). The packaging, handling, and removal of all items shall be at the risk of the successful bidder. The sellers will not be held responsible for any acts or negligence on the part of any mover or packer of any purchased lot whether or not that particular mover or packer had been recommended by us. The Sellers will not be responsible for any item left on the premises after the purchaser has been successful with his bid. 5) Buyer?s Premium and Payment Terms: All items sold are subject to an 18 % buyer's premium, which will be added to the successful bid price and payable by the purchaser as part of the total purchase price. Buyer's Premium is discounted to 15% for bidders paying promptly by cash or approved check. All online purchases are subject to 18% Buyer's Premium regardless of payment method. Sales tax is figured on total purchase price. All accounts are to be settled by the end of the sale. Payment may be made by cash, Visa, MasterCard, or personal check if buyer has pre-registered and has been approved. Those buyers not known to us must obtain prior approval in order to settle accounts by personal or business check. Approval will be granted on the basis of personal reference from those who are known to us or upon presentation of a "letter of guarantee" from an officer of your bank. This letter should state an exact amount of funds guaranteed and should be presented to the cashier at the time of registration. In any event, the sellers reserve the right to hold all merchandise paid for by check until such check clears. 6) Errors: The sellers are not responsible for any typographical or any other errors omissions in this catalog or subsequent price key. 7) Sales Tax: All items are sold subject to applicable Kentucky Sales Tax laws. 6% Sales tax will be collected on all purchases unless a valid sales tax license is presented at registration. 8) Absentee Bids: As a service to our customers, the Sellers will execute absentee bids if so authorized in writing under the provisions herein specified. Absentee bids should be made on the bid form provided. The form should be complete and clearly filled out. Each bid form should be accompanied by a deposit in the amount of 20% of the total bid. Deposit checks to be made out to "The Schmidt Museum of Coca-Cola Memorabilia". Deposit checks of unsuccessful bidders will be returned within 7 business days from the date of the auction. Bids made in odd dollar amounts will be reduced to a more appropriate increment. All absentee bids will be executed competitively during the auction, and items will be purchased for the lowest possible price regardless of the amount of the absentee bid. "Buy Bids" will not be accepted. Where (2) absentee bidders bid the same amount, the first received will be honored. Invoices for successful absentee bidders will be mailed within a week following the auction. Accounts not settled within 30 days of the auction will be subject to forfeiture of all deposits and loss of title to the property. The Sellers perform absentee bidding as a service to potential buyers with the understanding that the Sellers will not be responsible for errors or failure to execute bids. 9) Shipping: Costs of packing and shipping are in addition to the purchase price and should not to be included in any bids. Any fragile or expensive item will be handled by professional packers. Buyers should be aware of the added expense of packing and shipping. 10) Phone consultations and email requests: There will be staff members available from Wednesday, Sept. 7th through September 16th to answer additional questions or respond to emails. All inquiries should be made to: The Schmidt Museum of Coca-Cola Memorabilia - call (270)234-1100, email schmidtmuseum@yahoo.com, or see frontispiece for a list of specialists and their phone numbers. 11) Agency: Any person acting as an agent, representative, or bidding as a personal favor for another person is legally responsible for payment in full of all successful bids. 12) Phone Bidding: Any prospective bidder may apply for phone bidding, however, only the top (5) qualified bidders will be allowed to participate by phone. All phone bid requests must be received by 12:00 Noon on Friday, September 16, 2011. 13) Seating: Reserved interior showroom seating is limited. Reservations and a refundable $1000 deposit will be required per chair. This seating is limited to 120+/- seats. All other seating is available under a tent. For more information, contact: schmidtmuseum@yahoo.com Agreement to terms: In bidding on any lot here offered, the bidder/buyer indicates acceptance of these terms of sale. For additional information regarding terms, conditions of sale, or any matter relevant to the auction, please contact: schmidtmuseum@yahoo.com Condition Guide M Mint: New condition, flawless, no visible marks or scratches. Mint = Perfect - 10 NM Near Mint: Very minor or slight marks, chips or scratches, minor tear (on paper). Nothing serious, that would detract from the color or beauty of the piece. NM = 8.5 - 9.9 E Excellent: Visible minor scratches, minor chips. Minor tears or peeling of paper items. Very presentable piece and very collectible. EX = 7.5 - 8 VG Very Good: Still collectible, but low end of excellent. A few more problems, slight pitting on metal, edge chips and scratches. A few tears (on paper) small pieces out of edges. VG = 5.5 - 7 G Good: Scratching, minor flaking, possibly small dents. Minor rust and pitting. On paper items, serious tear, possibly a small portion missing. G = 4 - 5 F/P Fair - Poor: More than minor problems, dents, trimmed, fading, or poor color. Possible rust, in worn state. (R) Restoration - Collectors today are very concerned about restoration. While in most cases restoration is acceptable, the quality or lack of the restoration is extremely important. Please keep in mind the museum has been in existence since the 1970's. Some pieces had early restoration. We have tried as best as possible to indicate on each piece if it has had any restoration, the extent of the restoration, and any information we have on who did the restoration. We have indicated with (R) after the condition guide the pieces that have had some form of restoration. Explanation of the restoration is given as we see it. The previewing time for this auction is extensive, a full week has been set aside for bidders to view each and every individual item, if necessary. We have allotted plenty of time for even the most die-hard condition minded individuals to examine any piece. In any event, with advanced notice arrangements can be made for additional examination of any piece. Special Note - Vending Machines / Coolers / Vehicles The Schmidt Museum Collection is offering a superb selection of vending machines and coolers. Keep in mind these machines have been on display since the 1970's. Their main purpose was strictly for display, in a museum setting. We made no attempt to determine if it is in working condition. If a machine has been restored, we have tried to explain the restoration as best as possible. However, it is very important to note here, that many machines were refurbished by the individual bottler and put back into service. We do not consider that refurbishing to be restoration. Again, any of these machines and coolers will be available for detailed inspection with advanced notice. All vehicles are being sold AS IS. Interested parties should personally inspect vehicles prior to purchasing.
Bid Anywhere, Anytime. Download the LiveAuctioneers App.
Available on the App Store
Android App on Google Play