Auction ended on April 3rd, 2011 UTC
699: ROBIN HOOD: PRINCE OF THIEVES - Metal Sword and Sh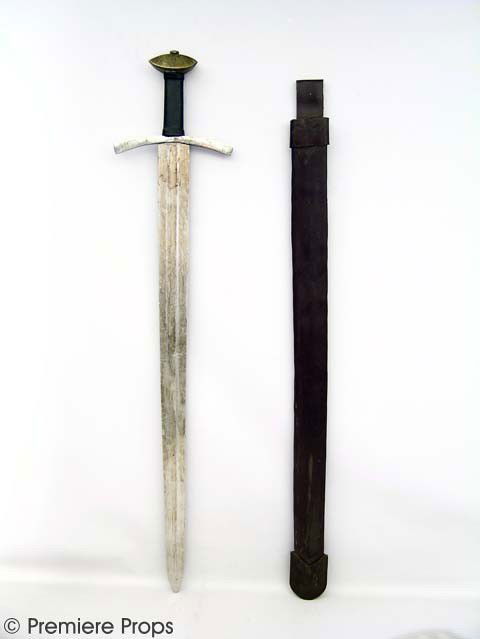 Robin Hood: Prince of Thieves (1991) - A battle-scarred metal sword with gold-colored brass hilt accent. The blade is dull. Includes leather like sheath with belt attachment. (*Sword is scratched, slightly chipped, dirty, and some rust, approx. 40" in sheath). Would make a gallant addition to your collection! This item is oversized and will require additional shipping charges. (RH3131)
Accepted payment methods

:
Premiere Props 128 Sierra Street El Segundo, CA 90245 Terms & Conditions This auction is being conducted under section 535 of the Penal Code and Section 2325 of the Commercial Code and Laws and Acts of Auctioneering. Announcements made the day of auction take precedence over any previous communication. 1. A buyer's premium of 18% of the hammer price shall be added to each purchase. For buyers bidding via Live Auctioneers online and via phone, a buyer's premium of 20% shall be added to each purchase. 2. Sales tax will be added to the purchase of all items. The buyer's premium is part of the purchase price and is taxable. CA residents will pay 9.75% unless a tax exempt form is on file at time of auction and resale permit filed at time of registration, or the equipment is physically removed by a trucking company and shipped out of state, providing us with a bill of lading. 3. Complete payment is required the day of the auction. Acceptable forms of payment are Visa, Mastercard, American Express, Discover, Checks (with bank letter of guarantee), Cash (In House Only) and PayPal. An additional fee of 2.5% will be charged when using a credit or PayPal for the amount of $5,000.00 and over. 4. Paid items must be removed from the auction location by purchaser at the conclusion of the auction, unless otherwise arranged. Please note that online purchasers who wish to pick up their items may do so on Saturday up to 6pm. Items remaining will be shipped upon receival of shipping payment. Items not paid for on the day of the auction will be charged a storage fee of $100 per item/day. 5. For oversized items that cannot be shipped, such as vehicles, buyers are responsible for their own asset removal. Buyers may utilize any commercial mover or shipper of their choice. However all commercial movers/shippers must provide to auction company proof of liability insurance prior to any removal or packaging work to be done at auction site. Local packing, shipping and insurance may be handled by the following third party shippers: Art Pack (310)324-5553 For vehicle pick up and delivery: Guarantee Auto Shippers (508)340-0495 Hot Shot Express (251)767-1722 Showtime (256)463-4720 Reliable (480)496-8000 6. Purchasers may inspect the merchandise and are urged to do so. The Auctioneer makes no warranty as to condition and shall not be held responsible for any defects in any lot. All goods are on display for Public Exhibition and, condition is described in the listings for online bidders. Item descriptions, dimensions and estimates are provided for guidance. It is the buyer's responsibility to inspect all lots prior to bidding to ensure that the condition is to their satisfaction. These are for guidance only, and all lots will be sold as described, as per our Terms and Conditions of Sale. All goods are sold "AS IS, WHERE IS" with no warranties or guarantees "WITHOUT RECOURSE". 7. All items in the catalog are sold as described. We have tried to describe each lot as accurately as possible, and we have included descriptive photographs as well. However, we are selling each lot "AS IS" and there will be no returns allowed if you are not satisfied with condition. We are not responsible for color discrepancies due to photo reproductions. Some items may vary from actual picture. Due to production requirements, there may be multiples of any given item used in the making of the referenced show. The items listed for sale in this auction are sold AS IS. Premiere Props makes no claims regarding the condition of the items listed on this site. The items listed for sale in this auction are for decorative use only. They are not to be used for their seemingly functional purposes and are only intended to be sold as collector's items. DO NOT use the items purchased through this auction for any functional use, whether to store materials, for wearing, cooking with or using the auctioned item as a utensil or serving material, or using the item as a piece of furniture or any other use. With this notice, the purchaser assumes all risks of loss and/or injury, whether personal or property damage, arising from any other use of the item purchased not in accordance with this notice. Premiere Props, INC., shall not be held liable. This purchase releases Premiere Props, INC., for any such loss or injury. 8. The highest bidder shall be the buyer and if any dispute arises between two or more bidders, the auctioneer will decide the buyer or immediately put the item up for sale again. 9. In the event of a tie between an online bidder and a floor bidder, the floor bid will take precedence. The auctioneer's decision will be binding and final. 10. The record of sale, kept by the auctioneer and clerk, will be taken as absolute and final in all disputes. The auctioneer and Premiere Props will not be held responsible for error or failure to execute bid(s). 11. You hereby request approval for this registration to participate in the Premiere Props auction (the Auctioneer) and acknowledge that you have read, understand and agree to the Terms and Conditions of Sale as posted on www.premiereprops.com and printed in the auction guide, which is applicable to the auction event for which you are registering. 12. Your bidding at this Auction whether in person or online indicates that you have read and agree to all Terms & Conditions of Sale. 13. Shipping takes 6-8 weeks from the date payment is received. Standard Shipping and Handling to the continental U.S. is $14.98. The rate of $14.98 plus the cost of USPS insurance (based on value of the items in shipment), does not apply to oversized items. Please contact us for all oversized item's rates. Please email for international rates, rates to Hawaii, Alaska, or Puerto Rico. All orders are shipped via USPS, no exceptions. 14. All orders are fully protected by USPS for damage or loss and a declared value insurance fee based on value of items in the shipment for all standard shipments to the continental U.S. Combined shipping is available for standard sized packages at $6.74 per item (plus USPS insurance), which will be added to the original item's shipping cost. Restrictions apply. In order to combine items for shipping, all items must be paid for at the same time. "Out of Area" domestic packages will be charged an additional $3.00 per package. All international shipments are subject to additional duties and taxes fees, which will be billed directly to you via USPS. 15. If you elect to bid on an item, you will be held responsible for the final cost of the item including all related shipping fees and standard USPS insurance. All international shipments are subject to additional duties and tax fees, which will be billed directly to you via USPS and we will not claim a lower value on a lot to avoid customs on international shipments. 16. Due to revised customs regulations, we can no longer ship articles of clothing or electronics to Mexico. We apologize for any inconvenience. Items being sent to or claimed in California are subject to applicable Sales Tax.
Bid Anywhere, Anytime. Download the LiveAuctioneers App.
Available on the App Store
Android App on Google Play