lots of lots
Auction ended on February 26th, 2011 UTC
540: Shelley China Dog Rose pattern Creamer and Waste B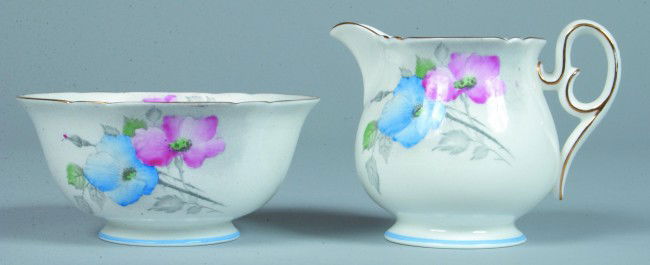 Shelley China Dog Rose pattern Creamer and Waste Bowl, pattern YS097, creamer 3-3/4" h. x 3-1/2" diam., and waste bowl 2-1/2" h. x 5-1/4" diam., (good).
Shipping
Buyer Pays Shipping Cost - please contact the UPS Store, (Richard) at (717) 733-1482 or email store3230theupsstore.com for all shipping inquiries before the auction. All international customers are responsible for their own taxes and tariffs based upon the actual selling price. The declared value can not be of lesser value than purchase price. Once the items are purchased payment is made to Conestoga Auction. The items will be transported to the UPS store for packing and transit.
Payment
MasterCard, Visa, Money Orders, Cashiers Checks and PayPal to email ebayliveconestogaauction.com. Payments must be made within 10 days of the purchase date.
Accepted payment methods
Taxes
A 6% sales tax will be charged to Pennsylvania buyers only, unless we are provided with a sales tax exemption form.
Terms
Conestoga Auction Company, Inc. has made every effort to catalog and correctly describe the property to be sold, however, all lots are sold 'AS IS' and should be examined prior to bidding. Flaws and imperfections caused in the making are not noted. Expect normal wear and oxidation on antique metal-wares and crazing and normal glaze loss on pottery and ceramics. All condition reports will be found in parentheses following the description. Any additional condition questions should be made 24 hours prior to the start of the auction to allow for our staff to review the items. The auctioneers reserve the right to make verbal corrections and provide additional information from the auction block at the time of sale. In all matters, the records of the Auction will be final. All sales are final. All potential purchasers must register for a buyer's number and provide satisfactory identification. Reserved seating is available upon request and will be held only until the start of the auction. A thirteen percent (13%) Buyer's Premium is added to each item sold to all in-house buyers at the Auction. An additional two percent (2%) will apply to all online bidders, for a total of 15% Buyer's Premium, is added to each item sold to all Live Auctioneers buyers. A six percent (6%) Pennsylvania Sales Tax will be charged, except to persons with a current Dealer's Sales Tax Exemption Number on file with the Auction OR if purchases are being shipped out of state. Upon the fall of the hammer or said sold, the title and responsibility for each item or lot passes on to the purchaser. In the case of a disputed bid, the auctioneer, at his discretion, will determine the successful bidder or re-offer and re-sell the article in dispute. BIDDING INCREMENTS: The auctioneers will be using set bid increments. If you have placed absentee bids that do not follow the set increments, your bid will be executed at the set lower increment. ABSENTEE BIDDING will be accepted with a 25% deposit by money order or certified check. This deposit is required for in-house bidding only, and does not apply to Live Auctioneers bidders. Any such deposits will be refunded if the bid is not successful. In the event of duplicate in-house absentee bids, the first bid received will take precedence. In-house absentee bids will not be executed on items which are found to be other than described in the catalog. The auctioneer may reject any bid which he considers to be nominal and not commensurate with the value of the article offered. It is entirely possible to buy items by absentee bid for less than your top bid price as they are handled competitively. All bids are handled in competition with audience on an alternate basis. Due to uncertainties of bidding, a lot may sell to the floor bidder for the same amount as an absentee bid. To prevent this from happening, the absentee bidder can give Conestoga Auction the right to bid the next higher bid by placing a (+) sign after the bid price. Conestoga Auction will not be responsible for any omissions when processing your absentee bids. All sales are final and must be paid in full immediately. Items must be inspected before leaving absentee bids. LIVE AUCTIONEER BIDDING: In order to be approved to bid online through Live Auctioneers, you must complete the form found on our website. Once the form is completed and sent, we will then approve you to bid at auction. Please be sure that the form is completed in full for each auction you wish to attend, and it is not our responsibility to contact you if the form is not complete. We are not aware of the Live bids in advance, but only during the time of the auction as they are forwarded to our computer. Conestoga Auction will not be responsible for any omissions, errors or slow communications on absentee bids from Live Auctioneers. In the event of a tie bid with a floor bidder and an online bidder, the floor bidder will take precedence. The auctioneer's decision in this matter is final. PHONE BIDDING: There are a limited number of phones available and will be issued on a first come, first serve basis. Phone bidding is available on items valued at $500.00 and up, to approved buyer's, however, arrangements must be made at least 24 hours before the sale. Phone lines are reserved for serious bidders only. Conestoga Auction holds the right to reject any phone bids that are submitted after the set deadline. PAYMENT: Payment must be made prior to removal from the auction house. In house bidders must settle their accounts on the day of sale. Absentee, Telephone and Live Auctioneers Bidders must make payment within seven (7) business days. Failure to do so may result in forfeiture of items. IN HOUSE PAYMENTS: There is a 13% in-house buyers premium if paying by debit card, MasterCard or Visa. If paying by cash or check, a 3% discount will be applied to all in-house bidders. In-house buyers does include absentee and phone bidders, who are bidding with our company directly. No out of state checks will be accepted by the auction, unless there was given prior approval by Conestoga Auction. LIVE AUCTIONEERS PAYMENTS: All invoices will be emailed to the buyers on the first business day following the auction. This invoice will include total purchase price and shipping costs per the UPS Store. PayPal, Money Orders, Traveler's Checks, MasterCard and Visa will be accepted for payment of purchases. The buyer's premium remains at 15% and the cash or check discount does not apply to online buyers. If using PayPal to send payment, please use our email at ebaylive@conestogaauction.com. Items must be paid for within seven (7) days of the auction. Items must be scheduled for removal from our auction facility within seven (7) days or be charged a monthly fee of 1.5% of the purchase price. If the items are not paid within the seven day time-line, Conestoga Auction has your permission to charge the credit card number found on the completed Live Auctioneers approval bid form. SHIPPING: Conestoga Auction does not pack or ship any items in house. All items are sent through the UPS Store, a third party shipping company. All international customers are responsible for their own taxes and tariffs based upon the actual selling price. The declared value can not be of lesser value than purchase price. Please contact Richard at the UPS Store at (717) 733-1482 or by email at store3230@theupsstore.com for any shipping inquiries regarding any potential shipping costs prior to the auction or post-auction inquiries. Please note: if you are successful on items from our auctions, it could take up to three weeks until your items are received due to the volume of items that sell online. Conestoga Auction reserves the right to hold merchandise until personal checks clear. Items must be scheduled for removal from our auction facility within seven (7) days or be charged a monthly fee of 1.5% of the purchase price. Please direct all your shipping questions to the above mentioned names, as we do not ship in-house and are not able to answer these questions. YOUR BIDDING ACKNOWLEDGES YOUR ACCEPTANCE OF THESE CONDITIONS OF SALE.
Bid Anywhere, Anytime. Download the LiveAuctioneers App.
Available on the App Store
Android App on Google Play