Auction ended on February 12th, 2011 UTC
29: An Egyptian Amulet of Ptaikos on Crocodiles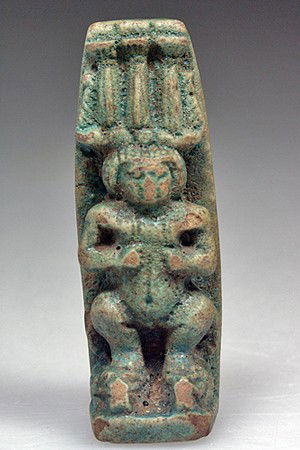 This is an Egyptian amulet showing Ptaikos. This was a god (or perhaps a member of a whole group of similarly looking gods) who gave protection. Pataikos is generally depicted as a dwarf with a fat belly and short crooked legs. In many cases, like on this amulet, he is shown standing on crocodiles (a symbol of his triumph over them) and having snakes or other dangerous animals in his hands.
The name Pataikos goes back to Herodotus, the Greek writer who visited Egypt in the 5th century BC. He tells us that a statue of the god Ptah was kept in the temple of Memphis, which had the shape of a dwarf and which reminded him of a statuette in similar shape in Phoenicia. He also informs us that the god represented as a dwarf was regarded as the son of Ptah.
On this amulet the god is wearing an elaborate crown, called the hemhem crown, a form of the Atef crown. It is a triple rush crown with triple sundisks set on ram horns and flanked by ostrich feathers. The name of the crown means "war cry" so it is primarily a war crown, offering protection (hence possibly its use on an amulet), although it is also worn on festive occasions. It also had connections with the rising sun and rebirth. In the New Kingdom the crown became also popular in Nubia and then in Napata and Meroe.
On this amulet the god Ptaikos takes the place of the young Horus or Harpokrates, as he is commonly depicted on magical stelae (most prominently on the Metternich Stela in the Metropolitan Museum of Art, New York): standing on crocodiles and with serpents and other animals in his hands, animals over whom he has power. Myths inform us that as a child Horus was threatened by his uncle Seth, so that his mother Isis had to hide her son in the Delta. There he had to face all kinds of dangerous animals, but with the help of his mother he survived.
The backside of this amulet depicts Isis, with on her head the cow's horns and sun disk that are typical emblems of the goddess as a mother. With her outspread wings she offered protection, both to her child when he was in danger and, in an earlier occasion, to the body of her husband Osiris. On both sides she is framed by a large feather, symbol of cosmic order and truth.
Depictions of the god on the crocodile were often touched by people looking for protection or cure. As a result these depictions, both an magical stelae and on amulets, are often worn, as is the case on this object.
The amulet has a very warm turquoise-green colour with traces of reddish brown, and is pierced horizontally for suspension. On the bottom there are some vague traces of what could be the hieroglyphs p and H (for a part of the bottom it is impossible to tell if there is anything, due to some miniscule pitting); do these signs spell the name ptH = Ptah?
Size: height 5.3 cm, depth 1.6 cm, width 1.8 cm.
Provenance: German private collection, 1960s.
Literature: For similar protective gods see George Steindorff, Catalogue of the Egyptian Sculpture in the Walters Art Gallery (Baltimore MD, 1946), p. 144-145; pl. XCV, esp. nos. 626, 632-633.
For the crown see Eleni Vassilika, Ptolemaic Philae (Orientalia Lovaniensia Analecta, 34) (Leuven, Peeters, 1989), p. 90, ills. on p. 301-303; Penelope Wilson, A Ptolemaic Lexikon. A Lexicographical Study of the Texts in the Temple of Edfu (Orientalia Lovaniensia Analecta, 78) (Leuven, Peeters, 1997), p. 605; Abd el Monem Yussef Abubakr, Untersuchungen über die ägyptischen Kronen (Glückstadt - Hamburg - New York, J.J. Augustin, 1937), p. 63-65; Louis V. Zabkar, Apedemak, Lion God of Meroe. A Study in Egyptian-Meroitic Syncretism (Warminster, Aris & Phillips, 1975), p. 102-105.

there is a reserve on this lot
Condition

:

Small chip to one point of the handle, paint slightly worn, otherwise intact.