Auction ended on December 4th, 2010 UTC
562: NC Confederate Officer's Archive With Images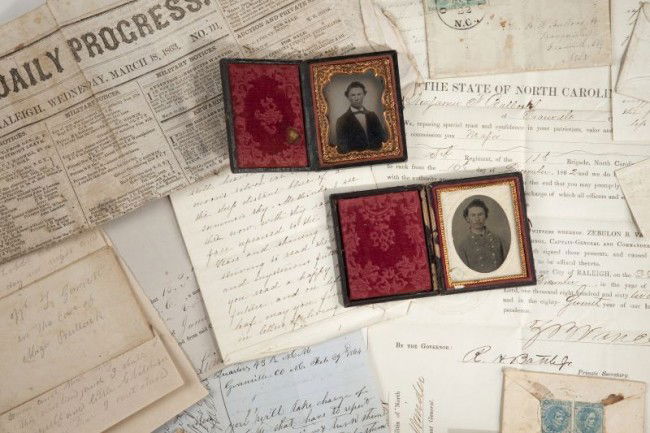 NC Confederate Officer's Archive With Images
pertaining to Major Benjamin F. Bullock, 43rd NC Infantry (Home Guard) of Granville County. Included are the following items: Cased ninth-plate ambrotype of Bullock in a civilian suit. An inscription behind the image identifies the subject and dates it to June 9, 1861-- four days after Bullock's enlistment in the 23rd NC infantry as a third lieutenant. He would resign this commission on May 10, 1862. The case is intact while the image is in very fine condition; Cased ninth-plate ambrotype of Bullock in a double-breasted Confederate officer's frock coat. The uniform lacks insignia and sports gilt federal eagle buttons. An inscription behind the image identifies the subject and is dated September 30, 1863 at Raleigh. The case is split, however the image is in very fine condition; Zebulon B. Vance Document Signed "Z B Vance," one page, quarto, Raleigh, NC, December 22, 1862. This military commission signed by North Carolina's popular wartime governor names Benjamin F. Bullock a Major in the 43rd Regiment of the 11th Brigade, NC Militia. Embossed with the Great Seal of North Carolina. Very fine condition; (8) war-date letters, (4) of which retain their original covers bearing Confederate postage. The letters are all civilian except one, dated March 16, 1865. It is on NC Adjutant General's Office stationery and names Bullock to a court martial board. Very good to fine condition; A postal adversity cover made from a post office form and addressed to B. F. Bullock. Two CSA #7s are tied with a clear Oxford, NC cds. Front address panel only; (8) partially printed Provost Marshall passes for Major Bullock to travel within North Carolina and a manuscript 1864 order for Bullock to escort slaves to work on the Wilmington fortifications; (2) partially printed documents recording Bullock's hiring of substitutes. The earlier document is from Richmond, November 12, 1862, and notes Bullock as being in Co. "E," 1st Louisiana Volunteers! The second document from Oxford, NC, January 22, 1863, records that Bullock - now in the 43rd NC - has successfully hired a substitute "not liable to conscription." Worthy of further research. Fine condition overall; Newspaper, the Daily Progress, Raleigh, March 18, 1863, two pages, folio. Excellent content includes war news, runaway slave ads, recruiting notices and AWOL soldier listings. Fair condition, but stable. Benjamin F. Bullock went by "Major" for the rest of his life. He attended UNC after the war and pursued a legal career in Franklinton, NC.



Estate of the late Eugene Grissom Moss and the late Maria Frances Bullock, Granville County, North Carolina.