lots of lots
Auction ended on January 30th, 2005 UTC
215: G.H. Wheatley, 20th Century American Oil Painting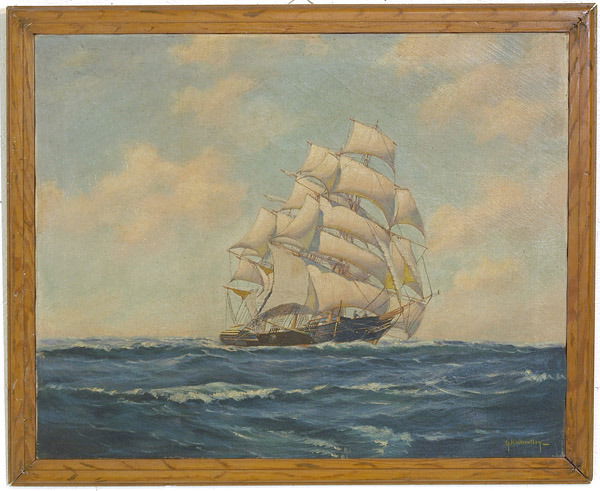 G.H. Wheatley (20th Century American), "Ship", 24" X 30", oil on canvas. Signed. Wheatley known for his ships and marines, fine listed artist. Fine condition.
Shipping
Buyer Pays Shipping Cost
Payment
Contact For Payment Details
Accepted payment methods
Terms
ADVICE FOR PROSPECTIVE BIDDERS By bidding in this auction, Prospective bidders (whether present in person, or by agent, by written, telephone, FAX, email, or through a live internet connection) agree to be bound by these TERMS AND CONDITIONS. TERMS AND CONDITIONS LIVE INTERNET BIDDING: Live internet bidding is available during the auction as a service to our customers, however, Forsythes' Auctions cannot be held responsible for failing to execute bids or for errors relating to the execution of bids. In the event of a tie bid between a floor bidder and internet bidders, the floor bid will be honored. SHIPPING: The cost of packing, handling, and shipping will be the responsibility of the buyer. Fosythes' Auctions can recommend available shipping companies for your use, but does not handle most of the shipping. We work very closely with a professional shipper and recommend that the buyer contact him. Wrap-It Postal 7721 Five Mile Rd. Cincinnati, Ohio 45230. Telephone 513-231-8990 and ask for Dave. We deliver to the shipper as fast as possible. We are trying to arrange shipping for 100s of items at the same time, and though we work as swiftly as possible please be patient with your shipment. Successful bidders may also make their own arrangements for pick-up and delivery of property. REGISTRATION: All bidders must register their name, permanent street address, and phone number prior to the auction. All registrants are required to present identification. Bidders unknown to us will be required to present a valid Visa, MasterCard or credit card. TERMS OF SALE: The auctioneer determines the highest bidder; however, if any dispute arises to any bidding, or between two or more bidders, at the discretion of the auctioneer, the lot so disputed shall be immediately put up again at the undisputed bid and resold. The auctioneer may reject any bids if, in his judgment, such a bid shall be likely to affect the sale injuriously. BUYER'S PREMIUM: A premium of 15% will be applied to all property sold, to be paid by purchaser as part of the purchase price. PAYMENT: Payment may be made with U.S. money order or cashier's check. Payment also may be made with Visa or MasterCard. All purchases are subject to a 7% Ohio and Hamilton County sales tax unless the buyer has proof of exemption. Within 72 hours after the close of the auction, all successful absentee and telephone bidders will be notified by Forsythes' Auctions. Successful bidders are expected to pay for their purchases immediately. If payment is not received within 10 business days after being contacted by Forsythes' Auctions, absentee bidders authorize Forsythes' Auctions to charge their purchases to their credit card left on file with their absentee bid. RESERVES: All lots offered are without reserve. LIMITED WARRANTY: All property sold "as is", and neither Forsythes' Auctions, Dave Forsythe nor Frank Forsythe makes any warranties or representations of any kind or nature with respect to the property, and in no event shall they be responsible for the correctness, nor be deemed to have made any representations or warranty of description, genuineness, authorship, attribution, provenance, period, culture, source, origin, or condition of the property, and no statement made at the sale, or in the bill of sale, or invoice or elsewhere shall be deemed such a warranty or representation or an assumption of liability. While condition reports for most items are stated in the descriptions, prospective bidders are urged to contact Forsythes' Auctions directly for detailed information regarding any lot. ESTIMATES: Pre-sale estimates of the expected hammer price of each lot are provided for the convenience of prospective bidders. These estimates are only to be used as a guideline. Bidders are encouraged to bid what they feel an item is worth. ABSENTEE AND PHONE BIDDING: Absentee and telephone bidding is offered as a service to our customers, and prospective bidders shall not hold the auctioneer or his staff responsible for any errors or failures in executing bids. Absentee bids are accepted via mail, phone, FAX or email. Absentee bidders unknown to us may be required to submit a bank letter of credit prior to the auction, or using a credit card, deposit with Forsythes' a fee equaling 30% of their absentee bid. The issuance of a credit card number is to serve as a deposit on bids and to guarantee payment for any successful bids. All absentee bids are executed competitively by a member of the auction staff. We will bid up to the amount you have left only if necessary. In the event of a tie between a floor and absentee bidder, the floor bid will be honored. Bidding "live" via the telephone is available on a first come, first served basis. We strongly advise you to also leave an absentee insurance bid for the lots you wish to be called on.. This insures that if we cannot contact you, your insurance bid will be executed as an absentee bid.
Bid Anywhere, Anytime. Download the LiveAuctioneers App.
Available on the App Store
Android App on Google Play