Auction ended on February 27th, 2010 UTC
573: Antique Cane-Seat & Back, Bentwood Rocking Chair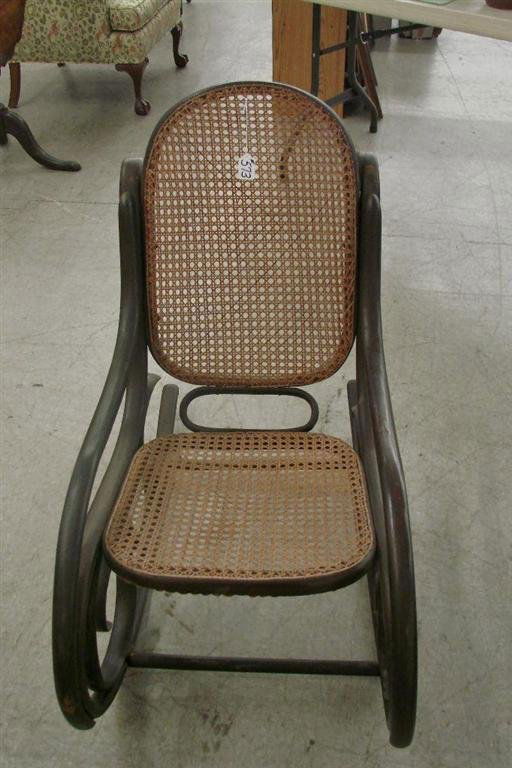 Antique Cane-Seat Bentwood Rocking Chair. Has Cane Back and Seat. Auction Estimate: $75-150
Accepted payment methods

:
THIS AUCTION HOUSE REQUIRES SETTLEMENT IMMEDIATELY AFTER THE END OF AUCTION (THAT NIGHT). PLEASE CONTACT THEM AT WEBUYIT@TAMPABAY.RR.COM TO ARRANGE FOR PAYMENT. **INTERNATIONAL BIDDERS ** MUST FILL OUT AND FAX (352-795-2061) CREDIT CARD AUTHORIZATION FORM OR FAX BANK LETTER OF CREDIT AND AGREE TO WIRE TRANSFER PRIOR TO APPROVAL FOR BIDDING. ALL ITEMS ARE SOLD AS IS AND WHERE IS! THERE ARE NO RETURNS. WE PROVIDE MANY PHOTOS, SO PLEASE VIEW THEM CAREFULLY. OUR GOAL IS TO NOTE ANY DEFECTS IN THE CATALOG, BUT WE MIGHT MISS SOMETHING ON A RARE OCCASION. PLEASE READ ALL THE TERMS AND CONDITIONS PRIOR TO BIDDING! ITEMS ARE AVAILABLE FOR ON-SITE INSPECTION AND WE WILL SEND YOU ANY PHOTOS YOU WISH TO SEE PRIOR TO YOUR BIDDING. Sales Conditions: Professional Appraisers & Liquidators exercises the utmost care and caution in accurately describing and identifying all items listed. Condition reports & descriptions are provided as a courtesy to the prospective bidder. Although we make every effort to ensure accuracy, Professional Appraisers and Liquidators makes no warranty, express or implied, as to the authenticity, authorship, period, value, medium or condition of any item sold. Buyers are advised to carefully examine all items offered for sale at auction and to satisfy themselves regarding authenticity, authorship, genuineness, attribution, provenance weight, count, measure, period, value, culture, source of origin, medium or condition before bidding or purchasing. All measurements are approximate. All items are sold as is, where is whether specified or not. We make no warranty of title, warrant, or merchantability or representation of any kind with regards to the items. EXCEPTION! We guarantee gold content and we guarantee whether a diamond is genuine or synthetic. If we state an item is Sterling Silver, Diamond or 10K, 14K, 18K gold or Platinum , we WILL GUARANTEE it to be so. However, we are not jewelers or gemologists, so we are unable to guarantee the color or clarity of stone. Carats are measured to the best of our ability and may vary slightly. We do not have a refractor, so we are unable to test to see if gemstones other than diamonds are sythentic, we can only give our educated opinion unless an Appraisal accompanies the item. Catalog descriptions & auctioneer's statements are only an opinion. There are no conditional sales. All sales are absolutely final and the successful bidder, whether by internet bid, telephone bid, advanced written bid, or in-house bidding during an auction, bidder shall be obligated to complete the transaction within 2 hours after the close of auction. We suggest that prospective bidders take advantage of the ample time provided during auction preview to determine the condition of offered lots. All auction sales are final on the fall of the Auctioneer's hammer to the highest bidder acknowledged by the auctioneer. Once the auctioneer declares an item "sold" , the purchaser becomes responsible for the purchased property. The purchaser assumes full risk and responsibility for said property, including costs & expenses of handling or shipping The consignor is not responsible for loss or damage of said property after an item has been declared "sold". Any sales made, whether at live auction or privately between purchaser & Auctioneer or Sales Representative, shall be subject to all of the terms & conditions stipulated herein. Payment will not be deemed to have been paid in full until credit card payment has cleared. Any comment or statement made by the auctioneer or other person associated with Professional Appraisers and Liquidators concerning the authenticity, authorship, period, value, medium or condition of any item should be taken only as an opinion of the person making the statement and in no way constitutes a warranty, express or implied, concerning the item sold. You are advised to determine all of these for yourself. Ample time is allotted during preview to examine the merchandise. We advise you to take advantage of this opportunity. Any statement made by the auctioneer during the auction supersedes written advertising or other written matter. There will be no refunds or returns (except in as stated otherwise in the above paragraph regarding the authenticity of diamonds, or gold & silver content). All sales are final. The final decision regarding returns or refunds is at the sole discretion of the auctioneer. If a refund is offered, the purchaser will have no further recourse against Professional Appraisers & Liquidators and they shall not be liable for damages of any nature suffered by the purchaser. Shipping and Handling: If bidding on-line, your credit card will be billed at the end of the auction for your purchases, buyer's premium and applicable sales tax. Shipping fees will be billed within 7 days after end of the auction as a separate charge from Lordco Pack and Ship and costs vary based on weight and destination. We will ship within 7 days of when your payment clears. If you wish to use your own carrier, notify us in advance. If attending in person, all items must be paid at the end of the auction and removed within 72 hours unless other arrangements have been made prior to the start of the auction. We will not be held liable for theft or damage to items left on our premises. Items not picked up will be subject to a handling charge & you may also be charged for storage. After 30 days your merchandise may be resold & storage and handling fees deducted from the proceeds. Auctioneer may facilitate the employment of porters, packers and shippers as a convenience to purchasers. They may allow their staff to help you pack, load, or deliver your merchandise. However, this is provided as a courtesy only, and Professional Appraisers & Liquidators assumes no responsibility for their actions. Bidding & Disputed Bids: THE AUCTIONEER GOES VERY QUICKLY. BIDDERS WAITING UNTIL THE END OF THE BIDDING MAY BE MISSED. IT IS BEST TO MAKE US AWARE OF YOUR INTEREST BY PLACING A BID *EARLY*. REMEMBER THAT INTERNET BIDDING DOES HAVE A FEW SECOND TIME DELAY. IF YOU WAIT TILL THE END, YOU BID MIGHT COME THROUGH AFTER THE HAMMER GOES DOWN. The highest bidder is determined at the sole and exclusive judgment of the auctioneer. The auctioneer has the sole right to settle disputed bids and decide whether or not to re-offer the lot. In the case of a tie bid, the auctioneer may open the bidding up only between the two bidders involved in the tie. The auctioneer has exclusive power & authority to resolve disputes between bidders and/or reject or challenge any bid or advance in the bidding. The auctioneer may regulate the bidding increments at his discretion. The auctioneer reserves the right to determine whether or not to pass an item, or re-offer a lot for sale. In most instances, once an item has been passed it will NOT be re-offered up for bid and will NOT be available for purchase after the auction. It is the BIDDERS responsibility to be sure the auctioneer or ring man sees their bid. We would not intentionally miss a bid, so please hold your bidding cards high, and call out, if necessary, to be certain your bid is noticed. Professional Appraisers & Liquidators assumes NO RESPONSIBILITY for missed bids. We offer absentee and internet bidding as a courtesy, but are not liable for missing a bid. We try our hardest to see that every bid is acknowledged, but if we accidentally fail to execute your bid, we can not be held responsible for the error. Thank you for your continued patronage. If you have any further questions, please feel free to ask. We are always buying and accepting quality consignments! Call 352-795-2061 if you need further information.
Bid Anywhere, Anytime. Download the LiveAuctioneers App.
Available on the App Store
Android App on Google Play