Auction ended on January 6th, 2010 UTC
226: 3 Vintage Electric Marble/Onyx Desk Clocks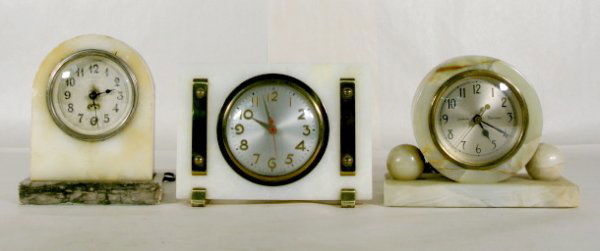 3 Vintage Electric Marble/Onyx Desk Clocks:
1.) Autochron, 2 colors of marble white and mottled green. Running at this time. (Damage to the case; chipped edges and 2 cracks to the top of the case.) 7"
2.) Sessions onyx with brass feet and decoration. Running at this time. (As made crack, does not go all the way through.) 6"
3.) Sunbeam Eternatime marble clock. Not running at this time; no condition problem. 6"
All items sell As Is, Where Is, no guarantees of any kind. We accept Mastercard & Visa, no paypal, no personal checks, no money orders, no wire transfers. Your credit card will be charged twice; once for the purchase and once for packing and shipping, You, the buyer must contact our office within 3 business days of the auction ending to make payment arrangements. Thank You for participating in our auction.