lots of lots
Auction ended on October 24th, 2009 UTC
305: Brass Tacked Indian Gun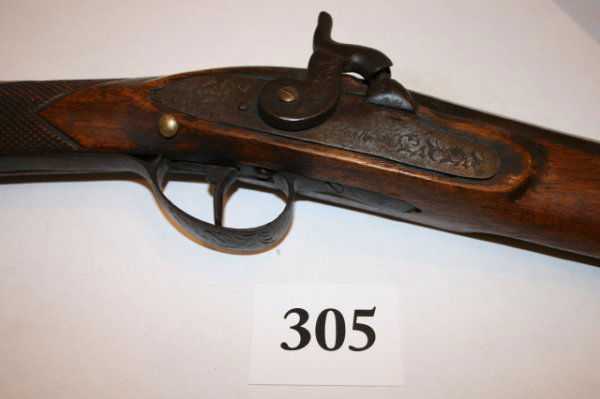 Brass Tacked Indian Gun – Half Stock Fowler 52" overall length, excellent condition
Accepted payment methods

:
Payment
An invoice will be sent on OCTOBER 26 OR 27, 2009 by e-mail. Payment is REQUIRED 10 DAYS FROM SALE DATE(NOVEMBER 3, 2009). We take personal checks, money orders, or cashier checks. We also take Visa, MasterCard, or Discover. WE ARE NOT SET UP WITH PAYPAL.
Section Title
THIS AUCTION WILL START ON OCTOBER 24, 2009 AT 10:00 AM EASTERN TIME WITH LOT 1 and go TO 568. There are approximately 600 lots. IF YOU LEAVE AN ABSENTEE BID, ON LIVEAUCTONEERS, WE ARE NOT PRIVILAGE TO KNOW WHAT YOUR BIDS ARE. Unlike other live auctions in the regular format with specific start day and time and a specific stop day and time, the LIVE AUCTION process is a bit different. Be aware that when our auction session begins on the day indicated, the lots are sold in numeric order at a rate of approximately 90 lots per hour. As such, if a session only has 500 lots, it will likely be over in approximately 5 hours (no matter what the end time eBay might list). Remember, this is approximately how many we do, so leave yourself some flexibility in either direction to be by your computer at the right time. If you have any further questions about the times lots will come up LIVE, please contact our office. Remember if there is a 13% buyer's premium for all internet bidding. E-mail us if you have questions, or need extra pictures. INVOICES: Invoices will be e-mailed to all internet bidders by Monday or Tuesday OCTOBER 26 OR 27, 2009. (WILL NOT HAVE INVOICES READY ON SATURDAY OR SUNDAY). Payment for all items purchased must be received within 10 DAYS FROM SALE DATE (NOVEMBER 3, 2009). Items will be shipped the same day we receive payment. If you need to contact us by phone, call 419-422-8531. NO RETURNS OR ADJUSTMENTS 30 DAYS FROM SALE DATE
Terms
In publishing this catalog Old Barn Auction has endeavored to accurately describe all items being sold but all property herein offered for sale is strictly "as is" and it is the bidder's responsibility whether bidding in person, by mail, by phone, or internet to determine exact condition of each item. No statement in this catalog, bill of sale, invoice or elsewhere by any representative of or person in the employment of Old Barn Auction shall be deemed to be a warranty, representation, or assumption of liability with respect to age, condition, size, quality, variety, importance, provenance or historical relevance of any of these items. Any such statements are strictly matters of opinion. The Auctioneer will be the final judge as to which bidder is the highest bidder. In the event of any dispute in this matter, the auctioneer shall use his own discretion to decide to reopen the bidding or not. Title to all merchandise shall pass to the highest bidder at the fall of the Auctioneer's "hammer". The purchaser shall assume full risk and responsibility for the lot purchased once title has passed. The buyer must pay Ohio Sales Tax (6.75%) unless exemption is allowed under the laws regulating such tax. Out of state sales tax number will be accepted. You do not pay Ohio Sales Tax if items are shipped out of state. Payment may be made by personal check(In House Only) or money order within 10 days from sale date. No items will be shipped until payment is received. Visa, Discover or MasterCard is accepted. Old Barn Auction is not responsible for any typographical errors or omissions in this catalog or in the subsequent price key. Photographs in this catalog are of the actual objects being sold but exact condition of the objects offered is their condition on the day of sale. There will be absolutely NO RETURNS OR ADJUSTMENTS MADE 30 DAYS AFTER SALE DATE. A down payment is not necessary we will bill you if successful. It is not a foolproof system, but is 100% honest. All successful internet bidders will receive an invoice from us the following Monday or Tuesday after the auction. PAYMENT IS DUE WITHIN 10 DAYS FROM SALE DATE. If you need a better description of an artifact, please call the week of the sale. For live internet bidding go to www.liveauctioneers.com to register. There is a 13% Buyer's Premium for all Internet Bidding. We will ship and insure items bought absentee according to your wishes. Shipped merchandise will carry a fee for packing, handling, postage, and insurance. We request that you make arrangements for pick up or shipping within 15 days after the sale date. We require 24 hours notice before pickup. Stored items are not covered by our insurance and must be stored at the owner's risk. We look with pride at the success of our operation in the past and hope we will grow in the future.
Bid Anywhere, Anytime. Download the LiveAuctioneers App.
Available on the App Store
Android App on Google Play