Auction ended on September 26th, 2009 UTC
28: SANDSTONE PLAQUE SIGNED PHILLIP COON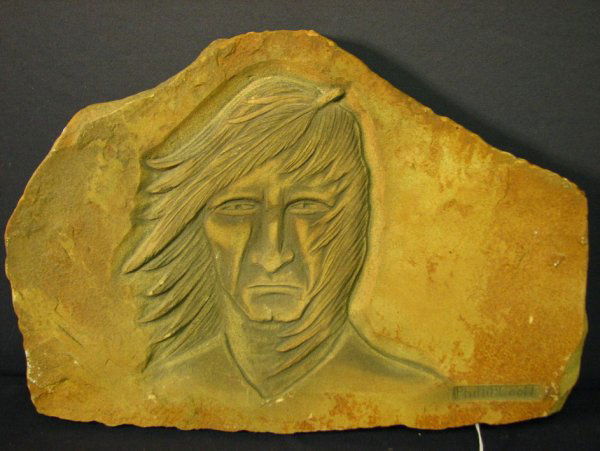 Sandstone Plaque Native American Portrait inscribed on reverse Made by Creek Indians in Oklahoma Signed by Phillip Coon on front
Accepted payment methods

:
TERMS AND CONDITIONS OF SALE 1. Livingston's Auction has endeavored to accurately describe all of the items being auctioned. However, all property is sold "As Is". Neither the auctioneer, auction staff, nor any consignor makes any warranties or representations of any kind or nature with respect to the property, and in no event shall they be responsible for the correctness, nor deemed to have made any representation or warranty of descriptions of genuineness, authorship, attribution, provenance, period, culture source, origin or condition of the property, and no statement, oral or written, made at the sale or in the catalog, bill of sale or invoice or elsewhere shall be deemed such a warranty or representation or an assumption of liability. All perspective buyers should personally inspect or have their agent inspect property before bidding. In no event will our liability to purchaser exceed the purchase price actually paid. We encourage all patrons to take advantage of the preview hours scheduled for the auction for personal inspection of any item they wish to bid on. 2. The highest bidder for each lot shall be the buyer. If any dispute arises as to the bidding or between two (2) bidders, the auctioneer has the final discretion to determine the successful bidder. The Auctioneer shall at her/his discretion decide to re-open the bidding or not. 3. Livingston's Auction accepts absentee bids including written left bids, telephone bids, and Live Auction internet bids. All absentee bids will be executed by a staff member competitively during the sale. Although our absentee bidding system is 100% honest, it is not foolproof. Livingston's Auction is not responsible for failing to execute any absentee bid or internet bid. Regardless of the amount of the absentee bid, items will be purchased for the selling hammer price once competitive bidding has ceased. In the event of tie bids between absentee bidders or Internet bidders and those in attendance, preference will be given to the attending bidder. Where two absentee bidders bid the same amount the first received will be honored. Should there be a significant change in the condition of the item such as damage or discovery of a condition problem that a representative of Livingston's Auction deems in the best interest of the absentee bidder that the bidder would change the bid the bid will NOT be executed. 4. Arrangements for Telephone Bids and written Absentee bids must be made prior to the start of the auction. An Absentee Bid form is available on our website. Call or fax us to place your absentee or telephone bid. The completed form with your signature is required before that bid can be entered into our computer system. We require a Credit Card on file to accept absentee or telephone bids even if you select payment by check. 5. Floor Bidders: All items must be paid for in full before removal from the auction site. Absentee & Internet Bidders: The successful buyer will be notified by Livingston's Auction within 48 hours after the auction is complete. Payment MUST be made within 7 days from the date of the auction. Any item left unpaid longer than 7 days after the auction will be charged a storage fee of $3.00 per lot per day. This charge will be strictly enforced. Accounts not settled within 30 days of the sale will be subject to forfeiture of all deposits and loss of title to the property. 6. BUYERS PREMIUM A buyer's premium of 10% of the hammer price will be added to the total purchase price of all properties as part of the total purchase price on any lot sold. 7. Pre-sale estimates are intended as guides and may not be reflective of actual hammer price. Some of the items in this auction may be subject to a reserve. The reserve is a confidential minimum price agreed upon by the consignor and Livingston's Auction & Estate Services Inc. 8. The auctioneer at his/her discretion may reject any bid not commensurate with the value of the article offered. Livingston's Auction reserves the right to reject any bid or withdraw any lot from the sale. 9. We accept payment for by cash (from floor bidders only), Cashiers Check, Money Order, Visa, Master Card, Discover, and business or personal check with valid ID and a credit card. Livingston's Auction reserves the right to hold merchandise purchased by personal check until the check has cleared the bank. The purchaser agrees to pay a handling charge of $30 for any returned check. NO ITEM CAN BE REMOVED FROM THE AUCTION WITHOUT PAYMENT IN FULL. 10. Buyers are required to pay local state and city sales tax unless exempted by law. IF EXEMPT, buyers must file a tax exemption form with Livingston Auction & Estate Services Inc. before any exemption can be made a copy of the permit must be attached to the final invoice. Oklahoma residents will be charged 8.375% or prevailing Tax rate, unless exempt. 11. We will do our best to take care of your packing and shipping needs. Shipping is charged at cost plus a $10 per item handling fee. There is a $5.00 additional charge on all shipments outside of the United States. Should you wish to use an outside shipper we recommend the following: Johnson Crating & Shipping 405-672-7964 & UPS Store 942-1677. Buyer should be aware that our staff is limited; there may be a two week waiting period for items to be packed and shipped depending on the volume of items we agree to ship. 12. Bidding on any item indicates the bidder's acceptance of the terms and conditions of Livingston's Auction & Estate Services Inc. as stated either in writing or announcement at the time of sale, whether bidding in person, through a representative, by phone, by Internet, or other absentee bid. Thank you for your interest and participation. Please contact us at 45-858-1914 if you have any questions.
Bid Anywhere, Anytime. Download the LiveAuctioneers App.
Available on the App Store
Android App on Google Play