Auction ended on June 24th, 2009 UTC
652: Signed Two Guns White Calf Postcard,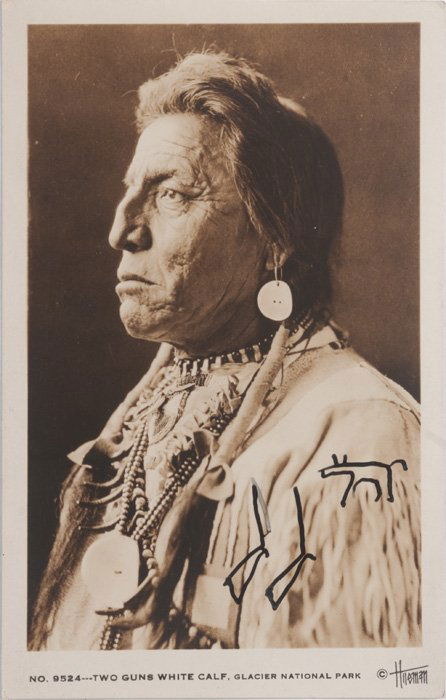 Signed Two Guns White Calf Postcard,  with ink pictographic signature of two guns and a small horned animal - Two Guns White Calf - on postcard from Glacier National Park, with copyright by T.J. Hileman.

Two Guns White Calf (1872-1934, Blackfeet) frequently posed for artists at Glacier. The park is adjacent to the Blackfoot reservation, and the eastern entrance to the park is in the reservation capital of Browning. The story goes that when he received an Indian-head nickel from a visitor to the park, he saw the profile and claimed to be the model for it. By some accounts, his visage had a part in James Earl Fraser's design, but so did John Big Tree (Seneca), Iron Tail (Sioux), possibly Two Moons (Cheyenne). And like most apocryphal stories, there may be a grain of truth in it. He was certainly also a publicity spokesman for the NPRR, and spent a lot of time at Glacier, posing with tourists and signing postcards and photos.
Bid Anywhere, Anytime. Download the LiveAuctioneers App.
Available on the App Store
Android App on Google Play