Auction ended on May 9th, 2009 UTC
443: Two 19th century frakturs: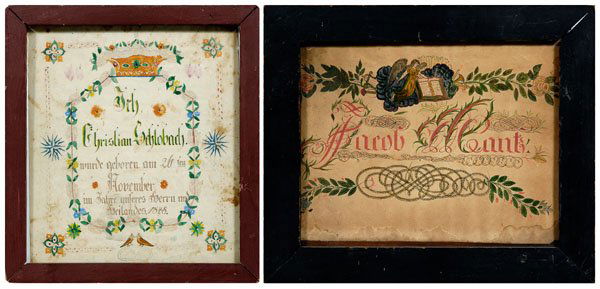 taufschein for "Christian Schlobach" dated November 26, 1848, faded date(?) at bottom "18…", watercolor on wove paper, family birth history verso with dates 1851-1893 inscribed in ink (facsimile attached to back), 8-1/2 x 7-5/8 in., [1/8 in. tear right edge, some fugitive colors, grime, foxing, toning, stains], modern painted wood frame, [abrasions, popped corners;] penmanship drawing, "Jacob McCant(?)" surmounted by an angel with book in a cloud, garlands, ropes, instruments, watercolor and ink on paper, American School, 7-1/8 x 9-3/4 in., [toning, fading, water stains at edges, loss to lower right and upper left corners,] 19th century black-painted wood frame, [abrasions.] Not examined out of frames.