Auction ended on March 8th, 2009 UTC
166: Batchelder tile, carved stylized peacock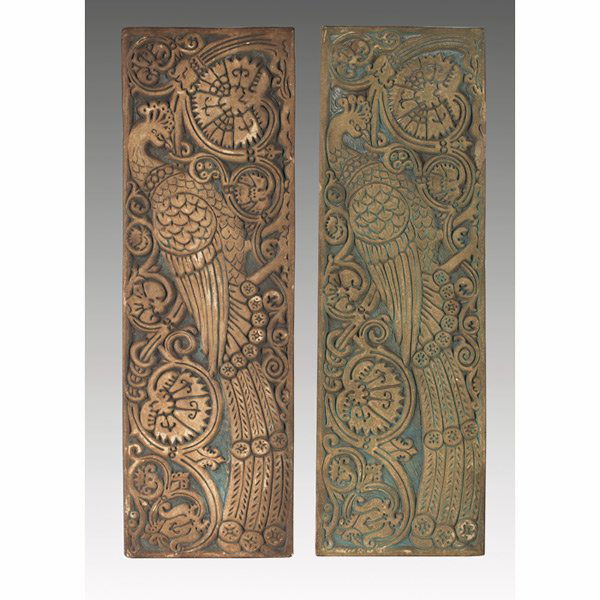 Batchelder tile, carved stylized peacock and foliage in bisque with brown and blue highlights, marked, 6"w x 18"l, minor chips to edges; with a Batchelder tile, carved stylized peacock and foliage in bisque with blue highlights, marked, 6"w x 18"l, chips to edges
Condition

:

(1)a few chips to edges, largest: 1.5Ów; impressed BATCHELDER, LOS ANGELES; overall good condition/ (2)a few minor chips to edges, largest: .25Ów; impressed BATCHELDER, LOS ANGELES; overall good condition
Accepted payment methods

:
TERMS OF SALE - Cash or check with positive I.D. Auctioneer determines the highest bidder and resolves any disputes. All purchases are subject to state tax unless buyer has proof of exemption or merchandise will be shipped out of state, other than Ohio, no exceptions, Buyers premium is 20%, if bidding by phone or absentee directly through the Gallery, if bidding via internet buyers premium is 22.5%. Forms of payment accepted; Check, Money Order, Bank Wire, Amex, Visa or MasterCard, please note; there is an additional 2.5% added to your premium if paying by credit card.  If you are a resident of Illinois or Ohio, OR are picking up your purchase at our gallery, you must pay sales tax unless you have a valid tax ID number.  Late Payments/Default Rates and Fees: If any payment is not paid when due or within 10 days thereafter, or if Buyer defaults in its dealings with Treadway/Toomey Galleries or breaches Buyer's obligations, Buyer agrees to pay to Treadway/Toomey Galleries all damages and attorneys fees and expenses, together with interest at the highest rate allowed by law or 21 percent per annum. Treadway/Toomey Galleries may impose, and purchaser agrees to pay a monthly storage charge of 1.5 percent of the purchase price as well as a monthly interest charge of 1.5 percent for any lot or item not paid for or removed by purchaser within 10 days of the sale. Treadway/Toomey Galleries shall have no liability for any damage to property left on its premises after the date of sale. In addition, Treadway/Toomey Galleries may charge such damages, costs and expenses to any credit card that Buyer has identified to Treadway/Toomey Galleries and Buyer hereby authorizes Treadway/Toomey Galleries to do so. Delivery to any location other than auction site carries a transportation charge. Jurisdiction: Buyer agrees that the state and federal courts in Hamilton County, Ohio - Cook County, Illinois shall have exclusive jurisdiction over all matters arising out of the Buyer's purchase of items from Treadway/Toomey Galleries, and that service of process in any such proceeding shall be effective if mailed to Buyer at the Buyer's address supplied to Treadway/Toomey Galleries. Shipping Shipping quotes: all domestic shipping quotes must be submitted to John Toomey Gallery within 2 business days prior to the auction, International shipping quotes 3 business days before auction. All shipping quotes must have the following information, lot #'s, full name and address, residential or business address. All items will be shipped from the John Toomey Gallery, 818 North Boulevard, Oak Park, IL 60301. Please contact lucy@johntoomeygallery.com for all shipping quotes. Payment All successful bidders will receive an invoice via email within 2 days from completion of the auction. Please wait till you have received your invoice before contacting the gallery. Methods of payment include Personal or Business check, Money Order, Bank Wire, Amex, Mastercard, Visa and Paypal. Condition Statement PLEASE NOTE: It is the buyers responsibility to be knowledgeable about the condition of the property before bidding. This is a live auction, and the buyer is advised to inspect the items in person during the week prior to the auction. As a courtesy, Treadway Gallery Auctions makes condition reports available prior to the auction. However, any statements made in condition reports, whether orally or in writing are statements of opinion only and should not be relied upon as statements of fact. Requests for condition reports should be received by the Gallery no later than 12pm eastern time on the day before the auction. There are no preview dates for any INTERNET ONLY AUCTION. Condition reports for these auctions can be found in the ONLINE catalog for those sales. Taxes All purchases are subject to Illinois or Ohio state tax unless buyer has proof of exemption or merchandise will be shipped out of state. Illinois buyers are subject to 8.75%, Ohio buyers 6.5%. Contract Your bid is a contract. Place a bid only if you're serious about buying the item. If you are the successful and winning bidder, you have entered into a legally binding contract to purchase the property bid on from the seller. You should contact the seller to resolve any questions before bidding. ESTIMATES - Our price estimates are purely that, an estimate, reflecting the range in which the price may fall. This should give buyers an idea of what they should bid in order to have a good chance of being successful. In some cases the price range may be wider than others, due to the uniqueness of the individual piece. A few items have reserves. We implement them to offer items that may not have been available without them. You will find that few of the pieces offered have reserves. In most instances, the reserves will be less than the low estimate. ABSENTEE BIDS, PHONE BIDS - If you can't attend our sale, it is quite easy to get involved. You can bid over the phone during the sale or leave bids, which will be executed by one of our representatives in the audience. When leaving a bid the only disadvantage you have is that you can't advance your bid as you might if you were there in person. Your bids are executed as though you are there in person. We get you into the bidding at the first opportunity to insure your chance of being successful at the lowest price. Because of this, the lot may sell for your highest left bid, but not to you because you were "in" at the previous bid. PLEASE NOTE: Treadway-Toomey Galleries offer this service as a convenience to our clients who are unable to attend the auction and will not be held responsible for error or failure to execute bids. We respectfully ask that you refrain from calling the Treadway Gallery during the auction to set up phone or leave absentee bids, as we use these lines to make calls to pre-arranged phone bidders. Advance arrangements are crucial to insure your bids will be handled without problems. Note: Please try to send in absentee bids and/or arrangements for phone bidding to us as early as possible. We have a limited number of phone lines available, and they do fill up very quickly. We cannot guarantee bids if you make arrangements are later than 5:00 p.m. (CST) on the Saturday prior to the sale. Also, please remember we prefer to avoid phone bidding on items estimated under $500. Be sure absentee bids are given in the correct increments (see chart below). Keep in mind, when tie absentee bids come in, we will honor the first one received. However, absentee bids have an equal chance of being successful as do telephone or in-person bids and in no way take precedence. Again, please mail, fax or phone in absentee bids prior to 5:00 p.m. (CST) on the Saturday prior to the sale, as we cannot guarantee execution after this time. If you mail your bids in, to avoid confusion, please do not also fax them (and vice versa). If you wish to confirm that your bids were received, please phone us. If you phone in to make additions to left bids, be sure you mention that you've already left bids. Call the John Toomey Gallery with any questions concerning absentee bids or phone bidding. NOTE: PLEASE DO NOT CALL FOR RESULTS OF SALE THE MONDAY AFTER THE AUCTION. WE WILL BE HAPPY TO ASSIST YOU AFTER ALL INFORMATION HAS BEEN CHECKED FOR ACCURACY. AUCTION INCREMENTS - We use the following increment multiples at our auctions. When leaving absentee bids, please make sure your bids fall within the proper increments and auction. This is crucial to the success of your bids. 20th Century Art & Design Auctions: 0-500 $25. increment 500-1000 $50. increment 1,000-3,000 $100. increment 3,000-5,000 $250. increment 5,000-10,000 $500. increment 10,000-30,000 $1000 increment 30,000-50,000 $2500. increment 50,000-100,000 $5000. increment 100,000 + Auctioneer's discretion DELIVERY - We use the safest and most economical methods that we are aware of to deliver purchases. You can obtain estimates for shipping prior to the auction by providing us with a full shipping address and lot(s) you are interested in purchasing. Domestic shipping quote requests must be received three business days prior to the sale; international quote requests must be received five business days prior to the sale. A single piece of furniture shipped within the US will range from $200-600 before insurance; a piece of pottery or glass of average size costs $35-60 before insurance; an average sized framed painting will range from $55-95 before insurance. All furniture delivery quotes are for delivery to a first floor or elevator building. Oversized items can cost significantly more to ship. All items are shipped fully insured, unless the buyer sends a signed waiver. If you have questions about the shipping or delivery cost of any item please inquire. The buyer is free to make his or her own shipping arrangements. Treadway/Toomey Galleries are not responsible for items that are damaged in any way by shippers. If a problem arises, all claims must be settled between the buyer and the shipper.
Bid Anywhere, Anytime. Download the LiveAuctioneers App.
Available on the App Store
Android App on Google Play