Auction ended on November 13th, 2008 UTC
728: Effanbee Dy Dee Baby Number # 5674 Mint in box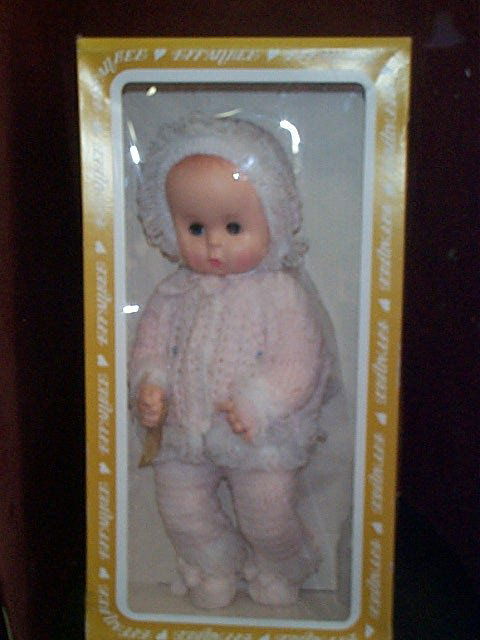 Effanbee Dy Dee Baby Number # 5674 Mint in box Measures 16" tall Buyer to pay $15.00 if you live on the East Coast, Mid West buyer pays $20.00, West Coast buyer pays $25.00 shipping and handling, all items to be sent UPS and packed by the UPS Store. Insurance is at an additional cost to the buyer on items over $100.00 and is highly recommended. Item can be picked up in South Brunswick, New Jersey at no charge. International buyers please see terms and conditions for shipping rates.
Accepted payment methods

:
1) PAYMENT: Payment must be made in full by paypal, money order, MasterCard, Visa, American Express, or approved check. We prefer paypal. This payment must be made with-in 10 days after the auction. After the auction we will contact you as the high bidder with-in 48 hours with payment directions. If payment is not received with-in 10 days you will be reported to eBay as a non-paying bidder with a negative feed back rating! A 20% Buyer's Premium is added to the final bid price of all items sold to internet bidders bidding on ebay. A 7% NJ Sales tax will also be charged to NJ residents, unless you have filed the appropriate resale certificate. Auction House has the right to hold merchandise until a check clears! 2) CONDITION OF ITEMS SOLD: We do guarantee all items for 48 hours once you receive the item for accuracy in the description. Bodnar's Auction has endeavored to accurately describe all items being sold, with description and photographs. Purchasers should take advantage of inspection opportunities to satisfy any questions they might have as to the condition, etc. of any item being offered. All sales are final. Measurements are all estimated not exact. We sell antiques, items that have been loved and used, we try to accurately describe any defects, however normal ware is to be expected and not described in the description. Bodnar's Auctions is not responsible for missing pieces of toys and games not obvious without directions or knowledge of the toy or game. It must be understood that we cannot be responsible for minor age defects or hidden conditions. They will be sold in an "as is" condition. Original boxes were used to protect the items inside, so they are usually worn. The original box is not included in the grading of the toys. It should be assumed that none of the toys are in working condition unless noted mint in working order in the description.. 3) CLAIMS: No Claims will be allowed 48 hours after receipt of item. 3A) Shipping insurance Claims will be filled by the buyer though the UPS Store. 4) RETURNED CHECKS: If your check is returned for NSF you will be notified immediately. A $35 fee will be issued and we will re-deposit your check. If it is returned a second time it will be handed over to the proper authorities. 5) SHIPPING: All shipping and handling fees are in item descriptions. Buyer will pay for insurance if desired. Items are shipped with-in 14 days of payment or clearance of funds. All items are picked up, packed and shipped by the UPS Store 732-541-1100. They pick up once a week and it could take uo to 14 days for an item to ship out once paid for. Oversized items We recommend Craters & Freighters Bound Brook, NJ (866) 272-8365, cratersandfreighters.com, or you may locate an alternate shipper of your choice. Reduced combined shipping is available on 3 or more auction purchases, however we do not reduce costs in handling and in heavy or over sized items. Our packers and shippers charge us on an item count, so you will be charged per item on multiple purchases even if we will be combining shipping costs. They receive about $10.00 per item. Items may also be picked up in our Somerset or South Brunswick offices. Local delivery is also available within a 60-mile radius of Somerset, NJ, local delivery fee is $125 in state or $175 out of state, and combined delivery is available on multiple purchases. Items can also be picked up in Somerset, NJ by appointment. 6) BIDDING: We are accepting bids with eBay Live Auctioneers as a convenience to our customers, but we will not be held responsible for errors or failures to execute bids. In the event of a tie bid between an eBay Live Auctioneer bidder and a bidder at the auction house, the auctioneer will make the determination of the winner, it is not determined upon who bid first. Due to the bidding rotation at a live auction you may want to bid one bid higher then your high bid to insure you would get the item in the event of a tie. We will not be held responsible for computer malfunctions or user malfunctions during the sale. If you are the high bidder at the fall of the hammer you will be held responsible for that purchase. You will be in a bidding contract and expected to pay for that purchase. If you do not attend to pay for the item you are biding on please do not bid! 7) We try to answer all questions with-in a 48-hour period. We do not answer any questions with in 24 hours of the sale. If you have any questions at that time we ask that you call us direct at 866-349-7378. 8) Bidding on any item indicates your acceptance of these terms and conditions. 9) Non-US buyers will pay an additional $8.00 international shipping fee in North America, an additional but not limited to $18.00 in all other countries and any actual customs cost. International buyers must pay by paypal US Funds. 10) All gram weights and measurements aprox. and not guaranteed. 11) All furniture is in used condition and may have minor defects not disclosed in the description. However any major flaw in a piece of furniture will be addressed in the description. 12) Due to the sensitive nature of clocks and watches they are all to be assumed not to be in working order unless noted in the description otherwise. 13) All scales are to be assumed not to keep accurate weights. 14) Authorship A) Name of Artiest Indicates that the work, in our best judgment, is by the named artist B) Attributed to In our best judgment, the work may be by the artist but is not guaranteed. 15) All Art measurements include the frame unless otherwise noted. 15A) In the event in a refund for any reason, we will refund the purchase price only, shipping costs and buyer's Premium excluded. 16) Discrepancies of description shall be decided by mutually agreed upon experts in the field. An USPAP Certified written appraisal would be accepted. The authentication must be in writing and is at the expense of the purchaser. 17) We do not guarantee any device in this catalog to be in working order unless noted in the description. 18) All tools have been used and have normal wear. 19) If you buy an over sized item and it needs to be picked up by yourself or an outside shipping company, it must be out of our warehouse with-in 3 weeks after the auction sale date. If it is not picked up after 3 weeks a $50.00 a week storage fee will begin to apply. After 16 weeks the item or items will become property of Bodnar's Auctions with no refund! 20) Unlike other eBay auctions in the regular format with a specific start day and time and a specific stop day and time, the LIVE AUCTION process is a bit different. Be aware that when our auction session begins on the day indicated, the lots are sold in numeric order at a rate of approximately 100-120 lots per hour. As such, if a session only has 500 lots, it will likely be over in approximately 5 hours(no matter what the end time eBay might list). For example, if lot 2001 begins at 10 am EST, then lot 2100 will fall around 10:45 to 11:15 am EST and so on. Remember, these times are approximate, so if you intend on bidding LIVE, leave yourself some flexibility in either direction to be by your computer at the right time. If you have any further questions about the times lots will come up LIVE, please contact our offices. eBay accepts absentee bids up to ONE HOUR BEFORE a session begins once you have registered. You may log on and bid live at any time during the course of an auction as long as you have COMPLETED REGISTRATION and been cleared to bid by the auction house.
Bid Anywhere, Anytime. Download the LiveAuctioneers App.
Available on the App Store
Android App on Google Play