Auction ended on October 4th, 2008 UTC
34: 34. 3 3/8" Trapezoid Pendant. PA. Jackson COA. S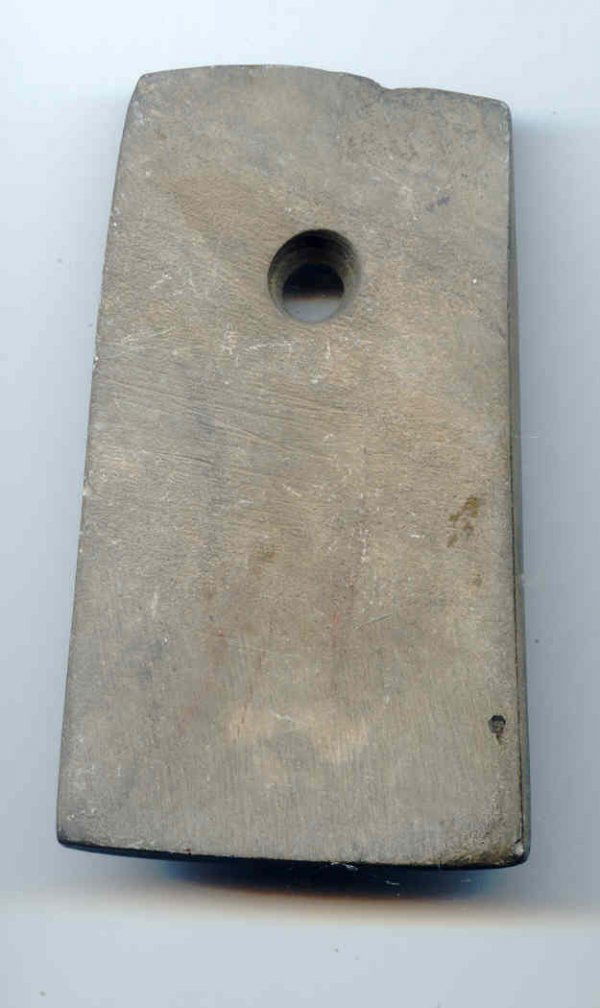 34. 3 3/8" Trapezoid Pendant. PA. Jackson COA. Some damage.
Accepted payment methods

:
1. A small number of the lots in this sale are offered subject to a reserve. The reserve is a confidential minimum price agreed upon by the consignor and T&T Archaeological Consulting (further referred to as "T&T", below which the lot will not be sold. In most cases, the reserve will be set below the estimated range, but in no case will it exceed the estimates listed. A representative of T&T will execute such reserves by bidding for the consignor. In any event, and whether or not a lot is subject to a reserve, the auctioneer may reject any bid or raise not commensurate with the value of such lot. 2. All property is sold "as is" unless otherwise noted in this section, and neither the auctioneer nor any consignor makes any warranties or representation of any kind or nature with respect to the property, and in no event shall they be responsible for the correctness, nor deemed to have made any representation or warranty, or description, genuineness, authorship, attribution, provenance, period, culture, source, origin, or condition of the property and no statement made at the sale, or in the bill of sale, or invoice or elsewhere shall be deemed such a warranty of representation or an assumption of liability. NOTE: Many artifacts in the auction are accompanied by authentication papers from the finest authenticators in the country. We especially recommend these for consideration by absentee buyers. It is our opinion that all artifacts in the auction (unless otherwise noted) are eligible for an authenticity paper as issued by T&T Archaeological Consulting. All PREHISTORIC flint, pottery and hardstone items WITHOUT an independent authentication paper are being offered with a 30-day money back guarantee. This offer is only for artifacts that do not have an independent authentication paper. Any relic returned must be accompanied by a report either from Ken Partain, Tom Davis, Bill Jackson, Jerry Dickey, Dwain Rogers, John Berner or Roy Motley. No other authenticators' opinions will apply. THERE WILL BE ABSOLUTELY NO RETURNS OR ADJUSTMENTS OF ANY KIND MADE 30 DAYS AFTER THE AUCTION DATE. 3. Except as provided in paragraph 1 above, the highest bidder as determined by the auctioneer shall be the purchaser. In the case of a disputed bid, the auctioneer shall have sole discretion in determining the purchaser and may also, at his or her election, withdraw the lot or reoffer the lot for sale or take such action in accordance with state guidelines. 4. All merchandise purchased must be paid for and removed from the premises the day of the auction, unless otherwise agreed upon. T&T may impose, and the purchaser agrees to pay, a monthly interest charge of 5% of the purchase price of any lot or item not paid by the purchaser within thirty-five (35) days of the date of sale. 5. T&T accepts cash (In House Only), check or most major credit cards (Visa, Mastercard, American Express, Discover) for payment. A small fee of 3.5% will be added to credit card purchase amounts. Personal checks will be acceptable only if credit has been established with T&T or if a bank authorization has been received guaranteeing a personal check. We do not accept Paypal. T&T reserves the right to hold merchandise purchased by personal check until the check has cleared the bank. The purchaser agrees to pay T&T a handling charge of $25.00 for any check dishonored by the drawee. Please contact T&T for additional payment methods. 6. If the purchaser breaches any of its obligations under these Conditions of Sale, including its obligation to pay in full the purchase price of all items for which it was the highest successful bidder, T&T may exercise all of its rights and remedies under the law including, without limitation, (a) canceling the sale and applying any payments made by the purchaser to the damages caused by the purchaser's breach, and/or (b) offering at public auction, without reserve, any lot or item for which the purchaser has failed to pay in full the purchase price, holding the purchaser liable for any deficiency plus all costs of sale. 7. In no event will the liability of T&T to any purchaser with respect to any item exceed the purchase price actually paid by such purchaser for such item. 8. T&T may, in its discretion and at a purchaser's request, package and ship items as directed by the purchaser. Both domestic and international shipments will be made. International shipments will be made to locations not in violation of governing laws. In such event, purchaser agrees that (a) all such packaging, handling and shipping is at the sole risk of the purchaser and that T&T shall have no liability for any loss or damage to such items, and (b) purchaser shall pay in advance, all packaging expenses, including labor, materials and postage and carrier fees, and all insurance charges. T&T attempts to charge only the actual shipping costs. Allow 10-12 days for domestic delivery and appropriate time required for international shipments. Some property that is sold at auction can be subject to laws governing export from the U.S., such as items that include material from some endangered species. Import restrictions from foreign countries are subject to these same governing laws. Granting of licensing for import or export of goods from local authorities is the sole responsibility of the buyer. Denial or delay of licensing will not constitute cancellation or delay in payment for the total purchase price of these lots. 9. All purchases are subject to the Indiana 7% sales tax unless the purchaser possesses an Indiana sales tax exemption number. Exemption numbers from other states are accepted in Indiana. Items shipped out of Indiana ARE NOT subject to Indiana sales tax. 10. Except for property purchased on eBay Live Auctions, a premium equal to 10% of the final bid price will be applied to each lot sold, to be paid by the Buyer as part of the purchase price. The buyers premium on property purchased on eBay Live Auctions will be in the amount equal to 15% of the final bid price. The final bid price plus buyer's premium constitute the final amount taxable, if required, by the State of Indiana. 11. Bidding on any item indicates your acceptance of these terms and all other terms announced at the time of sale whether bidding in person, through a representative, by phone, by Internet, or other absentee bid.
Bid Anywhere, Anytime. Download the LiveAuctioneers App.
Available on the App Store
Android App on Google Play