Auction ended on September 6th, 2008 UTC
291: PAINTING BAYOU AJ DRYSDALE (NEW ORLEANS 1870-1934)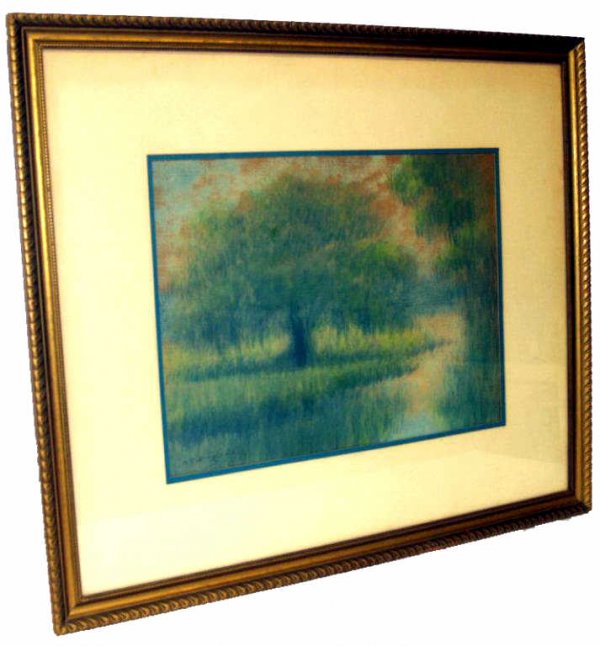 Framed oil wash, depicting a Louisiana bayou, by Alexander John Drysdale (American/New Orleans, 1870-1934), pencil signed lower left AJ Drysdale, gallery tag verso , Meinhard Galleries , Houston ,TX,slight foxing to mat, slight tear center edge, upper corner, sight: 14.5"h, 19.75"w, overall: 27.5"h, 32.25"w, 9.75lbs
Accepted payment methods

:
AUSTIN AUCTION GALLERY, AUSTIN, TEXAS TERMS AND CONDITIONS OF AUCTION SHIPPING INFORMATION Packing, handling, and shipping of purchased lots is the sole responsibility and strictly at the option of the purchaser. Austin Auction Gallery does not provide packing or shipping services. However, we recommend purchasers consider consulting with the following companies. All are independent of Austin Auction Gallery and they will act as your agent. They will pick up at our facility at no additional charge to you. Austin Auction Gallery does not receive compensation for shipping referrals. WE URGE YOU TO GET MORE THAN ONE SHIPPING QUOTE.SMALL ITEMS. The UPS Store, George, 512-418-0520, e-mail: store2548@theupsstore.com Postal Annex, Shilpa, 512-331-5855, e-mail : postalannexroundrock@sbcglobal.netLARGE ITEMS Craters & Freighters, Clarke, 888-520-1134, austin@cratersandfreighters.com 1. The offering and sale of property by Austin Auction Gallery is subject to the following conditions of sale that may be modified or supplemented by oral announcements prior to, or during the sale. By bidding at this auction each purchaser and bidder agrees to be bound by these conditions of sale. We may be contacted as follows: Telephone: (512) 258-5479, Fax: (512) 219-7372, E-Mail: info@austinauction.com. Our mail and physical address is: Austin Auction Gallery, 8414 Anderson Mill Road, Austin, Texas, U.S.A., 78729. We are in the Central Time Zone. 2. All property is sold as-is by lot and all bids are per lot as numbered in the catalog. ALL SALES ARE FINAL. All consignors have made written representation that they have good title to the property. Austin Auction Gallery makes no independent warranty of title. All property is sold AS-IS, and all warranties, express or implied, including without limitation, the implied warranties of MERCHANTABILITY and fitness for purpose are specifically disclaimed by Austin Auction Gallery and their consignors. CATALOG DESCRIPTIONS ARE STATEMENTS OF OPINION ONLY. Austin Auction Gallery also disclaims all warranties arising from course of dealing and usage in the trade and descriptions published in this catalog as to condition and measurements. No warranty, express or implied, is made as to the transference of intellectual property rights. Buyer assumes risk of loss upon being declared high bidder. PHYSICAL DIMENSIONS LISTED IN THE CATALOG ARE APPROXIMATE AND ONLY PROVIDED FOR THE PURPOSE OF CALCULATING SHIPPING COSTS. 3. Bidders at this auction may bid in person, or if they are pre-registered and approved, they may bid by written absentee bid, by telephone, or by using the Internet. Internet bidders should register at least two hours prior to auction start. The auctioneer reserves the right to reject a bid from any bidder. A lot will be sold to the highest bidder as determined in the sole and exclusive judgment of the auctioneer. Photos and descriptions have been posted on the Internet and we encourage phone calls, e-mail or fax contact to answer questions. Internet bidders are encouraged to review each lot and be prepared to bid quickly. The auctioneer will, without liability, determine the bidding increments and maintains sole authority to resolve disputes. Lots may be auctioned with reserve and auctioneer may bid on behalf of the reserve without further notice. Neither Consignors nor their agents, except as in the preceding sentence, are allowed to bid on their own items. High sales estimates are listed for guide purposes only. 4. The auctioneer(s) conducting this auction is licensed by the Texas Department of Licensing and Regulation, PO Box 12157, Austin, Texas, 78711, (512) 463-2906, and protected through a recovery fund administered by the department. Any unresolved complaint can be directed to the department. Auctioneer in charge is Ross Featherston, license 8069. All disputes will be decided based upon Texas law. Legal issues will be resolved in a court of law in Williamson County, Texas. 5. Bid Increments: MINIMUM VALUE MAXIMUM VALUE EXPECTED BID INCREMENT from US $0.00 to US $99.00 US $10.00 from US $100.00 to US $499.00 US $25.00 from US $500.00 to US $999.00 US $50.00 from US $1,000.00 to US $1,999.00 US $100.00 from US $2,000.00 to US $4,999.00 US $250.00 from US $5,000.00 to US $9,999.00 US $500.00 from US $10,000.00 to US $19,999.00 US $1,000.00 from US $20,000.00 and above US $2,500.00 6. All bidding at the auction and purchases will be in U.S. Dollars. Cataloged auctions: A buyer's premium in the amount of 18% on the Internet and 15% non- Internet will be added to the amount of the successful bid price for all lots purchased at the auction. Buyers are responsible for applicable Texas sales taxes. Internet purchases must be paid for within 5 days of completion of auction. All other bidders must pay for purchases in full within one hour of the conclusion of the auction. Payment, in U.S. Dollars, may be made by cash (In House Only), approved credit cards which are limited to Visa, MasterCard, American Express and Discover (WE DO NOT ACCEPT PAYMENT THROUGH PAY-PAL). Checks are accepted only from Texas residents presenting a valid Texas drivers license. 7. If merchandise belonging to a purchaser is lost by fire, theft, damage, or any reason whatsoever, prior to the purchaser or their agent taking possession of the merchandise, our liability shall be limited to the actual purchase price of the merchandise, and shall in no event include any incidental or consequential damages. We will not be liable for property not paid for or for any loss after merchandise is received by the purchaser or their agent. It is agreed that Austin Auction Gallery will not be responsible for failure to execute absentee bids or electronic failures. 8. Statements and descriptions contained in the catalog or in any bill of sale, invoice or elsewhere as to manufacturer, authorship, period, culture, source, origin, measurement, quality, rarity, provenance, importance, historical relevance, or physical condition ARE QUALIFIED STATEMENTS OF OPINION AND NOT REPRESENTATIONS OR WARRANTIES. Descriptions provided in both printed and Internet catalogs do not include condition reports. The absence of a condition statement does not imply that the lot is in perfect condition or completely free from wear and tear, imperfections or the effects of aging. We recommend prospective bidders examine all items in which they have an interest. You are welcome to inspect in person during our published inspection hours, by appointment, or we will assist you by telephone, providing a physical description and our opinion. If you require absolute certainty in all areas of authenticity and description we recommend you have an expert examine the lot for you OR that you do not bid on the item in question. All sales are final. By placing a bid, either in person, by phone, absentee or by the Internet, you signify that you have examined the items as fully as you desire to, or that you have chosen not to examine them. No employee of Austin Auction Gallery is authorized to make on our behalf or on behalf of the consignor any representation or warranty, oral or written, with respect to property. Austin Auction Gallery reserves the right to withdraw any lot any time before it is sold. Austin Auction Gallery has relied substantially upon information provided by its' consignors to describe auction lots. 9. All paid for property shall be removed from our premises at the purchaser's expense no later than 5:00 P.M. on the first Monday following the sale date, except property purchased by Internet bidders. Internet purchases must be picked up within 21 calendar days of auction. If purchases are not removed within the specified time periods beneficial bailee rights of the purchaser cease and a storage fee of $25.00 per day will be payable to us by the purchaser. We may transfer the property to a public warehouse at the purchasers risk and expense, or we may sell the property at public auction without further notice, and the proceeds will be retained as liquidated damages. 10. Purchasers hereby give irrevocable permission for Austin Auction Gallery to charge the credit card that they have submitted with their request to participate in this auction, for any and all purchases made by them at this auction.
Bid Anywhere, Anytime. Download the LiveAuctioneers App.
Available on the App Store
Android App on Google Play