Auction ended on June 27th, 2008 UTC
1169: NICHOL KOLA 5¢ TIN SIGN, single sided, rectangul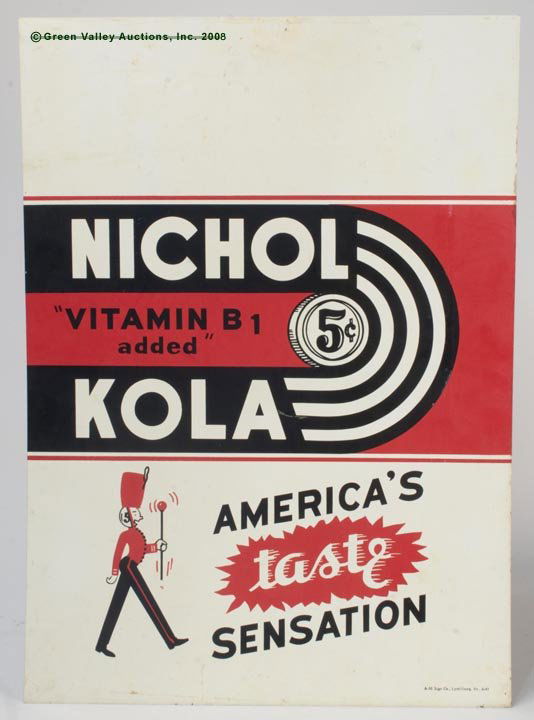 NICHOL KOLA 5¢ TIN SIGN, single sided, rectangular.
Size: 20" x 28"
Condition

:

Very good condition with normal light wear
Accepted payment methods

:
CATALOG INFORMATION: 1. GLASS & LIGHTING: a. All catalog descriptions are guaranteed to be accurate in the matter of authenticity, condition and measurements unless otherwise noted in the catalog description. Measurements are guaranteed to be accurate to within one inch. b. Due to the high number of absentee bids that we execute, we are very meticulous in our description of the condi-tion of each piece. Many of the minor flaws that we note are perfectly acceptable and do not detract from the item's desirability or value; however we do not consider light wear, small manufacturing flaws, glass impurities or lightly tinted glass to be notable flaws. If you are a bidder who demands flawlessness, it is recommended that you examine the item(s) in person, or have a trusted representative inspect the item(s) on your behalf. c. Lamps are measured to the top of the collar and are without burners and chimneys unless otherwise noted. 2. ANTIQUES, AMERICANA & DECORATIVE ARTS: a. All catalog descriptions are believed to be accurate in the matter of authenticity and condition, but ultimately all lots are sold "as is". Antiques by their very nature will exhibit wear, minor losses and breaks, and small repairs consummate with age. We only note condition issues that in our opinion significantly affect the integrity of the item. Returns will only be considered for items found to be fake/reproduction and/or have major damage not noted in the catalog description. See RETURN POLICY for additional details. b. All measurements are approximate. Please contact us if you require exact measurements (see item "a" under ALL AUCTIONS). c. All rugs are sold strictly "as is" with no guarantees as to age or condition. Absolutely no refunds will be considered. d. Fine jewelry is guaranteed regarding gold content and authenticity of diamonds only. Authenticity of other stones and grades of any stones are not guaranteed. 3. ALL AUCTIONS: a. All requests for additional information will be accepted until 24 hours prior to the start of the auction. b. The auctioneer reserves the right to make verbal corrections and provide additional information from the auction block at the time of sale. Internet bids will not be executed or accepted on lots found to be other than as described in the catalog unless a representative from our Catalog Department has personally conveyed the updated catalog description to the Internet Bidder. The bidder will then have the option to cancel or alter the original absentee bid if desired. c. When "Sold Choice" is listed with a lot, this denotes that we have two or more examples of that item. The suc-cessful bidder may take as many as he or she desires at the bid price. We will then reopen the bidding on any remaining item(s). Note: "Sold Choice" is the same as "Choice with no minimum" described in eBay's "Auction Terminology". OTHER TERMS & CONDITIONS OF AUCTION: 1. The auctioneer will be the sole determinant as to who is the successful bidder. 2. The auctioneer reserves the right, under extreme circumstances, to reopen bidding on a sold lot. 3. Once an item is sold, the buyer assumes full risk and responsibility for said item. 4. We will notify all successful bidders by phone or email within 3 to 4 business days of the auction. Please contact us by phone or email if you are a successful eBay Internet bidder who has not received notification from Green Valley Auctions, Inc. within 3 business days of the auction. 5. These terms and conditions, as well as the respective rights and obligations hereunder, shall be governed by and construed and enforced in accordance with the laws of the Commonwealth of Virginia. The buyer shall be deemed to have consented to the jurisdiction of the state courts of, and the federal courts sitting in the Commonwealth of Virginia. 6. Any guarantees are valid only to the original buyer. 7. Withdrawal Prior to Sale: Green Valley Auctions reserves the right to withdraw any property before the sale and shall have no liability whatsoever for such withdrawal. 8. If the buyer breaches any of his/her obligations under these Auction Terms & Conditions, including his/her obligation to pay in full the purchase price of all items for which he/she was the highest successful bidder, Green Valley Auctions, Inc. may exercise all of its rights and remedies under the law including, without limitation, (a) canceling the sale and applying any payments made by the buyer to the damages caused by the buyer's breach, and/or (b) offering at public auction, without reserve, any lot or item for which the buyer has failed to pay in full the purchase price, holding the buyer liable for any deficiency plus all costs of sale.
Bid Anywhere, Anytime. Download the LiveAuctioneers App.
Available on the App Store
Android App on Google Play