Auction ended on June 5th, 2008 UTC
66267: MAXFIELD PARRISH - Village Church at Dusk 1941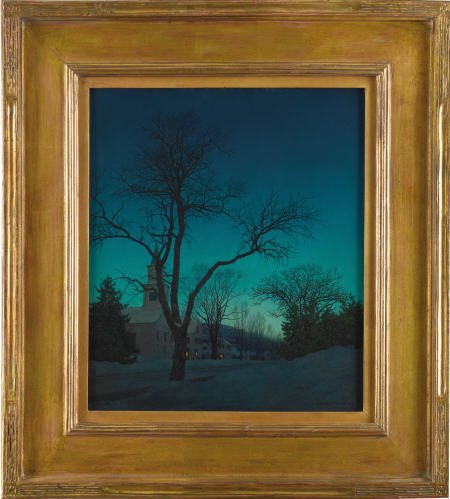 MAXFIELD PARRISH
(American 1870 - 1966)
At the Close of Day
, 1941
Oil on board
15 x 13 in. (sight size - image slightly larger and slightly obscured by the original hand-made frame)
Signed lower right
The magical and transcendental world briefly illuminated during the fleeting twilight minutes of dusk is forever frozen in this richly glazed winter landscape. So celebrated was Parrish's hallmarked treatment of the heavens, writer F. Scott Fitzgerald dropped a knowing reference into one of his novels -- "as blue as a Parrish sky."
When Maxfield Parrish announced to an amazed art world, through an Associated Press statement, that he was "through with figurative work," it served as a personal "Declaration of Independence" from the figure, and a move in a new direction towards what he felt would be a more personal journey -- the fine art of landscape painting.
Alma M. Gilbert, in her indispensable monograph,
Maxfield Parrish Master of Make Believe
,
cites a familial factor in this decision when she writes, "It is also evident that Parrish was acutely aware that his family, particularly his daughter Jean, whom he adored, described him as 'just an illustrator, not a real artist like my grandpa, Stephen Parrish.'"
In 1936 Parrish entered into a 27-year arrangement with the Minnesota-based calendar company Brown and Bigelow to produce a series of landscape scenes. For five years he produced one landscape a year. After that, he created two, both a summer and a winter landscape, for another 22 years.
In her book, Alma M. Gilbert has singled out this particular piece (which Brown and Bigelow renamed
At the Close of Day
from the original
Plainfield, New Hampshire Village Church at Dusk
) as an "exemplary published landscape that speaks to Parrish's love of his immediate surroundings."
This painting, also known with the alternate titles,
Village Street
and
Winter
was reproduced on pages 6 and 108 of
Maxfield Parrish Master of Make-Believe
by Alma M. Gilbert, Komecky & Komecky, 2005.
PROVENANCE:
Vose Galleries of Boston, Boston Massachusetts
Mr. Gerhard Willemy Keny, Columbus, Ohio (from 1984)
EXHIBITED:
Brandywine River Museum, Chadd's Ford, Pennsylvania, 1974 and 1984
Cornish Colony Museum, Winsor, Vermont, 2004 and 2006
Trust For Museum Exhibitions, Washington D.C., 2005
LITERATURE:
Alma M. Gilbert,
Maxfield Parrish Master of Make-Believe
, Komecky & Komecky, Old Saybrook, Connecticut, 2005, pages 6 and 108.
Condition Report:
This piece has been framed to an overall size of 18.25 x 16.75 in., and the art is in Excellent condition, and retains its exhibition labels on the back of the piece.
Shipping:
Framed - without Glass, Small (
view shipping information
)
Important notice:
Heritage usually auctions material at the rate of 100-110 lots per hour. On some occasions eBay Live bid software or the Internet may not be able to keep up with the pace of the auction. We recommend placing a realistic absentee bid now as insurance to avoid disappointment. Occasionally the auctioneer may eliminate or reject an eBay Live bid, and the auctioneer may also reopen a lot after the close of the eBay live bidding (usually because we missed an audience bid), and may reject your bid even if it shows you as the winning bidder. By bidding via eBay Live, you agree that Heritage may award the lot to another bidder at its sole discretion under the circumstances described above or any other reasonable circumstances. Since eBay bids are not shown to us until we open the lot on the floor, we treat those bids just like floor bids. In most cases the floor responds before the eBay bid is presented to us, due to Internet lag time, so for consistency we have made it a policy that floor bids are always considered first over tie eBay live bids. Also please note that all Heritage lots purchased through eBay Live carry a 22.50% Buyer's Premium with a $9 minimum Buyer's Premium. Please make sure you read the Terms and Conditions before you bid. This lot is being auctioned in conjunction with a live floor auction by Heritage Auctions. All final auction and invoice information will be supplied by Heritage Auctions, and all other information should be considered preliminary. Lot:66267
Winning Notification and Billing:
After the FINAL session in this auction is complete, Heritage will send e-mail and snail mail invoices. This process normally takes several days. All final auction and invoice information will be supplied by Heritage Auctions, and all other information should be considered preliminary.
Second Chance Offers:
Heritage does not make Second Chance Offers. Once our auction ends, if you receive a Second Chance Offer to buy this item DO NOT accept the offer. Please forward any Second Chance offer emails received on one of our auctions to eBay's Safe Harbor Department.
This auction will be conducted on a live auction floor and over the Internet through eBay Live. If you choose to place an absentee bid, please take a moment to
learn how eBay Live absentee bidding works
Auction House Info
Heritage Auctions
3500 Maple Avenue 17th Floor
Dallas, Texas
75219-3941, United States
Tel: 214-528-3500
Fax: 214-443-8425
EMail:
EbayLive@HeritageAuctions.com
CLICK TO Ask a Question ABOUT THE LOT OR AUCTION
FOR TECHNICAL SUPPORT
CONTACT EBAY LIVE AUCTIONS
Terms & Conditions Please view our complete Terms & Conditions at the following web address:
http://www.heritageauctions.com/common/images/TermsAndConditions.pdf