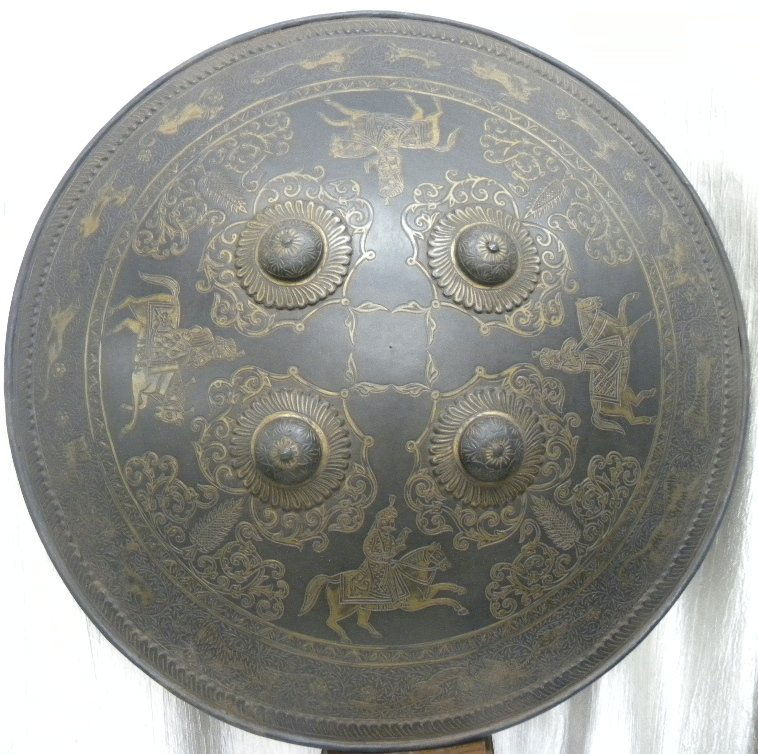 SIKH INDIAN WARRIOR SHIELD FIGS. MAHARAJA RANJIT SINGH
16 

Days
3 

Hrs
20 

Min
Until Auction Starts
Register to Bid
ANTIQUE SIKH INDIAN WARRIOR SHIELD SIKH FIG. REPRESENTING MAHARAJA RANJIT SINGH, WELL DOCUMENTED IN WAR CATALOGS

Incredible Sikh warrior Shield Dhal .

Dating : Pre 1920.The special importance of this shield lyies on the image with which it is ornamental , contained with borders filled with animals.

Four hand engraved figures representing the great Sikh leader MAHARAJA RANJIT SINGH JI , his son SHER SINGH and two generals.

Made of hand forged steel profusely chiseled with low relief with medallions.

During research I have found that this listed dhal shield is comparable to shield dhal which is in collection with " BIRMINGHAM ART GALLERY ".

Entire surface of shield Dhal is beautifully damascened koftgari in floral and creeper art .

it measures 17" in diameter.

Back of shiled has 2 handles to hold and has cloth cushion.

This shall make an Excellent Addition for Your Collection, Display or a memorable gift.Can be used as decorative wall hanging also.


Condition

:

Good considering its age.
SIKH INDIAN WARRIOR SHIELD FIGS. MAHARAJA RANJIT SINGH
16 

Days
3 

Hrs
20 

Min
Until Auction Starts
Register to Bid