lots of lots
Auction ended on March 4th, 2017 UTC
Star Trek: The Next Generation Shuttlecraft Crew Gift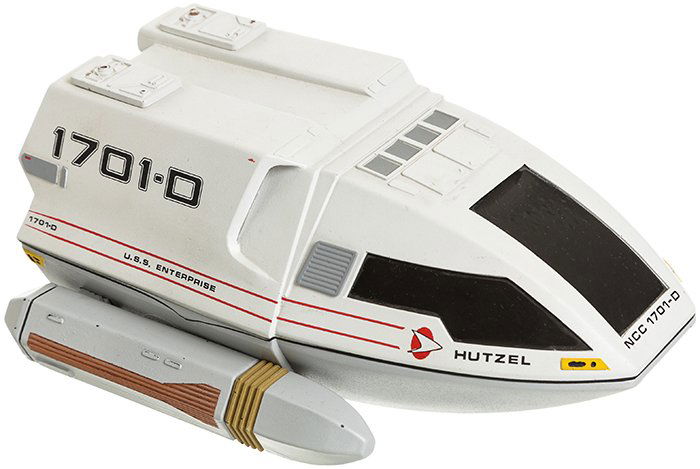 Rare crew gift given out to members of the VFX team on Star Trek: The Next Generation. This replica shuttle model features the likeness of the Type-6 shuttle as seen in TNG. It is made of cast resin with applied graphics, and featured the name "Hutzel" on the front of the nose. This item measures 9" x 6" x 5" and comes from the estate of Gary Hutzel, the VFX supervisor on TNG.
Accepted payment methods

:
Contract
YOUR BID IS A CONTRACT Place a bid only if you're serious about buying the item. If you are the successful and winning bidder, you have entered into a legally binding contract to purchase the property bid on from the seller. You should contact the seller to resolve any questions before bidding.
Handling Fee
Propworx will charge a flat rate of 10.00USD for each item purchased. This handling fee is non-negotiable, and applied even if the item is shipped to you or picked up at our location.
Payment
Winning bidders will be invoiced by Propworx approximately 7 business days after the auction via email, post mail, or UPS.
Shipping
Buyer Pay's Shipping Cost
Terms
These Conditions of Sale and the Auction Notices contain all the terms on which Propworx and the seller contract with the buyer. They may be amended by posted notices or oral announcements made during the sale. By bidding at auction you agree to be bound by these terms. No bid may be placed in any manner unless the bidder has reviewed and agrees to all of the Conditions of Sale, either on-line or printed in the catalog. By placing any bid, the bidder represents and warrants to Propworx that he or she has fully reviewed and agrees to be bound by all of these terms. Without such representation, warranty and agreement, Propworx would not permit the bidder to bid. 1. PROPWORX AS AGENT Except as otherwise stated, Propworx acts as agent for the seller. The contract for the sale of the property is therefore made between the seller and the buyer. Any questions regarding the auction should be directed to Propworx or its designated representative. All online bidders shall, in addition to these Conditions of Sale, be bound by the online "Terms of Use", available at our web site, the provisions of which are incorporate herein by this reference. In the event of any conflict between said Terms of Use and these Conditions of Sale, the terms and conditions set forth herein shall control. 2. BEFORE THE SALE (a) Examination of property Prospective buyers are strongly advised to examine personally any property in which they are interested, before the auction takes place. Neither Propworx nor the seller provides any guarantee in relation to the nature of the property apart from the Limited Warranty in paragraph 6 below. The property is otherwise sold "as is". All statements by us in the printed and online catalog entry for the property, or made orally or in writing elsewhere, are statements of opinion and are not to be relied on as statements of fact. Such statements do not constitute a representation, warranty or assumption of liability by us of any kind. References in the printed and online catalog entry or the condition report to damage or restoration are for guidance only and should be evaluated by personal inspection by the bidder or a knowledgeable representative. The absence of such a reference does not imply that an item is free from defects or restoration, nor does a reference to particular defects imply the absence of any others. Estimates of the selling price should not be relied on as a statement that this is the price at which the item will sell or its value for any other purpose. Except as set forth in paragraph 6 below, neither Propworx nor the seller is responsible in any way for errors and omissions in the catalog or any supplemental material. (b) Buyer's responsibility Except as stated in the Limited Warranty in paragraph 6 below, all property is sold "as is" without any representation or warranty of any kind by Propworx or the seller. Buyers are responsible for satisfying themselves concerning the condition of the property and the matters referred to in the catalog entry. 3. AT THE SALE (a) Refusal of admission Propworx has the right, at our complete discretion, to refuse admission to the premises, online registration or participation in any auction and to reject any bid. (b) Registration before bidding A prospective buyer must complete and sign a registration form or complete and authorize the online registration process and provide identification before bidding. We may require the production of bank or other financial references. (c) Bidding as principal When making a bid, a bidder is accepting personal liability to pay the purchase price, including the buyer's premium and all applicable taxes, plus all other applicable charges, unless it has been explicitly agreed in writing with Propworx before the commencement of the sale that the bidder is acting as agent on behalf of an identified third party acceptable to Propworx, and that Propworx will only look to the principal for payment. (d) Absentee bids Absentee bids should be placed online as designated at our web site. Written bids will not be accepted for this auction. (e) Telephone bids Propworx will accept phone bids on a very limited number of items only. Please contact Propworx for details. All other bidders should bid online if they are unable to attend the Live Auction. (f) Video or digital images At some auctions there may be a video or digital screen. Errors may occur in its operation and in the quality of the image and we do not accept liability for such errors. (g) Reserves All lots in this sale are offered without reserve. (h) Auctioneer's discretion The auctioneer has the right at his absolute and sole discretion to refuse any bid, to advance the bidding in such a manner as he may decide, and, in the case of error or dispute, and whether during or after the sale, to determine the successful bidder, to continue the bidding, to cancel the sale or to reoffer and resell the item in dispute. If any dispute arises after the sale, our sale record is conclusive. (i) Successful bid and passing of risk Subject to the auctioneer's discretion, the highest bidder accepted by the auctioneer will be the buyer and the striking of his hammer marks the acceptance of the highest bid and the conclusion of a contract for sale between the seller and the buyer. Risk and responsibility for the lot passes to the buyer at the expiration of seven calendar days from the date of the sale or on collection by the buyer if earlier. 4. AFTER THE SALE (a) Buyer's premium In addition to the hammer price, the buyer agrees to pay to us the buyer's premium together with any applicable sales or compensating use tax in the place of sale, as well as . The buyer's premium is 23% of the final bid price of each lot up to and including $100,000 if paid via Paypal. The buyer's premium is 20% of the final bid price of each lot up to and including $100,000 if paid via cashiers check, money order, wire transfer or cash. (b) Payment and passing of title Immediately following the sale, the buyer must provide us with his or her name and permanent address and, if so requested, details of the bank from which payment will be made. The buyer must pay the full amount due (comprising the hammer price, buyer's premium and any applicable taxes) or 25% of the total due if enrolling in the 90 day payment plan, no later than 5.00pm on the seventh calendar day following the sale. This applies even if the buyer wishes to export the lot and an export license is, or may be, required. The buyer will not acquire title to the lot until all amounts due to us from the buyer have been received by us in good cleared funds even in circumstances where we have released the lot to the buyer. (c) Collection of purchases We shall be entitled to retain items sold until all amounts due to us, have been received in full in good cleared funds or until the buyer has satisfied such other terms as we, in our sole discretion, shall require. Subject to this, the buyer shall collect purchased lots within seven calendar days from the date of the sale unless otherwise agreed between us and the buyer. (d) Packing, handling and shipping Buyer is responsible for picking up their merchandise, or for all shipping, handling and insurance charges through either Propworx or its designated agent as agreed upon by Propworx. Although we shall use reasonable efforts to take care when handling, packing and shipping a purchased lot, we are not responsible for the acts or omissions of third parties whom we might retain for these purposes. Similarly, where we may suggest other handlers, packers or carriers if so requested, we do not accept responsibility or liability for their acts or omissions. (e) Export license Unless otherwise agreed by us in writing, the fact that the buyer wishes to apply for an export license does not affect his or her obligation to make payment within seven days nor our right to charge interest or storage charges on late payment. If the buyer requests us to apply for an export license on his or her behalf, we shall be entitled to make a charge for this service. We shall not be obliged to rescind a sale nor to refund any interest or other expenses incurred by the buyer where payment is made by the buyer in circumstances where an export license is required. (f) Remedies for non payment If the buyer fails to make payment in full in good cleared funds within the time required by paragraph 4(b) above, we shall be entitled in our absolute discretion to exercise one or more of the following rights or remedies (in addition to asserting any other rights or remedies available to us by law): (i) to charge interest at such rate as we shall reasonably decide; (ii) to hold the defaulting buyer liable for the total amount due and to commence legal proceedings for its recovery together with interest, legal fees and costs to the fullest extent permitted under applicable law; (iii) to cancel the sale; (iv) to resell the property publicly or privately on such terms as we shall think fit; (v) to pay the seller an amount up to the net proceeds payable in respect of the amount bid by the defaulting buyer; (vi) to set off against any amounts which we, may owe the buyer in any other transactions, the outstanding amount remaining unpaid by the buyer; (vii) where several amounts are owed by the buyer to us, or to Propworx International plc, or to any of its affiliates, subsidiaries or parent companies worldwide, in respect of different transactions, to apply any amount paid to discharge any amount owed in respect of any particular transaction, whether or not the buyer so directs; (viii) to reject at any future auction any bids made by or on behalf of the buyer or to obtain a deposit from the buyer before accepting any bids; (ix) to exercise all the rights and remedies of a person holding security over any property in our possession owned by the buyer, whether by way of pledge, security interest or in any other way, to the fullest extent permitted by the law of the place where such property is located. The buyer will be deemed to have granted such security to us and we may retain such property as collateral security for such buyer's obligations to us; (x) to take such other action as we deem necessary or appropriate. If we resell the property under paragraph (iv) above, the defaulting buyer shall be liable for payment of any deficiency between the total amount originally due to us and the price obtained upon resale as well as for all costs, expenses, damages, legal fees and commissions and premiums of whatever kind associated with both sales or otherwise arising from the default. If we pay any amount to the seller under paragraph (v) above, the buyer acknowledges that Propworx shall have all of the rights of the seller, however arising, to pursue the buyer for such amount. (g) Failure to collect purchases Where purchases are not collected within seven calendar days from the date of the sale, whether or not payment has been made, we shall be permitted to remove the property to a third party warehouse at the buyer's expense, and only release the items after payment in full has been made of removal, storage, handling, insurance and any other costs incurred, together with payment of all other amounts due to us. 5. EXTENT OF PROPWORX LIABILITY Neither the seller, Propworx, nor any of our officers, employees or agents, are responsible for the correctness of any statement of whatever kind concerning any lot, whether written or oral, nor for any other errors or omissions in description or for any faults or defects in any lot. Neither the seller, Propworx, our officers, employees or agents, give any representation, warranty or guarantee or assume any liability of any kind in respect of any lot with regard to merchantability, fitness for a particular purpose, description, size, quality, condition, attribution, authenticity, rarity, importance, medium, provenance, exhibition history, literature or historical relevance. Except as required by local law any warranty of any kind whatsoever is excluded by this paragraph. 6. BUYER'S REMEDIES. This section sets forth the sole and exclusive remedies of Buyer in conformity with Sections 5 ("Extent of Propworx Liability") herein, and is expressly in lieu of any other rights or remedies which might be available to Buyer by law. The Buyer hereby accepts the benefit of the consignor's warranty of title and any other representations and warranties made by the consignor for the Buyer's benefit. In the event that Buyer proves in writing to Propworx' satisfaction that there was a breach of the consignor's warranty of title concerning a lot purchased by Buyer, Propworx shall refund the Purchase Price (including any premiums, taxes, or other amounts paid or due to Propworx). The rights and remedies provided herein are for the original Buyer only and they may not be assigned or relied upon by any transferee or assignee under any circumstances. Lots containing ten or more items are not returnable under any circumstances. The exercise of rights under this Section 6 must be made, if at all, within thirty (30) days of the date of sale. 7. COPYRIGHT The copyright in all images, illustrations and written material produced by or for Propworx relating to a lot including the contents of this catalog, is and shall remain at all times the property of Propworx and shall not be used by the buyer, nor by anyone else, without our prior written consent. Propworx, and the seller make no representation or warranty that the buyer of a property will acquire any copyright or other reproduction rights in it. 8. HEADINGS Headings are for convenience only and shall not be used to interpret the substantive sections to which they refer. 9. SEVERABILITY If any part of these Conditions of Sale is found by any court to be invalid, illegal or unenforceable, that part shall be discounted and the rest of the conditions shall continue to be valid to the fullest extent permitted by law. 10. LAW AND JURISDICTION The rights and obligations of the parties with respect to these Conditions of Sale, the conduct of the auction and any matters connected with any of the foregoing shall be governed and interpreted by the laws of the state of California. By bidding at auction, whether present in person or by agent, by written bid, telephone or other means, the buyer shall be deemed to have submitted, for the benefit of Propworx, to the exclusive jurisdiction of the courts of Los Angeles, California, and (if applicable) of the federal courts sitting in California. 11. ENTIRE AGREEMENT These Conditions of Sale constitute the entire agreement between the parties together with the terms and conditions contained in the Registration Form. They may not be amended, modified or superseded except in a signed writing executed by all parties. No oral or written statement by anyone employed by Propworx or acting as agent or representative of Propworx may amend, modify, waive or supersede the terms herein unless such amendment, waiver or modification is contained in a writing signed by all parties. If any part of these Conditions of Sale are for any reason deemed invalid or enforceable, the remaining portions shall remain fully enforceable without regard to the invalid or unenforceable provisions any reason deemed invalid or enforceable, the remaining portions shall remain fully enforceable without regard to the invalid or unenforceable provisions.
Bid Anywhere, Anytime. Download the LiveAuctioneers App.
Available on the App Store
Android App on Google Play