lots of lots
Auction ended on March 23rd, 2008 UTC
1017: Outsider Art- Jack Savitsky- "Black Adam and Eve"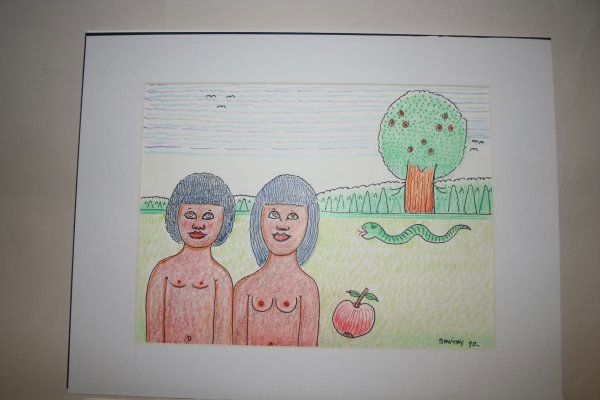 Outsider Art- Jack Savitsky- "Black Adam and Eve" Pastel and ink on paper. This piece measures. 9 x 12 x 12 x 16 with the matting and is signed. 1990. 200-400
Shipping
Buyer Pays Shipping and packing cost. You may choose the shipping company . The average shipping time of antique ivory overseas is 60-90 days. All permits,shipping cost, inspection fees in this process are the cost of the buyer and must be paid upfront.The shipping of antique ivory is quite a process and be ready to do some paperwork on your end.However we will be glade to keep your ivory canes till you visit the USA and you can carry them back with you.
Payment
Payment must be received with in 7 days after the auction. Read auction terms for more complete details. By registering for this auction you accept the terms of this auction.Payment by check,Mastercard or Visa. Checks are to be sent to :Kimball M. Sterling,Inc, 125 West Market Street Johnson City, Tn 37604 423928-1471
Accepted payment methods
Emergency Phone
423-773-4073 This number should be used in case of an Ebay Live Auction crash. This has happened before.
Taxes
Local Taxes Apply to instate bidders
Condition
If you would like a condition report please email us at elizabethsterlingearthlink.net. All answers will be sent the week of the auction.
Terms
Terms and Conditions Check, MasterCard, or Visa. We do not accept paypal or American Express. A 20% buyers premium will be added to the hammer price as part of the sale price for internet bidders.. We reserved the right to hold purchases until the buyers checks clears if buyer is not known by us. Bank letter of credit is acceptable.Kimball M. Sterling, Inc. has endeavored to catalog and describe the property correctly. All property is sold as is and the neither the auction company or the consignor will be responsible for descriptions, genuineness, provenance or condition of the property. No statement in the catalog made orally at the sale or otherwise shall be deemed to be a warranty, representation, or an assumption of liability. Call for a condition report or email for additional photos. In the event of any dispute between bidders, the auctioneer shall have total discretion to determine the successful bidder, in which his determination shall be final or to re-offer and resale the article in dispute. Title of the item or items purchased by the bidder will pass at the fall of the gavel according to the UCC laws. This is not an approval auction. Principal auctioneer: Kimball M. Sterling #2467. B. Elizabeth Sterling, auctioneer # 5757. Firm Kimball M Sterling Inc. TFL-1915 Bidders may bid live on the Internet . Communications: Telephone 423-928-1471. Fax 423-928-2816. Cellular 423-773-4073. Email kimballsterling@earthlink.net Worldwide shipping is available, international paperwork is the responsibility of the buyer. We encourage you to use United States Mail.Reasonable packing service but the buyer must pay postage and insurance fees of their choice. Our average shipping time is 20-30 days after your funds are received Kimball M. Sterling, Inc. will not be held responsible for bids not received in time for the auction or slow Internet bids. We will not be responsible for items left on our location for over 30 days. Sale will be conducted at 125 West Markert Street, Johnson City, Tennessee.37604 Announcements day of the sale take precedence over pre-sale advertising. Any litigation that pertains to this auction will be conducted in the county Of Washington in Tennessee and is agreed upon by registering for this auction. Airport is the Tri-Cities Airport, which is approximately 20 miles from the gallery. Internet catalog and live bidding available at our website. Best Western Hotel: 423-282-2126. Ask for Sterling rate. Please call for condition report on sale lots or email us. We do send out multiple photos by email of any lot in the auction .By registering for this auction you accept the terms and give Kimball M. Sterling auctions the right to charge your credit card ,for purchases and shipping, which your have entered on your registration. Payment must be received within 7 days of the auction. Condition report can be addressed by a phone call or an email. We were involved in the Oct.21 Ebay live crash. We do not expect this to happen again but it would be wise if you are going to bid on the net program to have these numbers handy. All are area code 423. 773-4073 773-4072 833-4674 928-1471 773-4074 fax-423-928-2816 email-kimballsterling@earthlink.net
Bid Anywhere, Anytime. Download the LiveAuctioneers App.
Available on the App Store
Android App on Google Play