Auction ended on March 3rd, 2008 UTC
1173: ROYAL COPENHAGEN MERMAID BOWL, 3231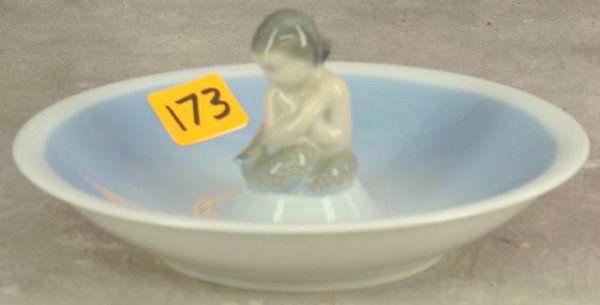 ROYAL COPENHAGEN MERMAID BOWL, 3231, green printed backstamp and impressed number, 15cms wide. Est R400 - 600
Accepted payment methods

:
CONDITIONS OF SALE 1. EBAY USERS PLEASE NOTE: The live auction will be conducted in Durban South Africa, in South African currency which is ZAR. The eBay / Live Auctioneer platform does not support ZAR, therefore all bids placed on Live Auctioneer and eBay will be in Euros, calculated at EU1 = R10. Bids will be converted to ZAR at represented at the live auction, and converted back to Euro's for invoice purposes. EXAMPLE: A bid of EU100 will be represented as R1000 at the live auction. Conversely, a knockdown price of R1000 will be entered as EU100 on the internet. IMPORTANT - Our auctioneers sell approximately 100 lots per hour. If you intend bidding live, please ensure that you place your maximum bid timeously to be represented competitively by eBay. The best way is to leave an absentee bid on eBay before the lot comes up for sale to ensure that we receive it in time. 2. BUYERS COMMISSION: All lots will attract a buyers commission of 15% plus VAT to floor bidders. Successful bids on LiveAuctioneers / eBay will attract buyers commission of 20%. 3. WARRANTIES: All items are sold as is, where is, with all faults. There are no warranties or representations of merchantability, of fitness, nor of any other kind, express or implied. All items are available for your examination prior to bidding. Your bidding will signify that you have examined the items as fully as you desire, or that you have chosen not to examine them. Written and oral descriptions are our opinions and should in no way be construed as a guarantee of any kind as to age, condition, materials or any other feature of items being sold. Our goal is to provide prospective bidders with accurate and detailed information. We recommend prospective bidders examine all items in which they have an interest, or have a representative examine items on your behalf. If you require absolute certainty in all areas of authenticity, and the results of your evaluation leave uncertainty in your mind, we recommend you not bid on the item in question. We do not give refunds. All sales are final. No statement written or oral made by the auctioneer shall be deemed a warranty or assumption of liability by Old Church Auctions. 4. PACKING AND SHIPPING: Old Church Auctions will pack and ship manageable items at the buyers expense. Heavy, highly fragile and larger items will be subcontracted to a professional packing and shipping company to process. Please allow three weeks for shipping after payment is received. We are happy to provide names of carriers and shippers if a purchaser so requests. Old Church Auctions will have no liability for any loss or damage to shipped items. 5. PAYMENT: Payment must be made by cash (In House Only), approved cheque, bank wire transfer, Master or Visa credit cards, Paypal or Setcom. Please see 1 above regarding currency conversion rates. We reserve the right to request a bank guaranteed cheque for large purchases. We require valid credit card information from all prospective bidders using eBay / Live Auctioneer to either place bids or bid live at the auction. Payment is required within 3 working days of the sale. 6. Each bid will be an offer to purchase and the party making the highest accepted bid will be the Purchaser. The sale to become complete on acceptance of the bid by the Auctioneer at a reserved price or controlled price, as indicated by the fall of the hammer or otherwise. The advance in the bidding will be regulated by the Auctioneer who will have the sole right of deciding who was the last bidder. In the event of a dispute between two or more bidders the lot in question may be put up and resold at the discretion of the Auctioneer. The Buyer shall be bound by all announcements made by the Auctioneer at the commencement of and during the sale whether present or not at the time of making. 7. The Auctioneer may, at his discretion and without assigning any reason therefore, refuse a bid or withdraw an article either before or after it has been put up for auction 8. The Auctioneer shall have the option of demanding cash (In House Only) on acceptance of the bid, as above, and failing payment, may cancel the sale, and offer the articles again by auction. 9. No articles shall be removed without the consent of the Auctioneer. Each lot will be at the risk of the Purchaser as soon as knocked down, and shall be removed and settled for in terms of the conditions otherwise a charge will be made for warehouse rent. 10. Should the Purchaser or Purchasers neglect or fail to comply with any of the above conditions, the property may be resold either by Public or Private Sale, at the risk of the Defaulter or Defaulters who shall bear all expenses incurred by such resale, and without benefiting thereby. The Defaulter or Defaulters shall also be responsible for all loss or damage and shall make good all deficiency. 11. The Auctioneers Vendue Roll of Sale is final. No dispute will be taken into consideration as to the correctness of same. 12. VAT at the prevailing rate will be charged on all goods assigned to the Auctioneer by registered Vendors. Such items will be clearly indicated on the item or as announced. 13. INTERNET, ABSENTEE AND TELEPHONE BIDS. Whilst the interests of prospective buyers are best served by attendance at auction, the Auctioneer may execute bids on behalf of prospective buyers. Neither the Auctioneer nor its agents or employees are responsible for any neglect or default relating to internet, absentee and telephone bids, including without limitation, any telecommunications and / or internet errors or failures.
Bid Anywhere, Anytime. Download the LiveAuctioneers App.
Available on the App Store
Android App on Google Play