Auction ended on December 3rd, 2016 UTC
Muhammad Ali vs. "Big Cat" Williams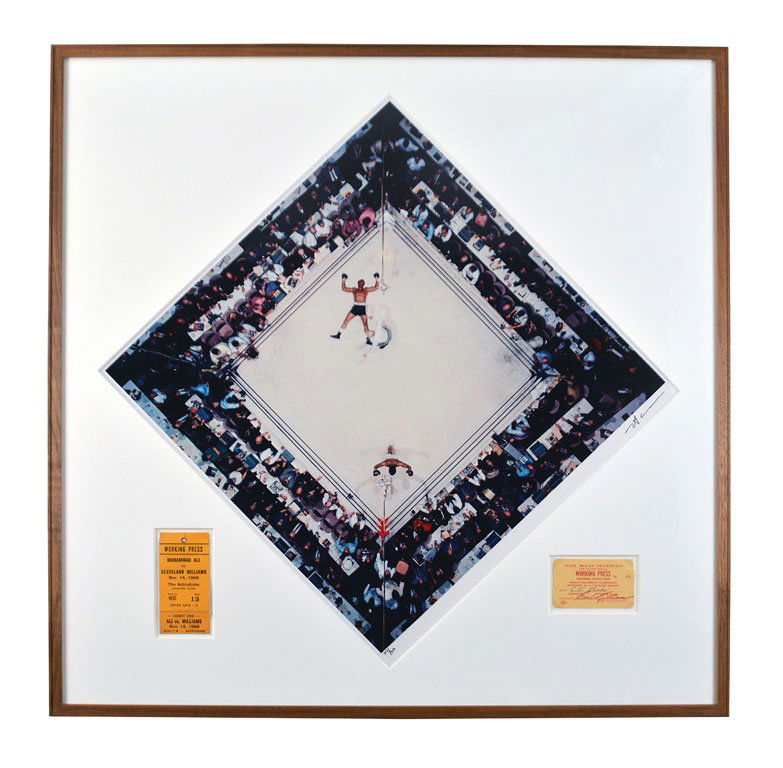 Color, 1966. Chromogenic color print. Signed in ink by Neil Leifer, numbered 217/350.

November 14, 1966 was a night Muhammad Ali fans will forever savor. In the newly opened Houston Astrodome, in front of what was then the largest crowd to ever attend an indoor sporting event, nearly 36,000 Texas fight fans booed the young Muhammad Ali, who not long before had announced his opposition to the Vietnam War. Instead, they cheered for their local favorite, Cleveland "Big Cat" Williams, who had an impressive knock-out record.

From the first round to the fight's third round finish, Ali dominated Williams, repeatedly flooring his heavier opponent. On one of those knockdowns, and with his camera positioned at the dead center of the peak of the Astrodome, Neil Leifer took the shot that has been on many occasions cited as one of "the greatest sports photographs ever taken."

This photograph has been handsomely framed, along with two of Leifer's press credentials for the event. The first reads, "Working Press Credential, Muhammad Ali vs. Cleveland Williams, Nov. 14 1966, The Astrodome, Houston, Texas. Section WEST Seat 12, Admit One, 8:00PM." This ticket measures 5 x 2in. The second credential reads, "Texas Boxing Enterprises, Earl Gilliam, Promoter. Working Press Pass No. 185. Dressing Room Pass. World's Heavyweight Championship, Muhammad Ali vs. Cleveland Williams. Admit S.I. [Sports Illustrated] Photo. Astrodome, November 14, 1966. Authorized by Earl Gilliam."

The photograph measures 24 x 20in. The the frame, which includes the credentials, measures 33 x 33in.

This framed work has been professionally framed by Mr. Leifer's preferred framer. The frame is handsome, created in a simple, modern design much preferred by museums. The woods is a light, natural shade; the glazing is a UV plexiglass of the highest quality; the backing board is generally a sheet of foam core. More information on the specific framing can be provided by the auction house upon request.

RESERVE

The photographs in this auction have been examined by an expert, whose opinions pertaining to the age of the prints, the printing process, and the type of paper used, are included in the description of each photograph. Although Guernsey's believes these descriptions to be accurate, interested buyers are urged to personally inspect the prints either at the public preview or by appointment with Guernsey's. As with all items in this auction, all lots are being sold as is.

Please note the terms being used to describe photographic prints:

Vintage print: Printed no more than 3-5 years after the negative was made.
Older print: Also referred to by collectors as "printed later." Refers to a print that was made more than 3-5 years after the original negative was made, but not within the 21st century.
Modern print: Refers to a print made in the 21st century from an earlier, 20th century negative.