lots of lots
Auction ended on January 26th, 2008 UTC
457: CHILDREN'S GLASS AND CHINA REFERENCE VOLUMES, LOT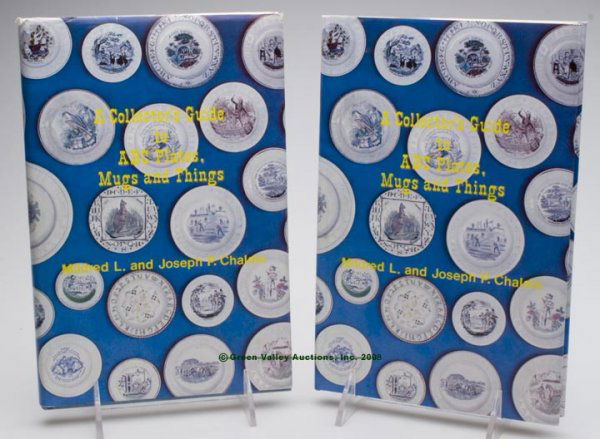 CHILDREN'S GLASS AND CHINA REFERENCE VOLUMES, LOT OF TWO, Mildred L. and Joseph P. Chalala, "A Collector's Guide to ABC Plates, Mugs and Things", Lancaster, PA: Pridemark Press, 1980, two copies, both hard cover with dust jacket and signed by authors.
Provenance: From a Minnesota estate collection
Condition
New condition, one with very light wear to jacket
Shipping
1. The buyer is responsible for all associated shipping costs.BR 2. All packaging is done in-house and shipped via UPS unless otherwise requested.BR 3. We do NOT packageship furniture, other oversized items or items of an unusually fragile nature. The buyer is responsible for coordinating pick up or shipment of any such merchandise. No merchandise may leave the gallery until full payment has been credited by Green Valley Auctions, Inc.BR 4. Insurance is mandatory. Each item is insured for its final sale price, which includes the buyer's premium.BR 5. No state sales tax is imposed on merchandise shipped out of the state of Virginia.BR 6. Items are packed and shipped in the order in which payment is received. PLEASE NOTE: We will not charge your credit card until the day (or possibly the day before) your items are shipped.BR 7. Exact shipping charges are not known until the sold lots are packed, weighed and measured. Shipping costs are based on the final bid price, delivery zip code, and number, size and weight of packages. Shipping costs paid by credit card (Visa or MasterCard accepted only) are not subject to a buyer's premium.BR 8. Estimated shipping costs can only be provided up to one hour prior to the start of the auction. Contact Green Valley Auctions, Inc. by phone (540) 434-4260, or email a hrefmailto:infogreenvalleyauctions.cominfogreenvalleyauctions.coma with your request. Green Valley Auctions, Inc. is under no obligation to honor the estimated shipping cost quoted prior to the auction.BR 9. Green Valley Auctions reserves the right to hold merchandise purchased by check until the check has cleared our financial institution.BR 10. The shipping cost includes a nominal packaginghandling fee to cover the cost of labor and materials. Green Valley Auctions, Inc. is widely known for reasonable shipping costs and professionally packed merchandise. Processing shipments in-house allows us to offer a more reasonable shipping cost.BR 11. Please allow approximately 2 to 4 weeks after receipt of payment for shipment of your merchandise.BR 12. Unless prior arrangements have been made with Green Valley Auctions, any unpaid merchandise not removed within 2 weeks of sale date will be subject to a monthly storage fee. Any merchandise not removed within 60 days of the sale date will be considered abandoned and will be disposed of at the discretion of Green Valley Auctions, Inc.BR 13. Payment made by credit card, money order or certifiedcashier's check will expedite the shipping process; however, please remember that items are packed and shipped in the order in which payment is received.BR 14. Our Shipping Department takes great pride in carefully packaging all orders, including mandatory double-boxing of all shipments.BR
Payment
1. We will notify successful bidders within 4 business days of the completion of the auction. IMPORTANT: If you are a successful bidder who has not received notification of winning bid(s) after 4 business days, you must contact us to make arrangements for payment and pick up or shipping of merchandise (some emailed invoices may be undeliverable due to spam filtering programs).BR 2. Payment in full (in U. S. Dollars only) must be made within 5 business days of notification of winning bids.BR 3. Please include auction date with all correspondence.BR 4. The return policy only applies to merchandise for which full payment was received within our required time frame.BR 5. GREEN VALLEY AUCTIONS DOES NOT ACCEPT PAY PAL.BR 6. Green Valley Auctions accepts payment by cash (in-house only), check, money order, credit card (Visa or MasterCard only), and bank wire transfer (see below).BR 7. An additional bank fee will be added to your total for each bank wire transfer of funds. Please email infogreenvalleyauctions.com with Bank Wire Transfer Request in the subject line for additional information and instructions.BR 8. PLEASE NOTE: We will not charge your credit card until the day (or possibly the day before) your items are shipped.BR 9. Green Valley Auctions reserves the right to hold merchandise purchased by check until the check has cleared our financial institution.BR 10. Any accounts not paid in full within 30 days of the sale date will be subject to a 2% monthly finance charge.BR 11. All returned checks are subject to a 50.00 service charge.BR 12. The buyer shall be liable for all fees and costs associated with the collection of balances due, including attorney's fees.BR 13. These terms and conditions, as well as the respective rights and obligations hereunder, shall be governed by and construed and enforced in accordance with the laws of the Commonwealth of Virginia. The buyer shall be deemed to have consented to the jurisdiction of the state courts of, and the federal courts sitting in the Commonwealth of Virginia.
Accepted payment methods
About Green Valley Auctions, Inc.
Green Valley Auctions, Inc. is a state of the art 22,500 square foot gallery just two minutes east of Interstate 81, the major north-south highway with a daily traffic count of nearly 60,000. Located in the heart of the Shenandoah Valley of Virginia, USA, Green Valley is only two hours from Washington D. C. and Richmond, Virginia. The facility features three smoke-free galleries with security cameras, a separate lobby housing computerized registration check out, loading docks and acres of lighted parking. The facility is handicapped accessible.BRBR bNON-AUCTION OFFICE HOURS:bBR Our offices are open Monday through Thursday 8:00 a.m. to 5:00 p.m. eastern time (excluding major holidays). Questions on upcoming sales can be addressed via e-mail to infogreenvalleyauctions.com or via telephone at (540) 434-4260.BRBR bHISTORY:bBR Green Valley Auctions, Inc. was founded in 1967 by Leighton and Kathryn Evans. The first auctions were held in the converted bank barn on the 100-acre family farm. The children (Jeff, Michael, Greg and Michele) grew up working with their parents in the family business. Jeff and wife Beverley inherited the business in 1979. In 1985, Greg joined full time and the business was expanded with a new 8,000 square foot gallery. This began an era of tremendous growth that has resulted in several expansions of facilities and staff. In 1997, in celebration of 30 years of success based on a foundation of integrity and trust, Green Valley Auctions, Inc. opened the doors to its new 20,000 square foot, multi-gallery complex. With the development of multiple auction divisions, Green Valley has become nationally recognized for its expert services and impeccable honesty; prepared to meet every auction need, from important recognized collections to complete turnkey estate dispersals.BRBR Green Valley Auctions conducts general estate auctions as well as cataloged sales. The more than 25 auctions conducted annually include several cataloged sales of Glass and Lighting and Antiques, Americana and Decorative Arts, and the occasional, one-owner auction of a specialized collection.BRBR Under Jeff's qualified direction, Green Valley Auctions' Catalog Department is now firmly established as the leading, nationally recognized auction house for early American glass and lighting, as well as Virginia furniture and decorative arts. The published full-color catalogs for which Green Valley Auctions has become widely known, are prized reference materials, valued by serious dealers and collectors alike. With beautiful photographs, exceptionally detailed descriptions and thorough condition reports, the catalogs are unsurpassed in the glass industry. Through these cataloged auctions, Green Valley has handled many important and landmark collections as well as material for many major glass museums including The Corning Museum of Glass. Green Valley's biannual Antiques and Americana cataloged auctions, normally held in June and November, are also well regarded by those in the antiques community; a status indelibly fixed in 2004 when a Johannes Spitler decorated wall cupboard sold for 962,500, a record price for a piece of paint decorated American furniture. The cupboard, which had descended directly from fraktur artist Jacob Strickler, is considered one of the most important American Folk Art discoveries in the last 30 years. BRBR In an October 2004 article for USA Today, Terry Kovel, co-author with her husband, Ralph, of more than 85 books, including Kovels' Antiques Collectibles Price List, included Green Valley as one of her 10 fascinating spots to find a treasure or two.BRBR Now that 2007 has marked the 40th anniversary of Green Valley Auctions' humble beginning, plans are underway to expand once again and position the company for continued success and growth. Serious planning has been initiated for additional facility expansion, with commencement of renovations scheduled for mid-2008. Also, starting in 2007, Green Valley's cataloged sales will be offered through eBay Live auctions, which will allow online bidders from across the globe to participate live during the auction via the Internet.
Return Policy
1. This return policy only applies to merchandise for which full payment was received within our required time frame. Refunds will be given at the sole discretion of the auctioneer.BR 2. Do NOT return any item until a refund authorization has been obtained from Green Valley Auctions.BR 3. The item(s) must be returned in the same condition as when purchased from Green Valley Auctions. The auctioneer will inspect the item and determine condition upon receipt of returned item.BR 4. Refund requests on the grounds of authenticity must be made within 25 days of the auction. Requests must be accompanied by at least one supporting statement in writing from an authority recognized by the auctioneer.BR 5. Absolutely no refunds will be made after 25 days of the auction date.
Bidding Instructions
The following bid increments (in U. S. DOLLARS) are in effect for this auction:BRBR 0 to 200: 10 raiseBR 200 to 500: 25 raiseBR 500 to 1,000: 50 raiseBR 1,000 to 3,000: 100 raiseBR 3,000 to 5,000: 250 raiseBR 5,000 to 10,000: 500 raiseBR 10,000 to 30,000: 1,000 raiseBR 30,000 to 50,000: 2,500 raiseBR 50,000 to 100,000: 5,000 raiseBR Over 100,000: 10,000 raiseBRBR These bidding increments are used as a guide only. The auctioneer reserves the right to alter the bidding increments if he deems necessary. The auctioneer will not accept cut bids from any bidder - bids must be consummate with the auctioneer's requested raises.
ReservesEstimates
1. Unless otherwise noted, lots are sold without reserve (see 4 below). On rare occasions, we do offer lots that have reserves.BR 2. A reserve is the minimum price a consignor is willing to accept for the item. The consignor and Green Valley Auctions, Inc. have agreed upon the reserve price prior to the auction date. The consignor is not obligated to sell the item if the reserve price is not met.BR 3. A representative of Green Valley Auctions, Inc. will execute a reserve by bidding for the consignor.BR 4. Estimates are based on past auction results when available, andor our Catalog Department's best guess as to what each lot may sell for. Because the majority of our lots are sold unreserved, our estimates are usually conservative. On the rare occasion that a lot does have a reserve, the reserve will never exceed the lower estimate; an asterisk () by the estimate will indicate that a reserve is in place for that particular lot.BR 5. Unless indicated by the (), the estimates provided by Green Valley Auctions, Inc. do not represent a minimum allowable bid.BR 6. As with all auctions, some lots will sell for less than the estimate and many will sell for above the estimate. We encourage all bidders to enter bids with which they are comfortable, and to use the provided estimates as a guide only.BR 7. The auctioneer reserves the right to decline any bid that is not in accordance with the value of the lot.
Taxes
1. Items purchased through eBay Live and shipped out of the state of Virginia are not subject to sales tax (see 3 under SHIPPING for items that we do NOT ship).BR 2. All buyers (out-of-state, international or otherwise), are subject to the Virginia 5% sales tax if the property is picked up in person at the auction gallery, unless the buyer has a current signed VA Sales and Use Tax Certificate of Exemption on file with Green Valley Auctions, Inc. (required annually for Virginia dealers; per auction for out-of-state dealers).BR 3. Items picked up by an agent for an official shipping company (e.g. the UPS store) for transportation out of state would be exempt from Virginia sales tax.
Live Auctions
font colorFF0000THIS IS A LIVE AUCTION THAT WILL BEGIN ON SATURDAY, JANUARY 26, 2008 AT APPROXIMATELY 9:30 AM ESTfont Lots offered are part of a live auction at Green Valley Auctions' facility in Mt. Crawford, Virginia, USA. Items are auctioned in numerical order at a rate of approximately 100 lots per hour. IMPORTANT NOTE: eBay's official time is the time at eBay headquarters in San Jose, California, USA. Below is a reference time zone chart for different areas in the USA. Additionally, beBay's Time Remaining time stamp is NOT an accurate reflection of the hours at which the lots will be auctioned.bBRBR Green Valley Auctions is located in Virginia, USA which is on EASTERN time.BRBR Pacific Time: 13:30:00BR Mountain Time: 14:30:00BR Central Time: 15:30:00BR Eastern Time: 16:30:00BR Alaska Time: 12:30:00BR Hawaii Time: 11:30:00
Terms
CATALOG INFORMATION: 1. GLASS & LIGHTING: a. All catalog descriptions are guaranteed to be accurate in the matter of authenticity, condition and measurements unless otherwise noted in the catalog description. Measurements are guaranteed to be accurate to within one inch. b. Due to the high number of absentee bids that we execute, we are very meticulous in our description of the condi-tion of each piece. Many of the minor flaws that we note are perfectly acceptable and do not detract from the item's desirability or value; however we do not consider light wear, small manufacturing flaws, glass impurities or lightly tinted glass to be notable flaws. If you are a bidder who demands flawlessness, it is recommended that you examine the item(s) in person, or have a trusted representative inspect the item(s) on your behalf. c. Lamps are measured to the top of the collar and are without burners and chimneys unless otherwise noted. 2. ANTIQUES, AMERICANA & DECORATIVE ARTS: a. All catalog descriptions are believed to be accurate in the matter of authenticity and condition, but ultimately all lots are sold "as is". Antiques by their very nature will exhibit wear, minor losses and breaks, and small repairs consummate with age. We only note condition issues that in our opinion significantly affect the integrity of the item. Returns will only be considered for items found to be fake/reproduction and/or have major damage not noted in the catalog description. See RETURN POLICY for additional details. b. All measurements are approximate. Please contact us if you require exact measurements (see item "a" under ALL AUCTIONS). c. All rugs are sold strictly "as is" with no guarantees as to age or condition. Absolutely no refunds will be considered. d. Fine jewelry is guaranteed regarding gold content and authenticity of diamonds only. Authenticity of other stones and grades of any stones are not guaranteed. 3. ALL AUCTIONS: a. All requests for additional information will be accepted until 24 hours prior to the start of the auction. b. The auctioneer reserves the right to make verbal corrections and provide additional information from the auction block at the time of sale. Internet bids will not be executed or accepted on lots found to be other than as described in the catalog unless a representative from our Catalog Department has personally conveyed the updated catalog description to the Internet Bidder. The bidder will then have the option to cancel or alter the original absentee bid if desired. c. When "Sold Choice" is listed with a lot, this denotes that we have two or more examples of that item. The suc-cessful bidder may take as many as he or she desires at the bid price. We will then reopen the bidding on any remaining item(s). Note: "Sold Choice" is the same as "Choice with no minimum" described in eBay's "Auction Terminology". OTHER TERMS & CONDITIONS OF AUCTION: 1. The auctioneer will be the sole determinant as to who is the successful bidder. 2. The auctioneer reserves the right, under extreme circumstances, to reopen bidding on a sold lot. 3. Once an item is sold, the buyer assumes full risk and responsibility for said item. 4. We will notify all successful bidders by phone or email within 3 to 4 business days of the auction. Please contact us by phone or email if you are a successful eBay Internet bidder who has not received notification from Green Valley Auctions, Inc. within 3 business days of the auction. 5. These terms and conditions, as well as the respective rights and obligations hereunder, shall be governed by and construed and enforced in accordance with the laws of the Commonwealth of Virginia. The buyer shall be deemed to have consented to the jurisdiction of the state courts of, and the federal courts sitting in the Commonwealth of Virginia. 6. Any guarantees are valid only to the original buyer. 7. Withdrawal Prior to Sale: Green Valley Auctions reserves the right to withdraw any property before the sale and shall have no liability whatsoever for such withdrawal. 8. If the buyer breaches any of his/her obligations under these Auction Terms & Conditions, including his/her obligation to pay in full the purchase price of all items for which he/she was the highest successful bidder, Green Valley Auctions, Inc. may exercise all of its rights and remedies under the law including, without limitation, (a) canceling the sale and applying any payments made by the buyer to the damages caused by the buyer's breach, and/or (b) offering at public auction, without reserve, any lot or item for which the buyer has failed to pay in full the purchase price, holding the buyer liable for any deficiency plus all costs of sale.
Bid Anywhere, Anytime. Download the LiveAuctioneers App.
Available on the App Store
Android App on Google Play