Auction ended on October 7th, 2007 UTC
215: Craig Vetter 1973 Triumph X75 Hurricane Motorcycle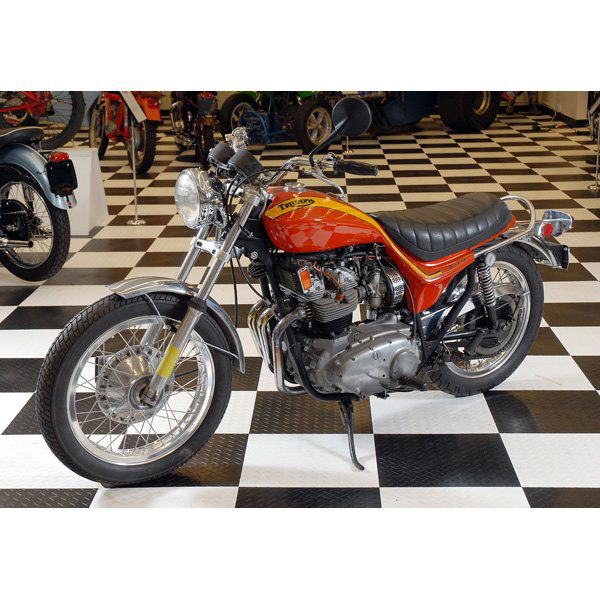 Craig Vetter 1973 Triumph X75 Hurricane Motorcycle
Rare Craig Vetter Designed 1973 Triumph X75 Hurricane Motorcycle. Paint Color: Orange & Yellow. All Original. Currently Gear Shift Locked. Has small crack in lower triple tree fork brace. An amazining opportunity to own an original part of Triumph history. Matching Frame & Engine Numbers.
Odometer Reading:
14693 (Miles or Kilometer Depending on Odometer)
VIN / Engine Number:
TRX75XHO2032
Matching Frame / Engine Number:
Yes
Title:
All vehicles will be sold with a simple bill of sale whether running and able to be titled and driven on the road or not as all contents of the museum are sold as non road vehicles.
All Motorcycles have been drained of fluids and batteries have been removed. Proper fluid levels and batteries will be needed to start unless otherwise noted in listing. If you would like additional information on this item, please contact us at the following phone numbers or by eBays messaging system.
For Item Details please contact the Museum Manager Ron at 941-276-3679 or Auction House Staffer Kieth at 407-802-8179.
We can arrange shipping to the continental United States via a partnered 3rd party or you can arrange to have the item picked up in Orlando, FL by Friday October 12th to avoid storage fees. For International Customers we can ship Federal Express via your Federal Express Account or for larger items, we have done the leg work and found reasonable shipping for motorcycles and vehicles overseas, which you can research more at www.shipoverseas.com. Multiple winning bids will be grouped together to save you money on shipping costs.
Live Auctions work a little different than normal eBay auctions. We will try and explain it so you can have an easy time of getting a chance to bid on the items you are interested in.
Absentee Bidding
(Prior To Auction Start)
You can place absentee bids up to 1 hour prior to the auction start time in the same fashion you would normally bid on eBay items. For live auctions, you do need to register for our sale via eBays system (just click the Place Absentee Bid link to register). Due to the nature of this specialty auction we do require a credit card be on file when registering for the auction. For more information please read the Terms & Conditions of sale. After you have registered you can bid on any of the lots in our catalog. We recommend absentee bidding as life is unpredictable and placing an absentee bid, even for the list price, allows you the opportunity to place a minimum bid on an item, as well as the opportunity to up your bid during the live auction event on Tuesday if you choose.
Bidding After The Live Auction Has Started on Sunday October 7th
(After 10:AM EST)
If you find one of our items after the absentee bidding period has ended online you can still bid on the item. With eBay Live Auctions you can bid on an item Live as the sale is going on. You do this by visiting eBay's sister site
www.eBayLiveAuctions.com
and clicking on "Bid Now" next to our Auction Event on their homepage. This will open the Live Auction applet on your computer so you can join the sale and bid on the items you are interested in.
Motorbilia Auctions is a subsidiary of World of Décor Auctions; a highly respected and acclaimed auction house presenting auction events throughout the country in places like Los Angeles, Ca., Dallas, Tx., Orlando, Fl., and more. With our Motorbilia Auction we scour the world for the best motor sports collections, collectable items, and collector consignments to present them in large annual events as well as specialty museum collection auctions like the Motorsports Museum of Orlando Auction and the Race Rock Shrine To Motorsports Auction. For more info please visit us online at www.MotorbiliaAuctions.com