Auction ended on May 27th, 2007 UTC
3132: Vitreous Stone Bottle by J. Bourne & Son, Denby P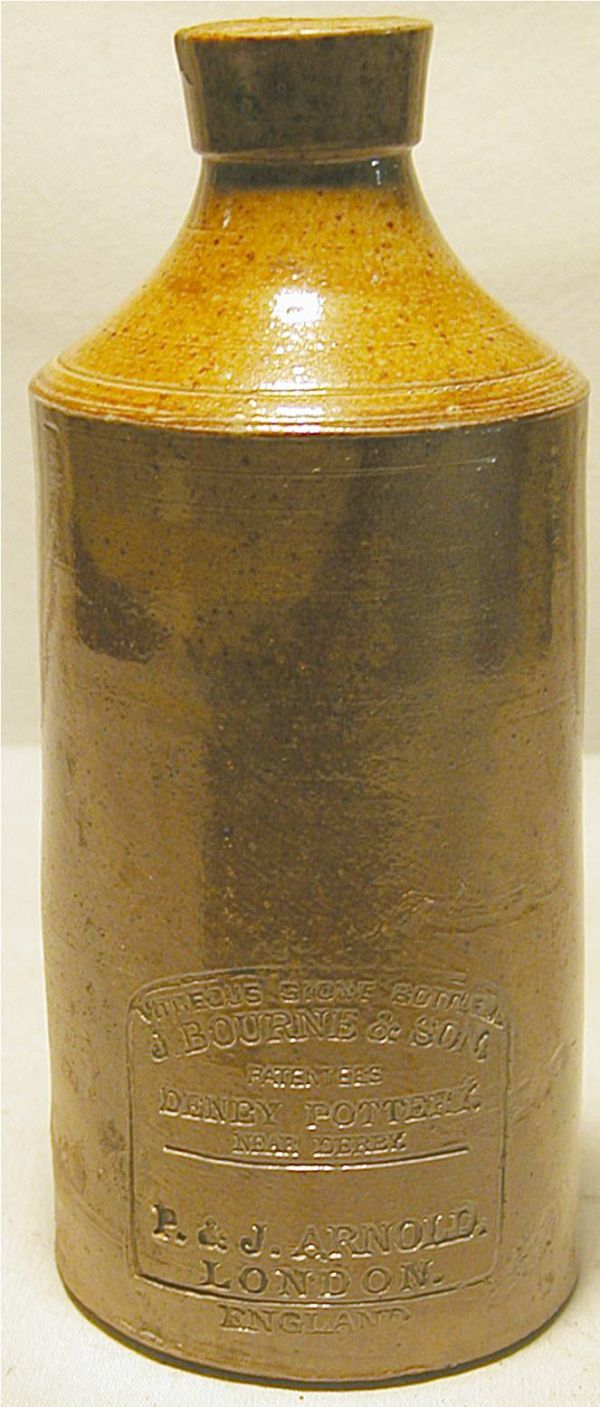 Vitreous Stone Bottle by J. Bourne & Son, Denby Pottery, R.J.Arnold, London, England, 7 1/4H x 3D
Accepted payment methods

:
TERMS OF SALE: A) Homestead Auctions has tried to accurately describe all items being sold, but all items herein offered for sale is strictly "as is" and its the bidder's responsibility whether bidding in person, by mail, email, or by telephone to determine the exact condition of each item. No statement of any advertisement, bill of sale, invoice, or by any representative of Homestead Auctions shall be deemed to be a warranty, representation or assumption of liability to the age, condition, size, quality, variety, importance or historical relevance toward any of these items for sale. Any such statements are strictly matters of opinion only. B) Bidding Procedures: If you leave an absentee bid on eBay, eBay will execute the bids in the order received. The earliest bid entered is executed first and will block any live bidders trying to bid during the sale until the maximum bid amount is reached. The eBay priority does not apply to floor bidders. What happens on occasion is that a lot will sell to a floor bidder for the amount left by an eBay bidder. For example, you leave a bid of $200 for an item: the bidding opens at $100 and your online bid is recognized by the auctioneer; the floor advances to $150; your online bid is recognized at $175; the floor bids $200. The floor bidder takes the lot since eBay cannot advance to $225 on your behalf, and you cannot bid $200 because you would be bidding against your $175 bid. (Technically, you did not bid $200, even though you left that as the maximum; only $175 was bid on your behalf.) That is, just because you left a bid of, say, $200 two weeks before the sale does not mean you will win the lot because your bid was left earlier. You are bidding against other people in a live auction. This does not mean we we or Ebay discriminates against online bidders. Often online bidders get lots for less than their maximum bid, and typically 25-30% of our lots sell on eBay.In addition, eBay does NOT let us see the amount of an absentee bid. We know a bid has been left, but not how much, so we cannot be aware of your maximum bid. Nor can we "fix" the bidding so that eBay bidders do not win the lot (we sell too fast to do this, anyway). Besides, if a lot sells for, say, $200, why should we care whether it sells to someone on eBay or someone on the floor? $200 is $200. The Auctioneer is the final judge as to the winning bid, no bids will be reopened.At the fall of the hammer,title will transfer.Buyer will become responsible at that point.C)PAYMENT TERMS: Payment may be made by cash(In House Only), Bank cashiers check, money order,personal check, Visa, Mastercard, American Express, Discover Card, NO PAYPAL. International Payments (No Checks, Only Credit Cards or Electronic Deposit(which will cost you $15.00 per transaction additional)).If you are the successful bidder, please E-mail your name, address, phone number and method of payment to hauction@earthlink.net immediately so that we can process your bill.We will send invoices for the entire sale within three days after the end of the entire auction. If you purchased an item early in the auction, you will need to wait until the entire sale is completed before we compile invoices. We will email invoices to eBay buyers when possible, but please be aware that occasionally the emails do not arrive. Please let us know if you do not receive one after a few days. We can fax, mail or re-send the email invoice. Please request if you need a complete total before paying. We will then calculate shipping, and often bidders are successful on multiple lots. We combine these on the invoice and do our best to combine shipping charges, also, to save buyers a bit of shipping expense. (We may have to ship items separately because of size, shape or fragility, however.)All Payments must be made no later than a week time period after said auction. If made after a weeks time there will be a NPB Filed. Payments exceeding the thirty day period will be subject to an additional $25.00 fee, and a reoccuring interest charge of 1.5%. E)There will be a 18% Buyer's Premium added to all successful bids and payable as part of your purchase price. F)SHIPPING, Homestead Auctions packages and ships all packages inside the USA by Federal Express. A processing fee of $15.00 will be added for Priority Mail. International Shipping will be shipped via USPS. The Buyer is responsible for all shipping and handling fees. It will be your responsibility to schedule pickup and packaging of large merchandise (Such as Furniture,Etc.). Please allow at least 7-10 business days for shipping. Items can be picked up at gallery however payment is expected immediately. All items left after thirty days after payment is subject to storage fees. There is no estimating shipping costs before the sale for the large request of information requested. G)All Ohio residents will pay 6% sales tax unless exemption is allowed under the laws regarding such tax. H) ABSENTEE BIDDING: All absentee bids will be executed in a orderly and competitive manner. We will do our best to buy it at the lowest possible price regardless of price. If by chance there are tied absentee bids on the same item, the first one received will get priority bidding. In the event of the same bids from online, the preference will be given to the attending audience. All absentee bids must have a set price. I)Homestead Auctions are not responsible for any typographical errors or omissions in this catalog or in the subsequent key price. J)In bidding on any item offered, the bidder accepts these Terms of Sale.
Bid Anywhere, Anytime. Download the LiveAuctioneers App.
Available on the App Store
Android App on Google Play