Auction ended on December 17th, 2006
10318: AUGUST ALBO ORIGINAL PAINTING -GIRL WITH CAESAR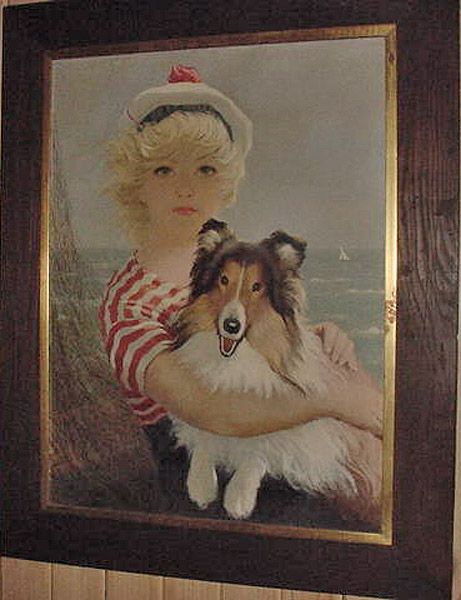 August Albo World famous Artist. "GIRL WITH CAESAR".

August Albo (1893-1963) was an Astonian Artist who studied at the Russian Royal Academy of Art in Leningrad (now St. Petersburg) and was a recognized artist in Moscow where he painted for the Tsar. As a young man he was an accomplished ballet dancer and a friend of Serge Lefar, the great exponent of that art. He was also a professional violinist.
Before abstract art he was generally known or had been acknowledged, he experimented and painted in that form for awhile. However, as an admirer of the early great works of the masters and the old schoold of painting, his style gradually became more academic. Given any subject, he would paint it to perfection. He was probably one of the most versatile of artists.
He sometimes used the name A. Curtis (and allegedly Rod Palmer) on some of his works. His most famous work was "Free as the Wind", a painting depicting running horses has sold Millions around the world. He is also known for his ballerina paintings
After extensive travels and painting in many European countries, he came to the US and settled in NYC where he spent his later years. It was here our consignor met August Albo.

This TRULY MAGNIFICENT painting up for auction was painted by Albo in his late 60's. The consignor owned a dog name Caesar and asked Albo (through an interpreter), to paint the picture of the girl, a subject from another Albo original painting, holding Caesar - the consignor's beloved pet.
Condition

:

We have displayed one news clipping of Alco's "Free as the Wind" to clarify the artist's history. Free as the Wind is NOT offered with this lot.
Bid Anywhere, Anytime. Download the LiveAuctioneers App.
Available on the App Store
Android App on Google Play