Auction ended on February 17th, 2013 UTC
Chinese Qing Dynasty Porcelain Brush Washer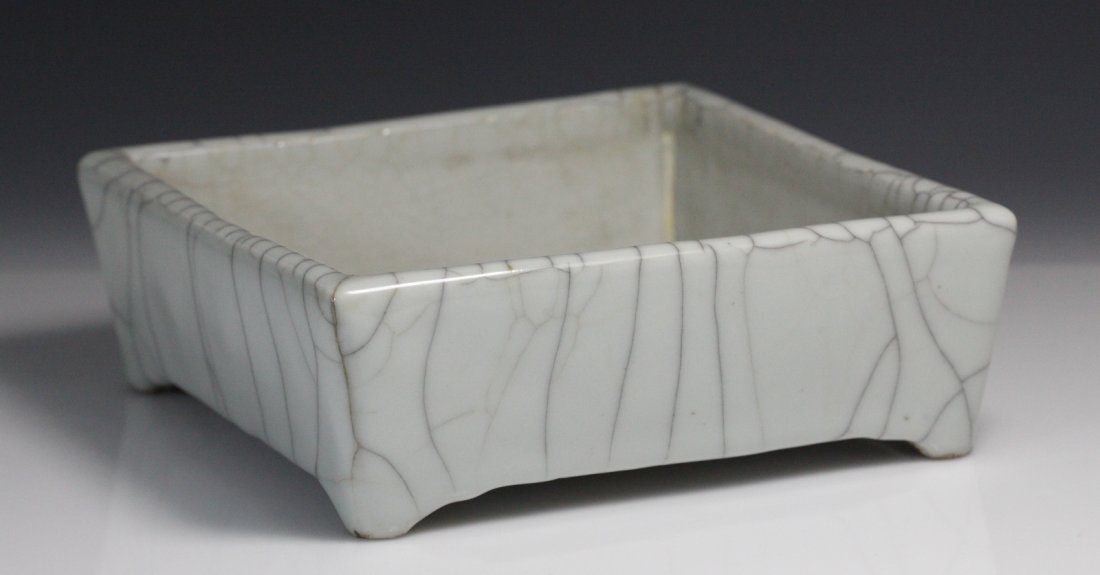 Chinese Qing Dynasty Porcelain Brush Washer
Dimension: 6 1/4"W x 2 1/4" H
Buyer's Premium

:
23%
18% up to 1000000
15% above 1000000
Accepted payment methods

:
All property offered and sold through Antique Reader shall be offered and sold on the terms and conditions set forth below. By bidding at the auction, whether present in person or by agent, by written bid, telephone, internet or other means, the buyer agrees to be bound by these terms and conditions. 1. All properties sold as is. All sales are final. No returns. No exceptions 2. A 20% buyer's premium will be added to the hammer price of each lot for floor and phone bidders (23% for all online bidders) No exceptions!! 3. All purchases (including buyer's premium) will be subject to a New York State sales tax of 8.75% unless (1) the buyer is an out-of 'state resident and lots are being shipped out of New York or (2) the purchaser has a valid tax - exempt certificate ( an actual resale certificate must be presented and on file with Antique Reader) 4. All properties are sold as is and all sales are final. Everything we sell has normal wear and is in the original estate condition. We do our best to describe any flaws or repairs. Written and oral descriptions are our opinions and should in no way be interpreted as a guarantee of any kind as to authenticity, age, condition and materials. Shipping and insurance is the responsibility of the purchaser. Purchase is not contingent upon shipping costs. Please explore costs before you bid 5. All items are sold to the highest bidder as acknowledged by the auctioneer. The auctioneer has the right to reject any bid! The auctioneer is the arbiter of any disputed bid. He may reopen bidding at his discretion and reject bids deemed inappropriate. The auctioneer reserves the right to withdraw any item and to reoffer the item at another time 6. Every effort is made by the auctioneer to execute all bids, including floor, absentee, telephone and internet bids. We are not responsible for any missed bids 7. International buyers should note that some countries do not allow the importation of lots containing materials made from endangered species. This includes, but not limited to, ivory coral and tortoise shell. Please check with relevant import and customs regulations prior to bidding. 8. All property purchased from Antique Reader must be paid within 7 days after the auction. If the invoice has not been paid within 30 days after the auction, Antique Reader will consider the sale void. All property purchased from Antique Reader must be removed within 60 days after the auction date. Antique Reader will not be responsible for paid items left for over 60 days after the auction date. (unless a prior agreement has been made). Items left after 60 days will incur a $10/day storage fee per item. Once storage fees have exceeded the actual purchase price of the item(s) Antique Reader can exercise the right to re-auction. 9. If any part of these conditions of sale is found by any court to be invalid, illegal or unenforceable, the balance of the conditions shall continue to be valid to the fullest extent permitted by law. 10. The rights and obligations of the parties with respect to these conditions of sale and terms of guarantee, as well as the purchaser's and our respective rights and obligations hereunder, the conduct of the auction and any matters connected with any of the foregoing, shall be governed and interpreted by the laws of the State of New York. By bidding at auction, whether present in person or by agent, by written bid, telephone or other means, the buyer shall be deemed to have submitted, for the benefit of Antique Reader, to the exclusive jurisdiction of the federal or state courts located in the state and county of New York and waives any objection to the jurisdiction and venue of any such court. 11. By bidding at auction, whether present in person or by agent, by written bid, telephone, internet bid or other means, Antique Reader will keep the bidder's contact information for future auction or news event notifications, unless bidder specifically notify our auction house to remove their name from such list. 12. All bidders (floor, phone, absentee, and internet) require submitting a registration form with their credit card information as a security deposit. $500 will be charge for deposit. We will refund the deposit 3 days after the auction if buyer has no successful bids. Shipping contacts and arrangements: all items not being picked up at the gallery will be shipped by shipping companies from our suggested list of shippers. Antique Reader does not handle any shipping. Buyers must contact shipping company directly after the auction to arrange shipment and payment for shipping. A shipping release form is also required to be filled out and sign in order for us to release the item to the shipping company. If you decide to use your own methods or another shipper that's not on our suggested list of shippers, you must inform us prior so that there will be no confusion!!! Payment details: Payment must be received within 7 days of the auction!!!! Buyers will have 30 days after the auction date to contact Antique Reader if there is a discrepancy on the merchandises. Antique Reader will not be responsible for any items after 30 days from the auction. Terms are strictly: Cash (in house only) Wire transfer (contact Antique Reader for wire transfer method) Credit cards (Mastercard, Visa, & Discover) (subject to 3 percent convenience fee) Debit card over the phone will also be subject to 3 percent convenience fee Money order, certified check, approved personal or business check with proper identification. Paypal subject to 4 percent convenience fee We reserve the right to hold merchandise until the check is clear.
Bid Anywhere, Anytime. Download the LiveAuctioneers App.
Available on the App Store
Android App on Google Play