Auction ended on January 19th, 2013 UTC
124: Vintage Chinese Horn Bowl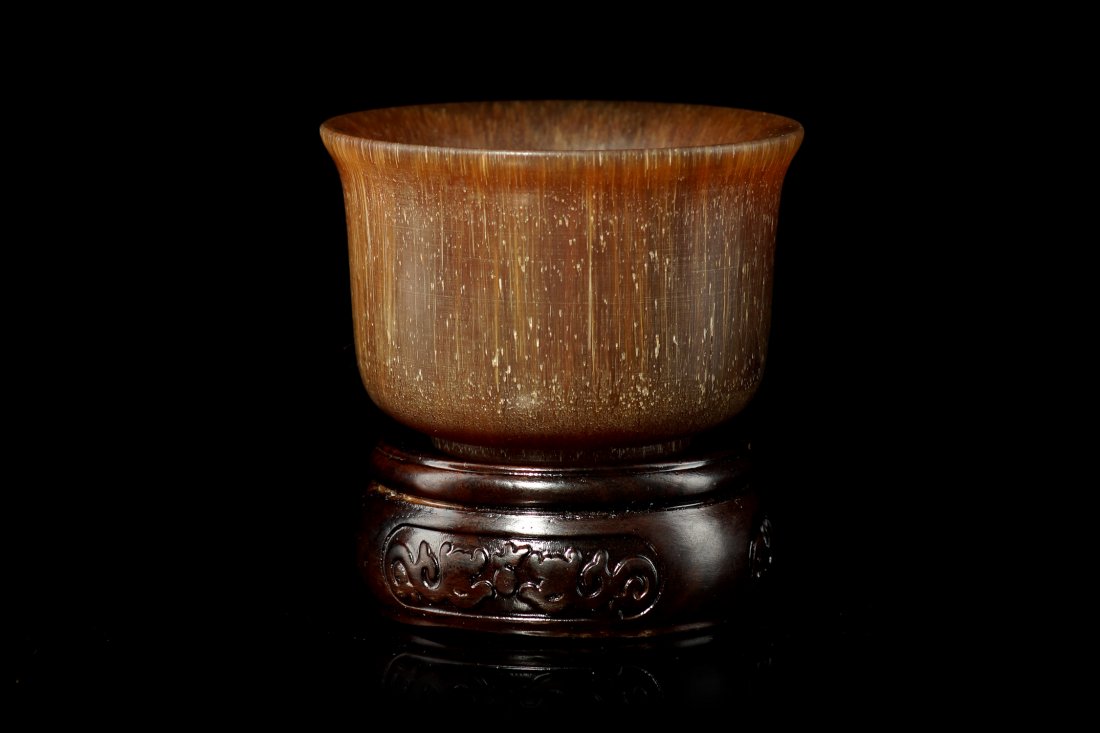 Vintage Chinese Horn Bowl, size: 3" diameter, 2" height, weight: 142.58g.
Accepted payment methods

:
Jeremy Auction, Inc. (JA) has endeavored to accurately describe all items being sold, but all property is being sold "AS IS", "WHERE IS". JA attempts to catalog every lot correctly and will attempt to point out any defects but will not be responsible or liable for the correctness of the catalog or other descriptions of the lot. We recommend prospective bidders examine all items in which they have an interest. By placing a bid, either in person, by phone, absentee or via the Internet, you signify that you have examined the items as fully as you desire to or that you have chosen not to examine them. JA strongly encourages all prospective buyers and/or his/her agent to carefully examine and inspect any and all items they wish to bid on before the auction. All references to time periods and cultures are only an opinion and are not a guarantee of authenticity. The buyer avail himself of his own expert, appraiser, or authenticator and rely solely on his advice or judgment. The highest bidder acknowledged by the auctioneer shall be the purchaser. In the event of any dispute between bidders, the auctioneer shall have absolute discretion either to determine the successful bidder, in which event his determination shall be final or, to re-offer and re-sell the article in dispute. If any dispute arises after the sale, JA sale record shall be conclusive as to who was the purchaser, the amount of the highest bid and in all other respects. Total Sales Price - The total sales price of an item includes (i) the hammer price of the item (ii) the buyer's premium (iii) applicable sales and other taxes due on account of the sale, (iv) packing, shipping transportation and insurance charges, and customs fees and charges and duties, if applicable, and (v) any other amount due from the Buyer as provided in the Seller's e-commerce Policies posted on the Item Detail Page. Buyer may be charged tax based on the laws and regulations in the state where the Seller has nexus. Buyer's Premium - The buyer's premium for internet bidders (Live Auctioneers) is 18% and will be added to the hammer price. There is a 15% Buyer's Premium to floor and absentee bidders. For all residents of California, 9.5% sales tax will be added to your invoice. Payment - We accept bank wire transfers which $30.00 processing fee for all wire transfers, personal or company check, cashier's check, money order, Visa, Master Card. Payments are due within (14) days of invoice date for online bidders. Interest on delinquent accounts will be assessed after (30) days from auction date. A 3% late charge per month will be added to all accounts. Shipment - Material is generally shipped within 7-10 business days of payment received in full. A minimum charge of $2.50 for shipping, handling and insurance fees will be added to invoices for material that is shipped. We must ask all customers who use a P.O. Box for their mailing address to include a UPS address for our files when shipment of larger lots becomes necessary. If you receive an invoice with shipping included, the shipping will be done in house by Jeremy Auctions. If no shipping charge is included, your purchase will be shipped by a third party. All US domestic shipments are insured at the total bid amount contained in the shipment (other add-on charges are not covered by insurance). The estimated cost of insurance is included in the Bidder's invoice. Disputes - In the event of a dispute, the Auctioneer will be the final judge as to which Bidder is successful. The Auctioneer may at his sole discretion, re-open the bidding on a particular item. Title shall pass on all items sold when the Auctioneer says "SOLD". The Purchaser assumes total and full responsibility for all goods at that time, and is responsible for payment for all items whether or not the Purchaser actually takes possession at that time. If any dispute arises after the conclusion of the Auction, the records of the Auctioneer and Clerk shall stand as conclusive. Any loss or damage by breakage, natural disaster, theft or any other cause is therefore the sole and entire responsibility of the Purchaser. Return Policy - All sales are final. There are no cancellations, returns or refunds. Under certain circumstances, we may make an exception and allow a cancellation, return or approve a refund. However, in the case of a return the Buyers Premium and Shipping cost will not be refunded. If a winning bid is canceled for any reason, and the winning bidder wishes to back out, a 7% fee will be charged to the winning bidder (non-performer) to cover the costs associated with listing and the non-performer may be blocked from future bidding.
Bid Anywhere, Anytime. Download the LiveAuctioneers App.
Available on the App Store
Android App on Google Play