Auction ended on January 25th, 2013 UTC
51: Gilt Bronze figure of Bhaisajyaguru, Ming Dynasty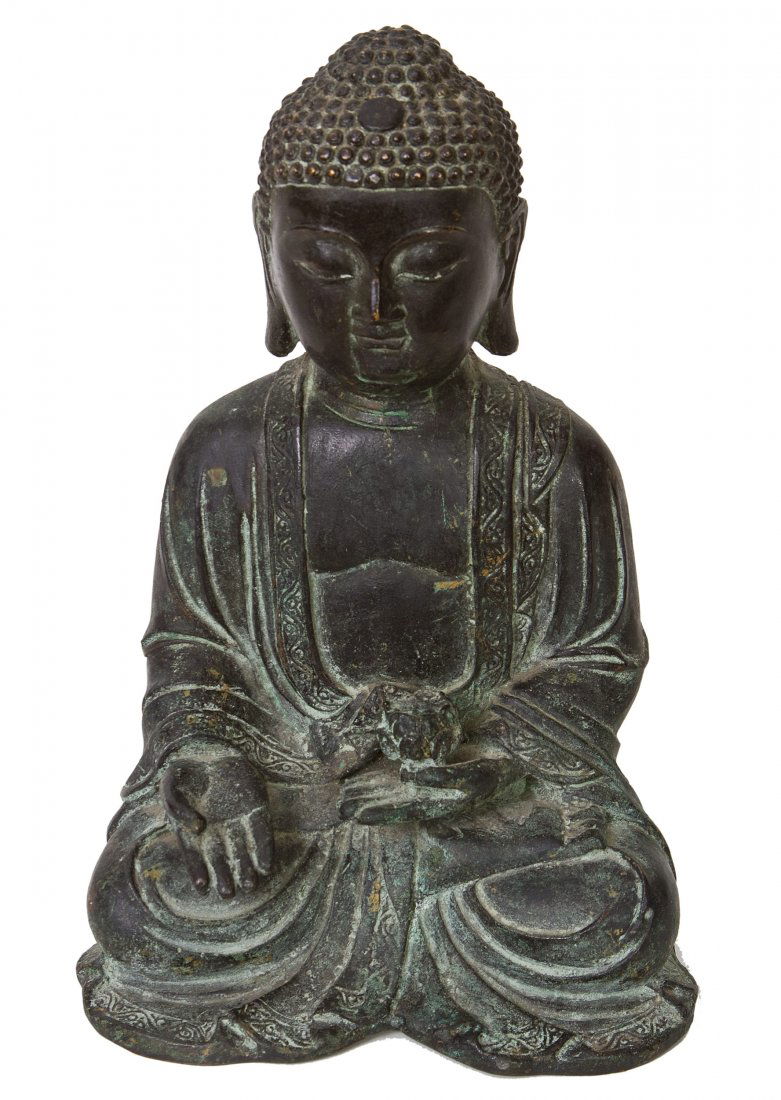 Gilt Bronze figure of Bhaisajyaguru Buddha (known as the medicine Buddha, or YaoShi Fo), Ming Dynasty (1368-1644). Seated in a meditative posture his wide face with finely cast features wearing a benign expression with long-lobed ears, an urna at the front, and raised curls covering his head, his right hand resting on his thigh with the palm facing out in varada mudra, the gesture of granting wishes, and the left hand in dhyana mudra holding bowl with a lotus flower, wearing loosely layered robes with foliate borders open at the chest. Showing traces of gilt. Base unsealed.

Height: 11.25 inches (28.575cm). Weight: 6.5 LBS (2948.35 grams).

Provenance: Property from the family of a distinguished gentleman and scholar of Asian Art. Acquired in the early to mid-20th Century in China. (Lots 18A, 51, 62-67, 76-80, 82-86).

銅鍍金藥師佛像,明朝(1368-1644)。藥師佛雙足跏趺於蓮花寶座中央,面相慈善,儀態莊嚴,雙耳垂肩,眉中心有吉祥痣,烏發肉髻,右手膝前執果枝,並手心向外持"勝施印",即施行慈悲的手印姿勢,其左手持"禪定印"並持蓮花和佛缽。該藥師佛身批層層相間之佛衣,坦胸露右臂,其衣袍邊緣有草葉紋裝飾。佛像有曾經鍍金的痕跡。底部無款。 高: 11.25 inches (28.575厘米)。 重量: 6.5 英鎊 (2948.35 克)。 出處:該藏品由一位紳士於上世紀二十年代早中期珍藏至今,藏家乃亞洲藝術專家學者。(Lots 18A, 51, 62-65, 67, 76-80, 82-86).
Buyer's Premium

:
21%
18% up to 100000
18% above 100000