Auction ended on September 22nd, 2012 UTC
839: Trophy Beer Tap Knob.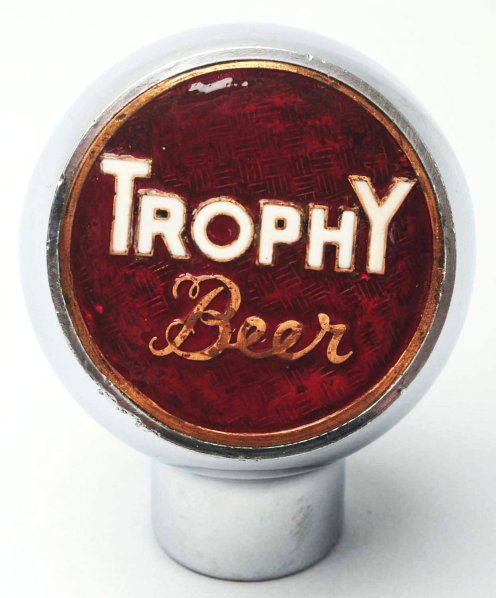 Clean face with some scratching to chrome. Possibly professional restoration and heavy gloss face. Rare.
Condition (Very Good).
Accepted payment methods

:
GUIDE FOR BUYERS We advise all bidders to read the Terms and Conditions of the Sale before bidding with Dan Morphy Auctions. Those who bid are bound by those Terms and Conditions of the Sale, as amended by any oral announcement or posted notices, which together form the contract of the sale between the successful bidder (purchaser), Dan Morphy Auctions and the seller (consignor) of the lot. TERMS OF SALE When bidding on any lot offered by Dan Morphy Auctions, the bidder indicates acceptance of the following Terms of Sale: CONDITION OF ITEMS Dan Morphy Auctions makes every effort to accurately describe all items offered in its sales, however all items for sale are AS IS, and it is the bidders responsibility (present or absentee bidders) to determine the exact condition of each item. Dan Morphy Auctions will not be held responsible for typographical errors. All items will be available for preview two (2) weeks prior to the auction. We do NOT guarantee toys, trains or clocks to be in running order. All items are sold by description and NOT by illustrations. Grading Scale: Near Mint Plus... 97% - 100% Near Mint........ 90% - 96% Excellent........ 80% - 89% Very Good........ 70% - 79% Good ............ Below 70% Beer Can Grading Grade 1 Can is an indoor found can with no significant imperfections. Grade 2 Can either is an indoor found can in the poorest condition for an indoor can or about as good as an outdoor found can gets. Noticeable spots/scratches. Larger spots, minor rust, and minor fade may exist on can. Grade 3 Heavy spots, rust, scratches and more significant fade may exist. Very noticeable imperfections but everything on can is readable Grade 4 May have holes, very poor condition, at least half of can is readable. Grade 5 Very poor condition, most of can not readable/visible. Major rust, holes, etc. The numbers that are in the beginning of the beer can descriptions: These numbers are the book numbers. The first and always used numbers at the beginning are from United States Beer Cans (USBC) Vol. I or Vol. II printed by the Brewery Collectibles Club of America (BCCA). Volume 1 covers flat tops and cone tops. Volume 2 covers self-opening cans or pull tabs (the more recent ones). You'll notice some of the cans have a second book number that I begin with "OI" (OI stands for opening instructions). These are for "instructional" flat tops or flat tops that have instructions on them on how to open the cans. When the flat top cans first came out around 1935, there was no tab to pull off. Drinkers had to use a churchkey opener to punch a hole in the flat top. The earlier flat tops included instructions on the cans on how to punch this hole. There was a separate volume of books published by Kevin Lilek just for instructional flat tops. This book is called United States Beer Cans with Opening Instructions. It includes a separate page for every tiny variation of just about every instructional can and has become a standard reference for these instructionals. Let's take an example of an instructional can that would have both book numbers. Take a look at your lot number 393 113-11 is from the USBC Vol. I. This can would be found on page 113 and it would be the 11th can on that page. It also would be found on page 671 of the USBC with Opening Instructions by Lilek. * = Can is pictured in the BCCA Book ** = Can pictured in Lilek Book A number of the reverse painted glass signs in the sale were purportedly found circa 1975 to 1981 in Chicago in The Western Sand Blast Mfg. Co. building upon it's sale and transfer to a new owner. An individual named Tony Kottmeier recovered these beautiful examples of chipped glass and embossed signs. All of the signs were discovered unfinished without paint, or silver or gold leaf decoration. Tony knew folks who could complete the process, did so with most of the find, and offered them to collectors in the condition you now see them. In addition to beer related signs, many other product categories were also in the same factory find. Some of the exact signs offered in this sale are featured in early Western Sand Blast catalogs as examples of the work they would do shortly after the turn of the century. These heavy signs, many with beveled edges, are wonderful examples of an art form rarely found today. All signs believed to have come from this find are lots 157, 167, 168, 330, 331, 339, 343,5 07, 520, 521,5 22, 690, 698, 957, 968, 1144, 1310, 1320,1 483, 1495, 1644, 1645, 1652,1 789 APPROXIMATE AUCTION TIMES FOR: Friday, September 21, 2012 LOTS TIME (EST) 1 to 100 9:00 AM 101 to 200 10:00 AM 201 to 300 11:00 AM 301 to 400 12:00 PM 401 to 500 1:00 PM 501 to 600 2:00 PM 601 to 700 3:00 PM 701 to 720 4:00 PM APPROXIMATE AUCTION TIMES FOR: Saturday, September 22, 2012 LOTS TIME (EST) 800 to 900 9:00 AM 901 to 1000 10:00 AM 1001 to 1100 11:00 AM 1101 to 1200 12:00 PM 1201 to 1300 1:00 PM 1301 to 1400 2:00 PM 1401 to 1500 3:00 PM 1501 to 1600 4:00 PM 1601 to 1700 5:00 PM 1701 to 1800 6:00 PM 1801 to 1818 7:00 PM ABSENTEE BIDS Dan Morphy Auctions will accept absentee bids if pre-authorized by mail, fax or through our website. Absentee bidders must use the absentee bid form and clearly mark the lot number, title and maximum bid amount. Absentee bidding forms may be accessed online at our website. If there are two (2) identical bids placed on the same item, priority will be given to the first bid received. All bids must be left in increments as explained on our bid form. If a left bid is OUT OF INCREMENT, the auctioneer has the right to round the bid up to the next correct increment. Dan Morphy Auctions is pleased to offer online absentee bidding as part of our auction services. Bidders may preview, register, and place bids online through our Web site. Online absentee bidding through Dan Morphy Auctions is available until 9:45 AM prior to the sale. During the live sale, the auctioneer will execute your absentee bid competitively up to the maximum amount you have indicated. Online bidding through LiveAuctioneers is also available; Terms and Conditions still apply. If there is a tie bid between the Internet bidding venues LiveAuctioneers and the floor, the floor bid takes precedence. BID INCREMENTS Bid increments listed are a general guideline. Actual increments are at the auctioneers discretion. $0 - $500............$25 $500 - $1,000........$50 $1,000 - $2,000.....$100 $2,000 - $5,000.....$250 $5,000 - $10,000....$500 $10,000+......Auctioneers discretion If a lot does not receive a bid of 25% of the low estimate, that lot will be passed by the auctioneer. RESERVES The majority of our items are unreserved, but occasionally items may carry a moderate reserve. Please note that when a lot carries a reserve, the reserve is usually somewhere below our low estimate. In the case of a reserved item, the seller has authorized the auctioneer to bid on their behalf until the reserve price is reached. Actual reserve amounts cannot be disclosed, but we will advise you if an item carries a reserve, should you ask. Unreserved lots will have a minimum opening bid of one-fourth of the low estimate. RIGHTS & RESPONSIBILITIES The auctioneer will determine the highest bidder. The auctioneer alone has the right to reopen the bidding of an item if deemed necessary due to a dispute. If there is a tie bid between the floor and Internet or absentee bid, the floor bid takes precedence. Dan Morphy Auctions and its representatives reserve the right to remove those attendees who impede the previews and/or the auction. Title to all merchandise shall pass to the highest bidder at the fall of the auctioneers hammer. The buyer will then assume all risk and full responsibility of the lot purchased once ownership has changed. BUYERS PREMIUM A 20% buyers premium will be added to all successful bids and is payable by the purchaser as part of the total purchase cost. A 2% discount is applied to payments made with cash, check or money order. Split payments are subject to a 20% buyers premium if a credit card is used as any form of total payment. SALES TAX All buyers will pay Pennsylvania sales tax of 6% unless a valid Tax Exemption Identification is on file or presented at time of purchase. Items shipped out of Pennsylvania will not pay sales tax. Please present a copy of your Tax Exemption Identification at the sale, or at the time of leaving an absentee or phone bid. PAYMENT All merchandise must be paid in full within two (2) weeks of the date of the sale. Absolutely NO returns will be accepted on any item that was not paid for and/or returned to Dan Morphy Auctions within 30 days of the sale date. We accept: Visa, MasterCard, Discover, personal checks/ certified checks, wire transfers, money orders, and cash. NOTE: As of January 1, 2012, Morphy Auctions will no longer be accepting Paypal as an acceptable form of payment. Please make plans to make any and all payments via the fore mentioned payment methods. Split payments are subject to a 20% buyers premium if a credit card is used as any form of total payment. Make checks payable to: Dan Morphy Auctions. Dan Morphy Auctions reserves the right to hold items paid for by personal check until said check clears. Call 717-335-3435 to pay your invoice by phone. Note: There will be a $30.00 service charge for returned checks. SHIPPING Packaging, shipping of, and insurance on items will be available to successful bidders. Shipping costs will be billed separately and are NON-REFUNDABLE. Items will shipped seven to fourteen business days (7-14) days after payment is received. For shipping questions please contact our Shipping Supervisor, Ryan Kelly at 717-335-4579 or ryan@morphyauctions.com. International Bidders- By law, Dan Morphy Auctions cannot and will not declare lesser values for any international purchases and all shipments will include the invoice with purchase totals including the buyers premium and shipping cost. All international bidders are responsible for paying all customs and duties on the items. POST-SALE RETURN POLICY Dan Morphy Auctions hires knowledgeable experts to provide catalog descriptions on the merchandise we sell. Every effort is made to ensure those descriptions are accurate and that they fully disclose any exceptions to condition. Buyers who wish to report a problem with a purchase they have made must notify Dan Morphy Auctions within three (3) days of receipt of their purchased item. If a return is authorized by Dan Morphy Auctions, the item in question must be shipped, with full insurance, so it arrives at Dan Morphy Auctions within one week of the aforementioned authorization. With respect to all returns, it is the buyers responsibility to pay the cost of the shipment and insurance, regardless of the reason for the return. All merchandise should be packed in a safe and secure manner similar to the way it was shipped to you. Dan Morphy Auctions will NOT reimburse shipping costs to buyers who return auction goods. All rights reserved. Entire contents copyright 2011, Dan Morphy Auctions LLC. Copyright includes, but is not limited to, print media, microform and electronic media, such as CD-ROMs and online computer services.
Bid Anywhere, Anytime. Download the LiveAuctioneers App.
Available on the App Store
Android App on Google Play