lots of lots
Auction ended on July 1st, 2012 UTC
1024: ***AUTOGRAPHED PHOTO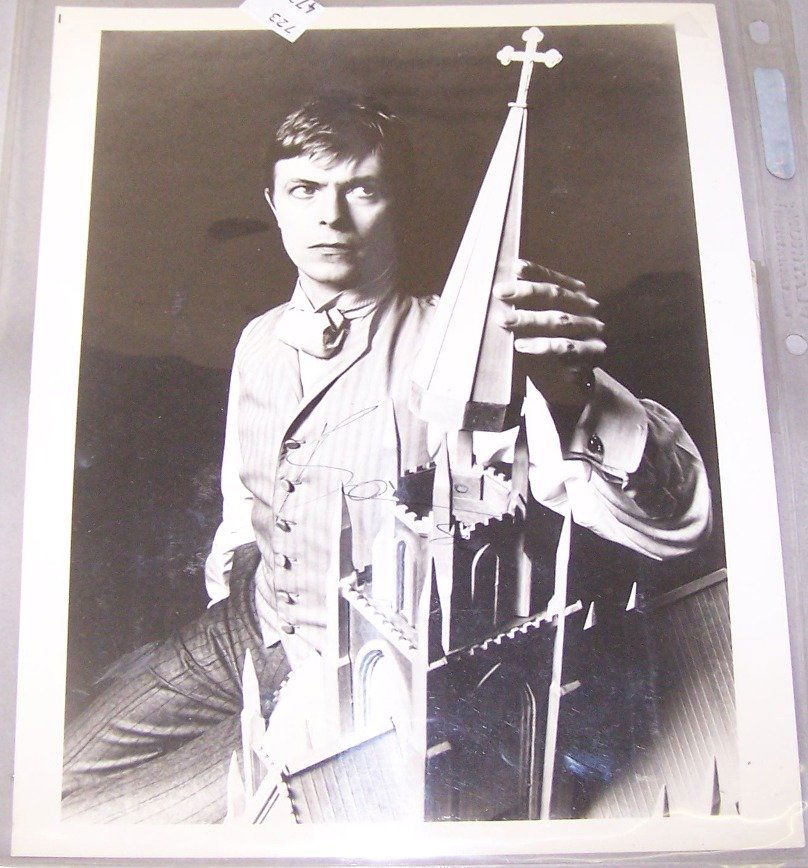 Shipping
WE DO NOT SHIP. Bunte will provide buyer with a list of area shippers. A list of shippers appears on our website.
Payment
We accept Visa, MasterCard, Discover, PayPal, cashier checks and money orders. Please pay PayPal through bunteasaol.com.
Accepted payment methods
Taxes
Local Taxes Apply. There may be a 7.75% sales tax added. Some lots are non-taxable.
Winning Bidder Note
Buyer must wait until an emailed invoice from Bunte Auction is sent before buyer can pick up items. If buyer does not receive an emailed invoice within 3 days of auction, bbuyerb must contact Bunte Auction.
Terms
The property listed in this catalogue is offered for sale by Bunte Auction Services, Inc. as agent for the consignors (sellers). The following Terms and Conditions of Auction and Information for Buyers and Sellers, posted notices and verbal announcements at the time of sale by the Auctioneer are the conclusive statements of terms and conditions for this auction. Submitting any bid, whether in person, in writing, by telephone or any other means, the buyer acknowledges and accepts these terms and conditions. 1. The highest bidder to be the buyer. If any dispute arises between bidders, the lot in dispute shall, at the discretion of the auctioneer, either be reoffered for sale or sold as stated. In any event, the auctioneer's decision will be final. If a dispute arises after the auctions, our sales record will be deemed final. Invoices are subject to audit for error and the bidder is responsible for paying any balance due therein. 2. Bidders are required to register prior to the sale and must use the number issued to them when they are the successful bidder. No transfer of a bidder's paddle will be recognized from one buyer to another. 3. We reserve the right to reject any bid or any raise not commensurate with the value of the item being sold. We also reserve the right to ask for a deposit from the bidder of twenty-five percent (25%) or more of the purchase price at any time. 4. All lots are sold as shown with all faults, imperfections, and error of description. When faults are noticed during cataloguing we make note of them in the description. Prospective bidders are expected to inspect the property to determine condition, size and whether or not it has been restored or repaired and satisfy themselves as to all faults, cracks, chips wear and imperfections. 5. If Bunte Auction Service's Inc. is prevented by fire, theft or any other reason whatsoever from delivering any property to the purchaser, our liability shall be limited to the sum actually paid by the purchaser. 6. If a reserve price (the confidential minimum below which a lot will not be sold) is established on any lot, we may implement the reserve bidding on behalf of the consignor. 7. The buyer is responsible for notifying Bunte Auction Services, Inc. within 14 days after purchase of any lot(s) sold that has been determined not to be as described, (authenticity, condition, approximate size, or any other discrepancy), based on a fair reading of the catalogue. In addition, the buyer is responsible within an additional 14 days after notification to Bunte Auction Services, Inc. of discrepancy to provide a written notice giving proof from a recognized, impartial expert which establishes beyond a reasonable doubt that the item(s) in question is/are in fact not as catalogued and that such was not indicated by a fair reading of the catalogue or the auctioneers comments at the time of sale. Therefore, failure to arrange shipping, possession, examination of lot(s) and notification to Bunte Auction Services, Inc. within the 28 days after purchase renders all sales final. In the event a lot(s) is /are returned in the same condition as the day of auction under the aforementioned terms, a refund will be given for item(s) returned. These terms are limited to the original purchaser of said item(s) only. 8. Information regarding removal of property and shipping is listed under Information for Buyers and Sellers. Purchases not removed within thirty (30) days will be sold without further notice and the money realized after expenses will then be credited to the buyer's account. 9. We reserve the right to withdraw any property at any time prior to the actual auction and to announce at any time additional terms and conditions of sale. 10. We are not responsible for the acts or omissions of carriers or packers of purchased lots, whether or not recommended by us. In no event will we be liable for damage to glass or frames regardless of the cause. 11. This is a privately owned and operated sale. We reserve the right to refuse admittance to any person. 12. RECEIPT OF $10,000.00 OR MORE The Federal government requires all business' to report any cash money collected over $10,000.00 per transaction. Bunte Auction is required to complete an IRS form 8300 and file it with the US government. We will need personal information as follows; name, address, date of birth, driver's license number and social security number, or Federal ID number. You may inquire with the office as to what forms of payment require an 8300.
Bid Anywhere, Anytime. Download the LiveAuctioneers App.
Available on the App Store
Android App on Google Play