Auction ended on June 12th, 2012
162: HONGSHAN CULTURE JADE FIGURE, Chinese Neolithic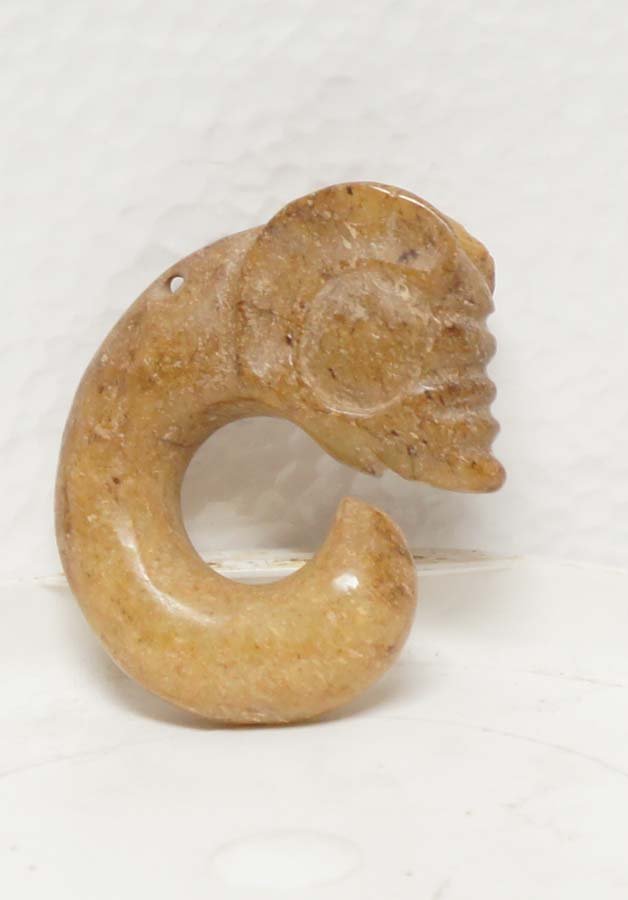 Title: C-shaped "Zhulong" or "pig dragon()",
elaborately carved and polished with brown-green jadestone, with two ox nose type conical holes, , , , , ,
Size info: 2 3/4in. (7 cm.) , , ,
Framing: ,
,
Comments: Of all aspects of the Neolithic cultures in eastern China, the use of jade made the most lasting contribution to Chinese civilization. Polished stone implements were common to all Neolithic settlements. Stones to be fashioned into tools and ornaments were chosen for their hardness and strength to withstand impact and for their appearance. Nephrite, or true jade, is a tough and attractive stone. In the eastern provinces of Jiangsu and Zhejiang, particularly in the areas near Lake Tai, where the stone occurs naturally, jade was worked extensively, especially during the last Neolithic phase, the Liangzhu, which flourished in the second half of the third millennium B.C. Liangzhu jade artifacts are made with astonishing precision and care, especially as jade is too hard to "carve" with a knife but must be abraded with coarse sands in a laborious process. The extraordinarily fine lines of the incised decoration and the high gloss of the polished surfaces were technical feats requiring the highest level of skill and patience. Few of the jades in archaeological excavations show signs of wear. They are generally found in burials of privileged persons carefully arranged around the body. Jade axes and other tools transcended their original function and became objects of great social and aesthetic significance.(source:http://www.metmuseum.org/toah/hd/cneo/hd_cneo.htm),
Provenance: Collection of Bernard and Bernadette Lueck, founders of the Heritage of the Americas Museum, El Cajon, Ca.Attributed to the "Three Gorges Dam" region of China where many items were recovered while construction activities related to the damming of the Yangtze River were underway during the nineties and early years of this century.This lot is accompanied by a copy of a letter from the Heritage of the Americas Museum, indicating that they sold on behalf of the owner, Bernadette Lueck, a group of "Chinese artifacts from the Neolithic Period".,
,
Condition

:

,In very good condition, but with a chip out of the top of one ear.,
Bid Anywhere, Anytime. Download the LiveAuctioneers App.
Available on the App Store
Android App on Google Play