Auction ended on June 3rd, 2012 UTC
1072: Rookwood crystalline mat, deer, Hentschel, 16.75"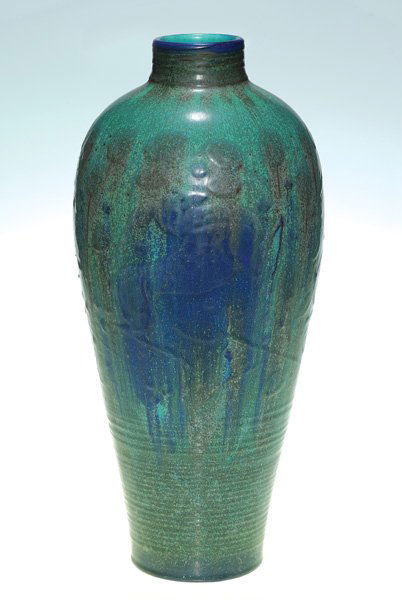 Handsome Rookwood Art Deco vase with leaping deer done in a crystalline mat glaze by William Hentschel in 1927. Hentschel is perhaps Rookwood's most ardent user of Art Deco themes having done several unique pieces like this one and a number of production pieces with fish or deer. This vase features 3 deer in mid leap surrounded by foliage and bearing the Hentschel favorite of concentric rings at top and base. Marks include the company logo, the date, shape number 2368 and the incised monogram of the artist. Height 16 3/4 inches. Uncrazed with rich glaze. Exhibited in Carol Borham-Hays "Bringing Modernism Home Ohio Decorative Arts 1890-1960" at the Columbus Museum of Art in 2005 and pictured in the exhibit catalog in color on page 62, plate 24. A copy of the extensive catalog accompanies the vase.