Auction ended on June 3rd, 2012 UTC
1053: Rookwood gray-green mat "Peacock Feather" 6" vase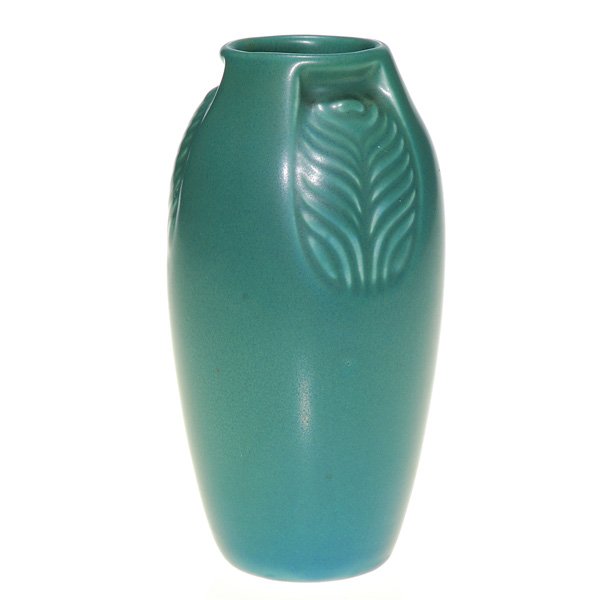 Production 6 inch Rookwood vase with three panels, each highlighting a peacock feather, cast in 1921 and covered with a gray-green mat glaze. Impressed with the company logo, the date and shape 2402. Uncrazed with a pinpoint glaze indentation and in excellent, original condition.
Condition

:

No crazing, pinpoint glaze indentation
Accepted payment methods

:
Our Guarantee: At Humler & Nolan, LLC, all items in our sale are guaranteed to be as described in our catalog and to be free of other problems or repairs not listed. Crazing is usually only mentioned if objectionable. Sizes are approximate but generally within 1/8 of an inch. (See Peck Book II for shape number references). We guarantee the authenticity of all lots in this auction. Please bear in mind that most of the objects in our sales are hand made and often have small imperfections as part of the creative process. We will mention all of these that we, as collectors, would find in the least objectionable ourselves. Any returns for refund for damage, repairs or authenticity must be made within 30 days after the end of the auction. Terms of Sale: The buyer is the person making the final and highest bid. In the event of a disputed bid, the auctioneer shall determine who is the successful bidder, or the auctioneer may resell the lot in dispute, but in all instances the judgment of the auctioneer shall be final. Sales Tax: A 6 1/2% Ohio Sales Tax applies to all retail purchases. Ohio Sales Tax exemption forms must be executed and filed with the auction clerk at the time of auction registration. Note: We do not charge Ohio Sales Tax on items shipped out of state but purchasers of items shipped out of state are subject (where applicable) to report and pay use tax to the state into which the items are being shipped. Withdrawal: The auctioneer reserves the right to withdraw any lot before or at the time of the sale. Credit, Methods of Payment: Cash, Visa, Mastercard, Discover, American Express, certified check are acceptable methods of payment. Foreign payments can only be made with Visa, Mastercard or wire transfer in U.S. dollars. If you are known to us, your credit, and your credit only, can be established. Please check with the sale clerk. No company or personal references are accepted. We would appreciate credit arrangements being made in advance of the auction date. Persons not making prior credit arrangements can pay by personal check, but no merchandise can be removed until all checks have cleared. Any packing and shipping expenses will be borne by the purchaser. All items must be paid in full within 72 hours of the end of sale or the Auctioneer retains the right to resell the property, either at auction or by private sale. Purchaser will be liable for any deficiencies and all costs incurred, including collection and legal fees. The auctioneer may require any bidder to pay for his or her purchases at any time during the auction. International Payment: Visa, American Express, Discover and Mastercard are acceptable. Otherwise buyers must pay in U.S. dollars by wire transfer to our bank in Cincinnati. Payment for the net amount of the purchase including shipping must be in American dollars and buyer is to pay all wire transfer fees. We do not accept out of country checks. Bidding: Lots will be sold in the order in which they appear in the catalog. The normal bidding increments are as follows: 0-$200 Bids will increase in $10 increments $200-$500 Bids will increase in $25 increments $500-$1000 Bids will increase in $50 increments $1000-$5000 Bids will increase in $100 increments $5000-$10000 Bids will increase in $250 increments $10000+ Bids will increase in $500 increments The Auctioneer reserves the right to vary the bidding increments. The final bid is the price at which the lot is knocked down to the buyer. This final bid, in all cases of internet bidding, is subject to a 21% Buyers Premium, the purchase price being the total of the two sums. Please deduct 3% from the Buyers Premium when paying with check, wire transfer or with cash if payment is made within 10 days of the end of the auction otherwise, no deduction can be taken. If the purchase price is not paid in full, the auctioneer may either cancel the sale, and any partial payment already made shall be there upon forfeited as liquidated damages or the auctioneer may resell the lot, without notice to the buyer. Internet bids: Internet bids are subject to a 21% buyer's premium as well as all credit requirements. Please deduct 3% from the Buyers Premium when paying with check or with cash if payment is made within 10 days of the end of the auction. The auctioneer, Humler & Nolan, LLC and their employees are not responsible for internet bids that are not properly executed. Floor bids, phone bids, internet bids and absentee bids are all independent operations in an auction and we cannot guarantee which will reach a certain point in the bidding first. We will treat all bids with the same respect. LiveAuctioneers will accept absentee bids for our auction which they will execute for you. Keep in mind that eBay is one of four entities bidding in our auction. The others include phone bidders, bidders in our audience and our own absentee bidders. The bottom line in any auction is simple. The highest bidder is the winner. It does not matter when you leave your bid with eBay because when the bidding starts, there is no way to control where the bidding will start or where it will end. We wish to be fair to everyone but leaving absentee bids with LiveAuctioneers or with us does not guarantee you will be the high bidder when the bidding is over. Buyer's Premium: The final bid (hammer price) is subject to a buyer's premium of 21% when bidding on the internet. The purchase price is the total of these two sums. Please deduct 3% from the Buyers Premium when paying with check, wire transfer or with cash if payment is made within 10 days of the end of the auction. We do not accept international checks at any time, only wire transfers in American dollars. No deduction may be made after the 10 day period and no deductions for credit card use. Packing and Shipping:  After 20 plus years of shipping what we sell, we are now having independent shippers handle things.  We understand this will create a little extra work for you but we are not in the shipping business and although we do an excellent job, we just cannot do shipping in an efficient and cost effective manner any more.  Shipping can now be handled by two independent local companies listed below or you may contact another shipper at your discretion.  We will work with any shipper you choose but we must be comfortable with who you choose and they must provide insurance for your items. We cannot be responsible for any damage or loss that occurs while your objects are in another's care. After payment is received by Humler & Nolan and payment is received by the shipper (via credit card) your items will be transported to the shipper, packed and shipped to you. They are: UPS Store William Taylor Manager 407 Vine Street Cincinnati, OH 45202 513-929-0090 Safe Ship Kathy McNay Owner 1853 Monmouth Street Newport, KY 41071 859-781-3616 kmcnay5@hotmail.com We can now invoice you for your purchase very quickly as we no longer need to estimate shipping costs to be added to your invoice.  You may contact one of the shippers listed above or another shipper to get a quote for shipping your purchases.  Payment to the shipper will be independent of any payments due Humler & Nolan.  When payment to Humler & Nolan is finalized, we can release your purchases to the shipper of your choice and payment to them will then allow the items to be shipped.  Since shipping is now an independent operation, we accept no responsibility in the process other than making sure items are paid for and handed over to any shipper in the condition in which they were sold.  . Reserves and Estimates: The estimated value of each lot is printed in the catalog, and merely reflects the price range into which a lot might fall. All lots have a reserve price below which they will not be sold. The reserve price is not published in the catalog, but in no case is it higher than the lower amount of the estimated price. Sellers reserve the right to have The Auctions at Rookwood, LLC act as their bidding agent and execute bids up to and including the reserve amount. Removal: All lots are to be removed by their buyers not later than 9:00 p.m. day of sale. Lots are released to buyers upon presentation of proof of payment. Advice to Bidders Humler & Nolan, LLC staff is available to discuss all lots with potential buyers at all presale exhibitions, or by telephone (513-381-2128 or 513-381-2015) Monday thru Friday 9 a.m. to 5 p.m., Saturday 10 a.m. to 4 p.m. Returns: No returns will be accepted on items that are not paid for within 15 days of the end of the auction. Humler & Nolan is a registered DBA of The Auctions at Rookwood, LLC. Prices Realized Prices Realized figures will be available on our Website shortly after the sale. Copies will be mailed on request only.
Bid Anywhere, Anytime. Download the LiveAuctioneers App.
Available on the App Store
Android App on Google Play