Auction ended on June 1st, 2012 UTC
362: Handmade child's dresser with mirror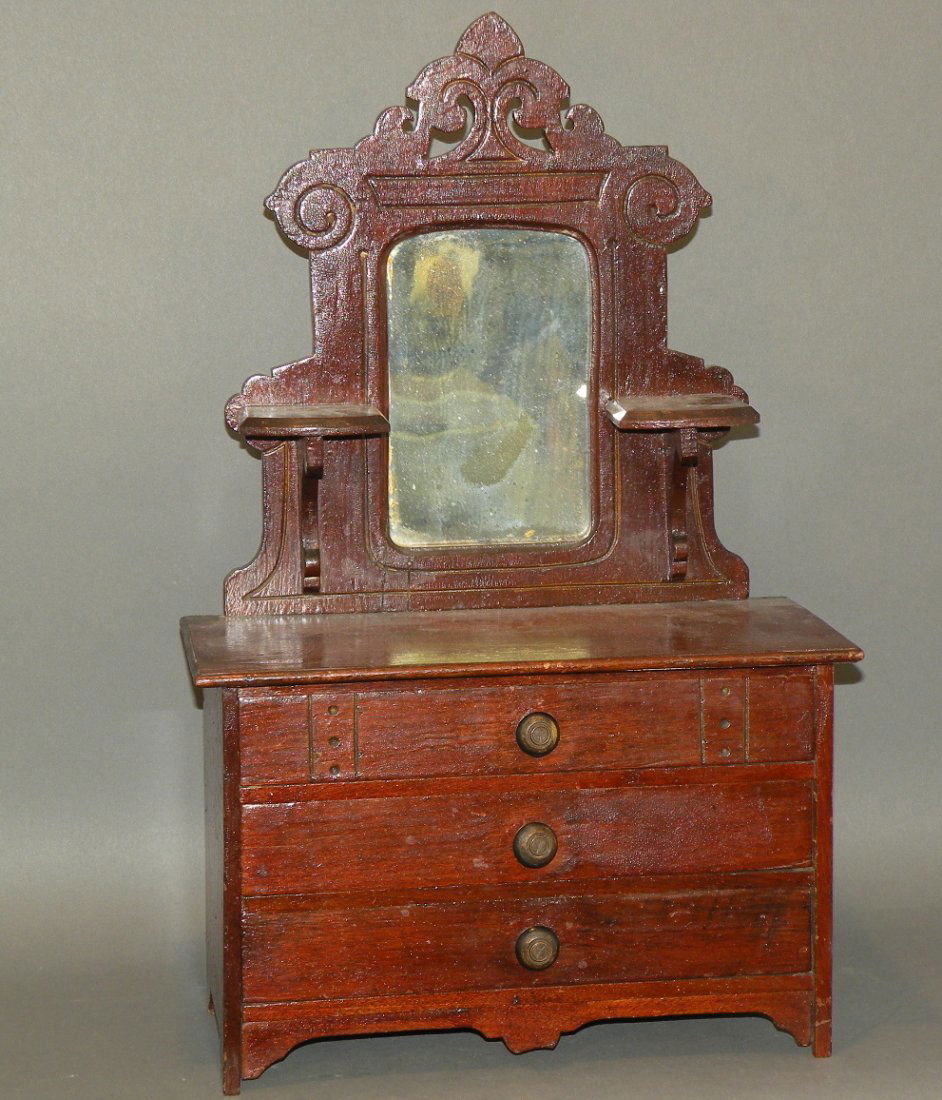 ca. 1878; with three drawers and dated on back, 20 ½"x 13";
Accepted payment methods

:
1. All items are sold ?AS IS.? The seller and auction company do no warrant the authenticity or condition of any items. Descriptive references contained in any document or used by any person in describing the items being sold are used for convenience only. ALL SALES ARE FINAL. 2. All items are sold without reserve to the highest bidder. Estimates contained in any document or used by any person in reference to items being sold are for buyer?s convenience only. 3. Title of each lot passes to the high bidder when the lot is ?struck down.? Thereafter, any loss is the sole responsibility of the purchaser. Items are packed and transported by the purchaser at his own risk and expense. If any employee or agent of T. Glenn Horst and Son, Inc. shall pack or transport the items, it is fully at the risk and responsibility of the purchaser. T. Glenn Horst and Son, Inc. is not responsible for any loss or damage caused by said employee or agent. 4. T. Glenn Horst and Son, Inc. reserves the right to withdraw any property before the auction. 5. All bids are per lot, as numbered in the catalogue, unless otherwise announced by the auctioneer. 6. Any action, claim, complaint, expense, judgment, liability, loss, obligation, penalty, and suit of every kind will exclusively construed and governed in accordance with the laws of the State of Pennsylvania, without regard to its conflict of laws principles. The exclusive jurisdiction and venue for any claim or controversy between the parties is Pennsylvania?s. 7. ABSENTEE BIDDING: Absentee bids will be accepted for this auction. $25 is the minimum opening bid for all absentee bids. Bidding is competitive with the auction floor from there. Therefore, it is possible to buy lots for less than your maximum bid. If the bid falls to the auction floor on the maximum bid, the item will be sold to the auction floor. The auctioneer will not go higher than the maximum bid. In the event of duplicate bids, the first bid received will take precedence. Absentee bids are accepted with a 10% deposit by check or money order. Any deposits will be refunded if the bid is not successful. 8. LIVE AUCTIONEER BIDDING: Bidders are approved for online bidding based on their previous records and information provided by Live Auctioneers. Approval is solely at the discretion of T. Glenn Horst & Son, Inc. We are not aware of the any Live Auctioneer bids in advance, but only during the time of the auction as they are forwarded to our computer. T. Glenn Horst & Son, Inc. will not be responsible for any omissions, errors or slow communications on bids from Live Auctioneers. In the event of a tie bid between a floor bidder and an online bidder, the floor bidder will take precedence. The auctioneer's decision in this matter is final. 9. All buyers will pay Pennsylvania sales tax of 6% unless a valid Tax Exemption Identification is on file or presented at time of purchase or items are being shipped out of state. 10. No buyer?s premium will be charged. However, a 6% fee is charged to online buyers. 11. IN HOUSE PAYMENTS: may be made by cash, Pennsylvania check, debit card, MasterCard, or Visa. 3% auction house fee will be added to all invoices and discounted to 0% when payments are made by Pennsylvania or pre-approved check. Out-of-state checks will not be accepted unless credit has been established with T. Glenn Horst and Son, Inc. prior to the auction. LIVE AUCTIONEERS PAYMENTS: Initial invoices will be emailed to the buyers immediately after the sale is completed. Final invoices will be emailed to the buyers during the week following the auction. This invoice will include total purchase price and shipping costs per the UPS Store. Money Orders, Traveler's Checks, debit card, MasterCard and Visa will be accepted for payment of purchases. The internet fee is 6%. Items must be paid for within seven (7) days of the final invoice. Items must be scheduled for removal from our auction facility within seven (7) days or be charged a monthly fee of 1.5% of the purchase price. 12. Buyer pays all shipping cost and all shipping is handled through the Ephrata UPS Store. Please contact Richard at (717) 733-1482 or email store3230@theupsstore.com for all shipping inquiries before the auction. T. Glenn Horst and Son, Inc. will make arrangements to ship items with said shipping company and receive payment for shipment. All other responsibilities involved with shipping are between the purchaser and said shipping company. T. Glenn Horst and Son, Inc. will not be liable for any damage which occurs during the shipping process. All items must be paid for before they are shipped. All international customers are responsible for their own taxes and tariffs based upon the actual selling price. The declared value can not be of lesser value than purchase price. Once the items are purchased payment is made to Horst Auctioneers. The items will be transported to the UPS store for packing and transit. 13. Bidding on any item acknowledges your acceptance of these terms of auction.
Bid Anywhere, Anytime. Download the LiveAuctioneers App.
Available on the App Store
Android App on Google Play