Auction ended on April 29th, 2012 UTC
1: New Giani Versace fountain pen in original box havin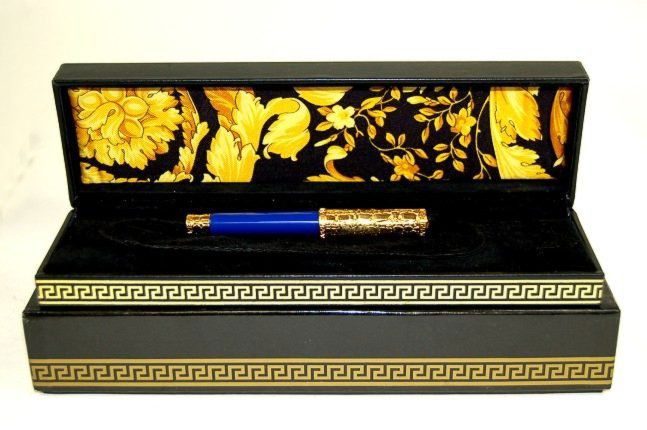 New Giani Versace fountain pen in original box having Medusa blue and gold lacquer
Accepted payment methods

:
TERMS AND CONDITIONS: *PLEASE READ TERMS AND CONDITIONS IN ITS ENTIRETY AS IT IS A BINDING CONTRACT AND CONDITIONS ARE NON-NEGOTIABLE* NO GUN SALES OR GUN SHIPMENTS TO CALIFORNIA. AT THIS TIME WE DO NOT ACCEPT INTERNATIONAL BIDDERS. ***IMPORTANT*** SEE SHIPPING TERMS AND CONDITIONS - CONDITIONS ARE NON-NEGOTIABLE*** All items are sold on an as-is, where-is basis with no warranty or guarantee as to condition, merchantability or fitness to use stated or implied. The auctioneer shall not be responsible for correctness of description, authenticity, authorship, provenance or genuineness. ONLINE BIDDERS WHO ARE NOT PRESENT AT THE LIVE AUCTION OR PREVIEW UNDERSTAND AND ACKNOWLEDGE THAT THEY MAY NOT BE ABLE TO INSPECT AN ITEM AS WELL AS IF THEY EXAMINED IT IN PERSON. IT IS THE BIDDER'S RESPONSIBILITY TO DETERMINE CONDITION, AGE, GENUINENESS, VALUE OR ANY OTHER DETERMINATIVE FACTOR. Empire Estates and Auctions shall endeavor to describe in detail each item and any pertinent information about it. Empire Estates and Auctions will not be responsible for any errors or omissions in the description of the merchandise unless it is a material and intentional misrepresentation of the item itself. Bidder agrees that items are sold as is and they may not return any item(s) purchased. 15% buyer's premium PAYMENT IS DUE UPON 24 HOURS OF AUCTION END Empire Estates and Auctions provides Internet pre-auction and live bidding as a service to Bidder. Bidder acknowledges and understands that this service may or may not function correctly the day of the auction. Under no circumstances shall Bidder have any kind of claim against Empire Estates and Auctions or any employee there of if the Internet service fails to work correctly before or during live auction. Empire Estates and Auctions will not be responsible for any missed bids from any source. Internet bidders who desire to make certain their bid is acknowledged should use the proxi-bidding feature and leave their maximum bid 24 hours before the auction begins. Empire Estates and Auctions reserves the right to withdraw or re-catalog items in this auction. IN THE INSTANCE OF DISPUTES BETWEEN ONLINE BIDS AND ONSITE BIDS, IN CASES SUCH AS BOTH CLAIMING THE SAME BID AT THE SAME TIME, PREFERENCE WILL BE GRANTED TO ONSITE BIDDERS. PAYMENT INSTRUCTIONS: PAYMENT IS DUE WITHIN 24 HOURS OF AUCTION END We accept Visa, Mastercard, and Discover. At this time we do not accept American Express or PayPal. Your credit card will be charged for your purchases, plus buyer's premiums, and any taxes within 24 to 48 hours after end of the auction. Nothing will be charged to your card until a purchase is made. Credit card chargebacks will not be accepted. IF BIDDER HAS NOT PROVIDED PAYMENT FOR ITEM(S) WITHIN 7 DAYS OF AUCTION END, EMPIRE ESTATES and AUCTIONS WILL FILE A DISPUTE AGAINST BIDDER AND THE ITEM(S) WILL BECOME THE PROPERTY OF EMPIRE ESTATES and AUCTIONS AND WILL BE ELIGIBLE FOR RE-SALE. **A declining credit card will result in an additional $15.00 fee added to the grand total charge and bidder must provide other payment within 3 DAYS of declined card or item(s) will become the permanent property of Empire Estates and Auctions** Taxes are applied only if applicable - Arizona buyers will be charged an 8.95% sales tax as per Scottsdale's tax code THERE WILL BE A SECOND CHARGE TO YOUR CREDIT CARD FOR SHIPPING ONCE ITEM(S) IS READY TO BE SHIPPED. ***IMPORTANT***SEE SHIPPING TERMS and CONDITIONS: CONDITIONS ARE NON-NEGOTIABLE*** SHIPPING: We utilize USPS Priority mail for most items Please be aware that large and/or fragile items may require packaging and shipping by UPS Packing and shipping costs are the responsibility of the buyer. Fragile items, heavy items and purchases of high value may require us to use a professional packer and may result in higher shipping costs. Our first priority is to deliver your new purchase in excellent condition. Empire Estates and Auctions decision on choice of shipping service is NON-NEGOTIABLE and will assist in making the arrangements. All items MUST be insured for the total purchase price. WE DO NOT ACCEPT REQUESTS FOR SHIPPING SERVICES OUTSIDE OF USPS, UPS, OR NAVIS (our local professional packaging/shipping service). We WILL NOT provide shipping quotes, however, upon request we will be happy to provide item measurements/weight so that bidder may research quotes on his or her own with USPS, UPS or Navis. WE STRIVE TO HAVE YOUR ITEMS SHIPPED WITHIN 10-15 BUSINESS DAYS AFTER AUCTIONS END. THERE WILL BE A SECOND CREDIT CARD CHARGE AFTER THE INITIAL PURCHASE FOR S/H/I. If credit card is declined upon charge for shipping the bidder has 3 DAYS to provide payment for shipping of item(s). If auction house has not received payment after 3 DAYS, the item(s) will become the PERMANENT PROPERTY OF EMPIRE ESTATES AND AUCTIONS. THERE WILL BE A 10% (OF TOTAL SHIPPING COST) HANDLING FEE ADDED TO TOTAL SHIPPING CHARGE. ***IF BIDDER REFUSES SHIPPING COSTS, EMPIRE ESTATES AND AUCTIONS WILL NOT MAKE A SECOND ATTEMP TO SHIP ITEM(S). UPON REFUSAL, THE ITEM(S) WILL BE STORED AT AUCTION HOUSE FOR 7 DAYS. IT IS THE BIDDERS RESPONSBILITY TO RETREIVE ITEM(S) AT OWN EXPENSE WITHOUT THE ASSISTANCE OF EMPIRE ESTATES AND AUCTIONS WITHIN THAT 7 DAY PERIOD UPON REFUSAL OF SHIPPING COSTS. IF ITEM(S) HAS NOT BEEN RETRIEVED BY BIDDER AFTER 7 DAYS, THE ITEM(S) WILL BECOME THE PERMANANT PROPERTY OF EMPIRE ESTATES AND AUCTIONS AND THERE WILL BE ABSOLUTELY NO REFUND FOR THE HAMMER PRICE OF ITEM(S) OR BUYERS PREMIUM. ITEM(S) WILL THEN BE ELIGIBLE FOR RE-SALE. UPON BIDDERS REFUSAL OF SHIPMENT CHARGE, ANY FEES CHARGED TO US BY SHIPPING COMPANY UTILIZED WILL BE CHARGED TO BIDDERS ACCOUNT.
Bid Anywhere, Anytime. Download the LiveAuctioneers App.
Available on the App Store
Android App on Google Play