Auction ended on May 19th, 2012 UTC
35: Antique SS & Co. Brass Teapot & Stand w/ Burner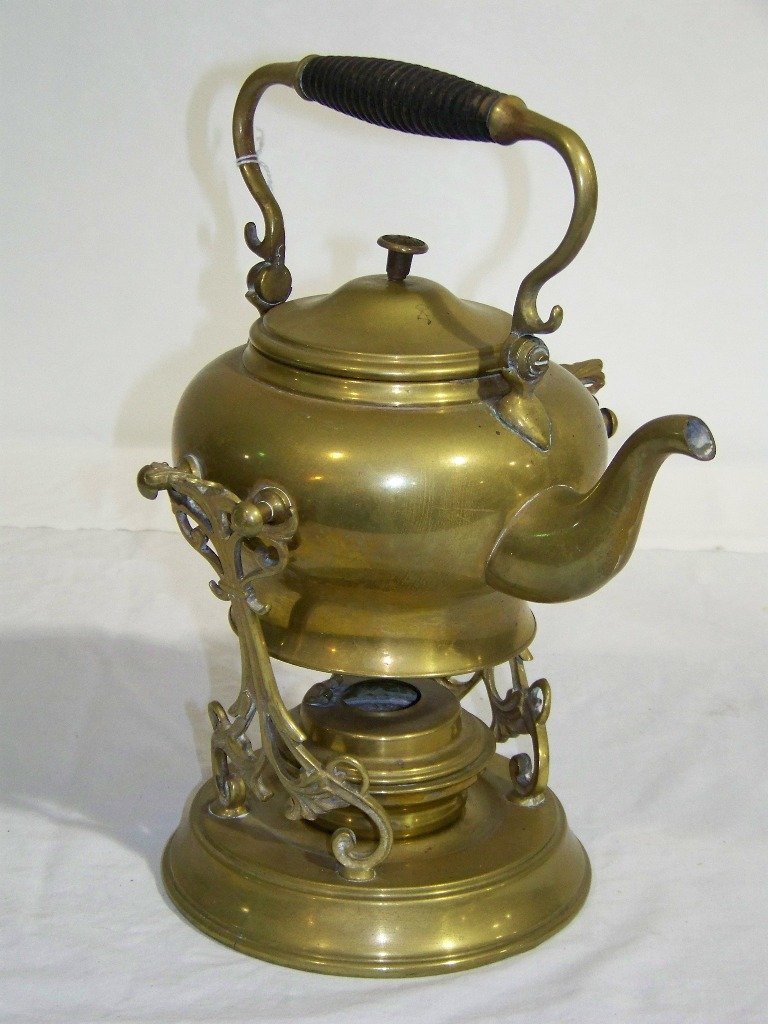 Vintage Brass Teapot with Stand and Burner SS & Co. Trade Mark Tea Kettle. Stands app.12" tall and app.8 1/2" wide. Looks to have a replaced lid finial and has no cover on burner as shown.
Accepted payment methods

:
K&M AUCTION 1583 North Military Trail, W. Palm Beach, FL. 33409 Ph: (561) 615-0329 Fax: (561)615-3103 e-mail: kmauction@att.net PLEASE NOTE: ALL BIDDERS SHOULD READ AND FULLY UNDERSTAND THE FOLLOWING TERMS. Buyers pay ALL SHIPPING, INSURANCE, and PACKAGING SUPPLY costs. All items need to be paid within 7 days of the end of the auction. We will ship most items inhouse directly to you. Any breakable items as well as larger items are packed and shipped by a 3rd party packer & shipper. We can provide you with information about our recommended 3rd party shippers upon request. If we do not comment about or include shipping regarding the transaction it should be assumed that it is the customers' responsibility to seek out a 3rd party shipper. Our recommended 3rd Party Shippers are: Nick Ford with Pack on The Go (561)498-7801 info@packonthego.com also Eagle Shippers (561)932-0700 ryan@eagleshippingcenter.com and Derek Moses with the UPS Store at 561 835 9791 store1226@theupsstore.com Please call for quote. IDENTIFICATION - All purchasers are required to have a bidder's number after giving full name, address and telephone number. The bidder is responsible for knowing which item is up for bid. If he is unsure, he should inquire or not bid. If you are winning bidder at an auction you have affected a contract and will be expected to pay for the items. The auctioneer will not honor "mistakes". The auctioneer reserves the right to accept bids in any increments he feels is in the best interest of the seller. He also reserves the right to reject the bid of any person whose conduct, actions or adverse comments he feels are not in the best interest of the seller. The bidder should inspect all items before bidding, because... you bid, you win, you own. DISPUTES - The auctioneer shall designate the winning bidder after each item is auctioned. If a dispute arises between two or more bidders, the auctioneer reserves the right to reopen the bidding. The decision of the auctioneer is final and absolute. CONDITION OF ITEMS SOLD - All items are sold as is, where is, with all faults. All items should be examined in person prior to bidding. Descriptions of items appearing in prior advertising are believed to be correct. However, descriptions or any oral statements made by the auctioneer or his agents or officers concerning any item shall not be construed as a warranty, either expressed or implied. Your bidding will signify that you have examined the items as fully as you desire, or that you have chosen not to examine them. The bidder examines the merchandise and accepts it as is. Written and oral descriptions are our opinions and should in no way be construed as a guarantee of any kind as to age, condition, materials or any other feature of times being sold. The buyer relies solely on his own information and inspection. We recommend prospective bidders examine all items in which they have an interest. If you require absolute certainty in all areas of authenticity, and the results of your evaluation leave uncertain in your mind, we recommend you not bid on the item in questions. We do not give refunds. The winning bidder becomes the owner of the item immediately at the close of the bid. The auctioneer is not responsible for error. All sales are final. No statement written or oral made by the auctioneer shall be deemed a warranty or assumption of liability by K&M Auctions or by any seller represented by K&M Auctions. Our printed materials (i.e. Partial Catalogs, Catalogs, or Advertisements) are meant merely as a guide, not a guarantee. Please determine condition, genuineness and/or authenticity BEFORE you bid as all items are sold "As is, Where is." TIME & MANNER OF PAYMENT - All bills must be paid in full before leaving the premises the day of the sale. The full purchase price on all lots sold to the same buyer must be paid before the removal of any items. We accept cash(in person only), approved checks, Visa & Master Card. Credit card purchased made via telephone are subject to an additional 3.0% transaction fee. Paypal is the preferred method of payment. Payments should be made in 7 Days, If an item goes unpaid for, two weeks after the auction, and we have not heard word from the buyer, we reserve the right to cancel the transaction and leave your bidder info to the world wide wed for nopayment. COMPLIANCE WITH TERMS OF THE SALE - In default of payment within the time specified, the auctioneer, in addition to all other remedies allowed by law, may retain any and all monies received as deposit or otherwise as liquidated damages. Lots not purchased and removed in the time specified may be resold at public or private sale without further notice, and deficiency, together will all expenses and charges of re-sale, will be charged to the defaulting purchaser. REMOVAL - Removal shall be at the expense, liability, and risk of the purchaser. The Auction Company shall not be responsible for delivery and reserves the right to hold purchases pending check clearance. Online bidders: removal is at buyer's expense and needs to be taken care of at a reasonable time frame (2 weeks from auction date). CLAIMS - No claims allowed after goods are removed from premises. PERSONAL AND PROPERTY RISK - Persons present at the exhibition, sale or removal of goods assume all risks of damage or loss to person or property and specifically release the auctioneer and auction company from liability. RECORDS - The record of sale kept by the auctioneer and bookkeeper will be taken as final in the event of dispute. LIMITED WARRANTY - Although K&M auctions exercises due care in describing the paintings and drawings listed and uses its best judgement in attributing authorship, neither K&M Auctions, its employees, nor the consignor/seller make any express or implied warranty as to such authorship. Storage: If an item remains in our warehouse past 14 days, we will start charging $10.00 per day per item until removed. There is a $29.00 charge for any check presented to us and then returned by your bank for any reason. ALL ITEMS SOLD AS IS WHERE IS WITH NO GUARANTEE. 18% BUYER'S PREMIUM WILL APPLY TO ALL PURCHASES Buyers pay ALL SHIPPING, INSURANCE, and PACKAGING SUPPLY costs. Any breakable items as well as larger items are packed and shipped by 3rd party packer & shipper. We will provide the information about our 3rd party shipper upon request. If we do not comment about shipping regarding the transaction it should be assumed that it is the customers' responsibility to seek out a 3rd party shipper.
Bid Anywhere, Anytime. Download the LiveAuctioneers App.
Available on the App Store
Android App on Google Play