lots of lots
Auction ended on April 28th, 2012 UTC
172: An ivorine cane of a Japanese mother and child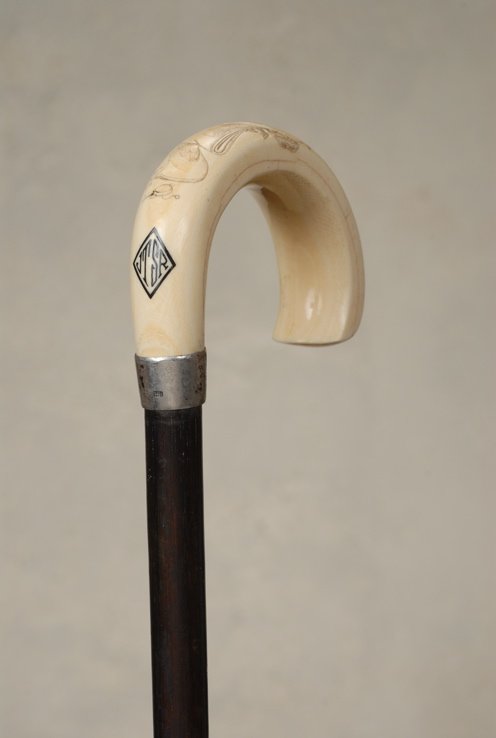 A very nice ivorine cane of a Japanese mother and child. Made of ivorine or another early ivory substitute, the crook handle is about 5" along the arc and 1" thick. It depicts on the top, in detailed low relief, a Japanese young mother dressed in traditional costume, holding her child. In a diamond below the image are the incised and inked initials of the owner. There is a 1/2" silver collar marked with small Oriental characters on a dark rosewood shaft with a 7/8" replaced brass ferrule. The overall length is 33 2/3" and the condition is very good. It was probably made sometime in the first half of the 20th Century. Estimate: $250-$450.
Shipping
Tradewinds maintains separate shipping policies for domestic and international buyers. PBUYERS FROM THE USA: PSuccessful phone, absentee or live internet bidders from the US will be contacted and invoiced by Tradewinds Antiques within 5 days. The invoice will include a charge for shipping that is based on the total merchandise value (for insurance purposes) according to the following schedule. For an invoiced total up to 1000, 30; 1001-2000, 35; 2001-3000, 40; 3001-4000, 45; 4001-5000, 50; 5001-6000, 55; 6001-7000, 60; 7001-8000, 65; 8001-9000, 70; and over 9000, 75; PUpon payment of the invoice, Tradewinds Antiques will ship the goods to the customer's US address. Tradewinds Antiques, at its discretion, reserves the right to hold the goods goods until payment clears. PINTERNATIONAL BUYERS: PIT IS THE INTERNATIONAL BUYER'S RESPONSIBILITY TO ARRANGE AND PAY FOR PACKING SHIPPING. WE DO NOT MAKE SHIPPING ARRANGEMENTS OR QUOTE SHIPPING CHARGES FOR INTERNATIONAL SHIPPING. ALL INTERNATIONAL BUYERS MUST CONTACT A SHIPPING COMPANY TO MAKE ALL PACKING AND SHIPPING ARRANGEMENTS INCLUDING PICK UP, SHIPPING CHARGES, AND CLAIMS. Final arrangements and agreements are strictly between the buyer and the shipper. Tradewinds Auctions is not responsible for the buyer's choice of a shipper or for any damage or loss during shipping. PA local shipper that may be able to help you is: PGlobal Packing and Shipping 25 Washington Street Camden, ME 04843 Phone: 207-236-2926 infoglobalpackingandshipping.com PNOTE: IT IS SOLELY THE RESPONSIBILITY OF THE BUYER TO ARRANGE FOR THE LEGAL INTERNATIONAL SHIPMENT OF ITEMS THAT CONTAIN IVORY, RHINOCEROS HORN, MARINE MAMMAL PRODUCTS, OR TORTOISESHELL.
Payment
Tradewinds Antiques contacts and invoices successful phone, absentee, and internet bidders within 5 business days of the sale. Payment is due immediately after receipt of the invoice. Payment must be in US dollars. PFor US buyers, we accept personal check, money orders, bank transfer, cash (at the live sale only), and Mastercard or Visa. PFor international buyers, we accept only Mastercard, Visa, or certified checks in US dollars. PPlease contact Tradewinds Antiques at 978-526-4085 or by email to auctionstradewindsantiques.com for questions or to make payment arrangements. Tradewinds Antiques, at its discretion, reserves the right to hold the goods until payment clears.
Accepted payment methods
Taxes
Massachusetts sales tax of 6.25% applies if you reside in Massachusetts. If you have a Massachusetts Tax ID number you must contact Tradewinds Antiques to adjust your total amount due. We will require a copy of your MA Tax Resale Certificate for an adjustment to be issued.
Please Read Before Bidding
We strongly recommend that you or your agent personally inspect all items before bidding. A noted feature of Tradewinds Antiques cane auctions is the inclusion of a general description of each lot for the convenience of our customers. These descriptions are provided as general guides and may contain errors or omissions. Tradewinds Antiques shall have no responsibility for any error or omission in the description of any lot, either written or verbal. At times, lot descriptions may contain speculative language, narration, or an estimation of age. Any such statements are to be considered opinion, may not be accurate, and are not a guarantee of age or authenticity. Tradewinds Antiques cannot and does not guarantee the age andor authenticity of any items. It is entirely up to the bidder to determine age andor authenticity of items. On the www.liveauctioneers.com system, the absence of text in the Condition Report section does not imply that the lot is in perfect condition or completely free from wear and tear, imperfections or the effects of aging. See the description for general information on condition and please contact us if you need additional information.
Terms
1) A 15% Buyers premium will be added to the hammer price of each lot. A 3% discount will be subtracted from the hammer price of each lot for any personally attending buyer who is purchasing for themself at the sale. Telephone bidding, absentee bidding, either written or electronic, do not qualify for the 3% discount. Those bidding live on the internet are subject to an 18% buyers premium. 2) All goods are sold "as is" and may not be returned for any reason. It is the responsibility of all who bid to examine and evaluate each lot to determine their own level of interest. There are no warrantees, express or implied and neither Tradewinds nor the Consignor of an item is responsible for the total accuracy of the descriptions of any goods. All descriptions written or oral, are opinions and are offered for convenience only, and should not be considered in any way as a warranty or guarantee of authenticity, age, or condition of any goods. 3) In case of disputed bids, Tradewinds alone will determine who the successful bidder is and may at their discretion re-offer the item in question. If a dispute arises after the auction, the Auction Sales Record will be the final source as to who purchased and for what price. 4) There may be some lots offered that are subject to a reserve. The reserve is a confidential minimum price agreed upon between Tradewinds and the Consignor, below which the item will not sell. In all cases the reserve amount is set at or below the low estimate for the lot. Tradewinds may execute the reserve by bidding for the Consignor competitively against the audience, telephone bidders, or absentee bidders. Should bidding fail to exceed the reserve, a verbal announcement will be made before the next lot is offered. In no case are Consignors or their agents allowed to bid on or ?buy back? their own goods. 5) The auctioneer will apply bidding increments as follows: For bids falling between 000 to $500: $25, for $500 to $1000: $50, for $1000 to $3000: $100, for $3000 to $5000: $250, for $5000 to $10000: $500, and for $10000 and up: $1000, or at the discretion of the auctioneer. All absentee bids, including live internet bids, must conform to these increments or they will be adjusted to the next lower increment that does conform: e.g., $1025 to $1000, $2150 to $2100, etc. 6) Tradewinds reserves the right to reject any bids that in their opinion are not commensurate with the value of any item. 7) Absentee bidding is allowed by telephone, mail, fax, email, or personal visit to preview. Tradewinds will not be held responsible for bids that do not reach them on a timely basis, or for any mistakes made in executing any bids. All bids will be handled competitively. All bids must conform to the bidding increments rules, (See #5). Tradewinds may request a deposit or a credit card guarantee in order to be accepted an absentee or online bidder. 8) Tradewinds may without notice, withdraw any items from the Sale at their discretion. 9) Massachusetts Sales Tax will be collected from all buyers not presenting proof of a valid Sales Tax resale number when requested to do so. 10) All purchased items must be paid for in full on the day of the auction or when an invoice is communicated or received, in US currency. Acceptable forms of payment are cash, personal check, MasterCard or Visa, or bank transfer. For international bidders, acceptable forms of payment are only MasterCard, Visa or certified checks in dollars. Tradewinds reserves the right to hold goods until payments clear, at its discretion. 11) All goods will be tagged and can be claimed by those buyers in attendance in the holding area upon presentation of payment receipts. All absentee bidders will receive an invoice within five working days. Payment and any domestic, (within the United States), shipping requirements can be arranged through Tradewinds? calling auctioneer, Bruce Gamage Jr. of Rockland Maine. 12) International shipping is the sole responsibility of the buyer including any materials documentation requirements for ivory, marine mammal products, tortoiseshell or rhinoceros horn, that are the complete responsibility of the buyer. Tradewinds can suggest names of International shippers upon request. 13) By bidding at this Auction, you agree to the above Terms and Conditions of the Sale. Please read them carefully.
Bid Anywhere, Anytime. Download the LiveAuctioneers App.
Available on the App Store
Android App on Google Play