Auction ended on April 22nd, 2012
9: CHEREMNYKH, M. The Capitalists Are Screaming, 1919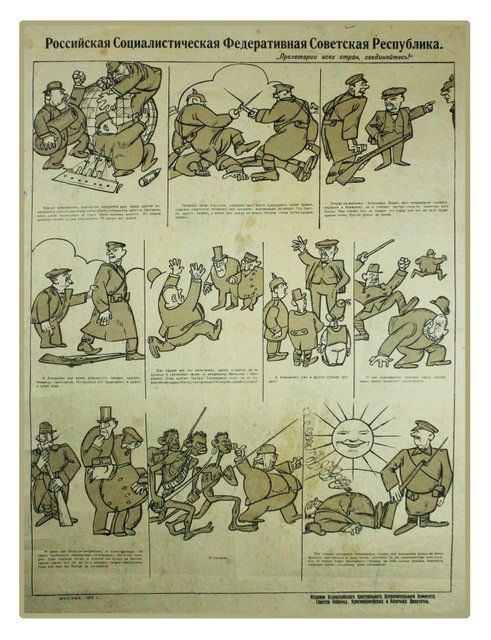 Krichat kapitalisty ... [The Capitalists Are Screaming ...], a poster by Mikhail Cheremnykh (1890-1962, People's Artist of the Russian Federation, full member of the Soviet Academy of Arts). Published by VTsIK Publishing, Moscow, 1919, 78 x 54 cm.

This cartoon-style poster, proclaiming the inevitability of the worldwide proletarian revolution, is often considered a direct precursor of ROSTA Windows. It is also one of the first Soviet posters to feature a recognizable image of Lenin (the "Bolshevik" character). For a detailed discussion, see Stephen White's The Bolshevik Poster.

Mikhail Cheremnykh is a major name in the history of the Soviet poster art. While Mayakovsky is widely acknowledged as the main driving force of the ROSTA Windows enterprise, it was Cheremnykh who came up with the original idea and served as ROSTA Windows' Artist-in-Chief.

Search extension words: Russian poster, Soviet poster.
Bid Anywhere, Anytime. Download the LiveAuctioneers App.
Available on the App Store
Android App on Google Play