Auction ended on April 12th, 2012 UTC
423: Große Deckeltasse mit Porträtmedaillons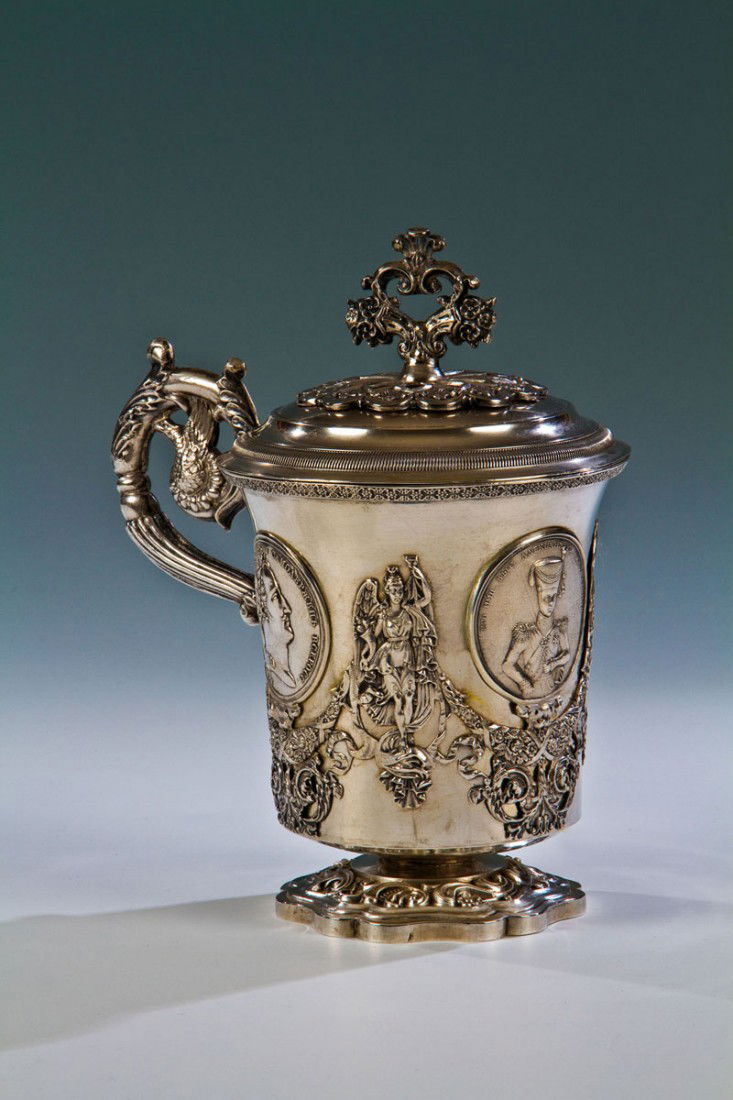 Katalogbeschreibung deutsch:
Große Deckeltasse mit Porträtmedaillons St. Petersburg, wohl Joachim Hasselgren, 1840 Silber, getrieben, gegossen und ziseliert. Mehrpassiger Fuß auf der Oberseite mit reliefiertem Blattwerk verziert. Auf der nahezu zylindrischen Wandung mit ausschwingendem Lippenrand drei applizierte Ovalmedaillons mit den Porträts von Nikolaus I., seinem Sohn Alexander II. Nikolajewitsch und seiner Gemahlin Alexandra Feodorowna. Gerahmt von reliefierten Nikenmotiven und Blütengirlanden. Akanthusranken-Henkel. Auf dem Steckdeckel plastisch gearbeitete Füllhornmotive. Punziert mit Stadtmarke, Meisterzeichen, Feingehalt ''84'' und Beschaumeistermarke. H. 16,8 cm, 360 g

Katalogbeschreibung englisch:
A silver handled cup and cover. The cylindrical body applied with three cartouches depicting Nicholas I, Aleksandr II Nikolaevich and Alexandra Fyodorovna, below a continuous frieze of nikes with laurel swags. The scroll handle and domed cover surmounted by cornucopias. Marked with city hallmark, assayer's mark, 84 standard and master's mark. St. Petersburg, probably Joachim Hasselgren, 1840. 16.8 cm high, 360 gr.
Bid Anywhere, Anytime. Download the LiveAuctioneers App.
Available on the App Store
Android App on Google Play