Auction ended on March 30th, 2012 UTC
311: Ornate cast and brass chandelier with fringes.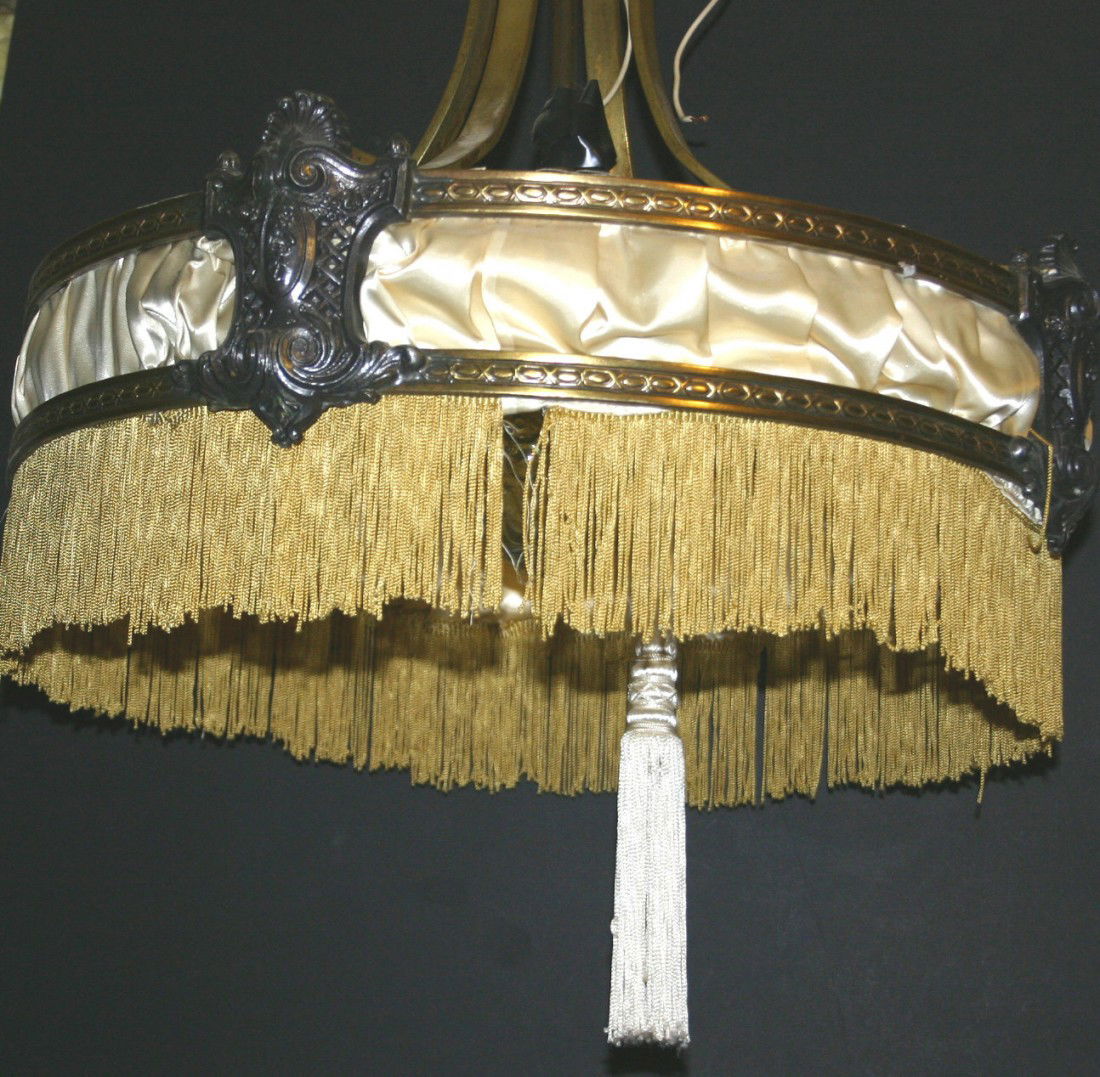 Ornate cast and brass chandelier with fringes.
Accepted payment methods

:
Payment
Contact For Payment Details
Terms
1. Announcements: Announcements from the auction stand take precedence over all printed material. Witman Auctioneers Inc. and Seller are not responsible for any statements made in any printed material or from the auction stand concerning the items listed herein or for any warranties impressed or implied on their behalf. Witman Auctioneers Inc. and Seller are not responsible for any errors, misstatements or omissions listed herein or made from the auction stand. 2. Bidding: The highest bidder shall be the buyer. The auctioneer and the seller have the right to accept and/or reject all bids. The auctioneer shall forthwith adjudicate any disputes concerning the manner in which the bids are made or received, and his decision shall be final, absolute and binding on all parties. 3. All Property For Sale Is Sold AS-IS with no guarantee whosoever, and all sales are final. We have made every attempt to catalog each item as accurately as possible; however, there may be inaccuracies. We strongly encourage prospective buyers to inspect each item personally and make their own judgment. We will absolutely not accept any returns or make any adjustments for any cause whatsoever. Upon the fall of the hammer or said sold, the title and responsibility for each item or lot passes on to the purchaser. In the case of a disputed bid, the auctioneer, at his discretion, will determine the successful bidder or re-offer and re-sell the article in dispute. The auctioneers reserve the right to make verbal corrections and provide additional information from the auction stand at the time of sale. In all matters, the records of the auction will be final. 4. No Warranty: Each item is being sold "as is" and "where is." Witman Auctioneers Inc. and Seller make no guarantee or warranty of any kind as to the condition of any item sold at this auction. Witman Auctioneers Inc. and Seller shall not be liable or responsible for any representation or misrepresentation. 5. Absentee Bidding: Will be required with a 50% deposit by money order or certified check. Any such deposits will be refunded if the bid is not successful. It is entirely possible to buy items by absentee bid for less than your top bid price as they are handled competitively. All bids are handled in competition with audience on an alternate basis. Due to uncertainties of bidding, a lot may sell to the floor bidder for the same amount as an absentee bid. All sales are final and must be paid in full immediately. Items must be inspected before leaving absentee bids. An additional 5% fee will be applied per item for handling this service. 6. Phone Bidding: There are a limited number of phones available and will be issued on a first come, first serve basis. Phone bidding is available on items valued at $500.00 and up only to approved buyers, however, arrangements must be made at least 72 hours prior to the auction. Witman Auctioneers Inc. must have a payment of 50% deposit in hand prior to handling any phone bids! An additional 5% fee will be applied for handling this service. Witman Auctioneers Inc. holds the right to reject any phone bids. 7. Live Auctioneer Bidding: All bids through live auctioneers, come to Witman Auctioneers as the item is being offered for auction. Witman Auctioneers has no knowledge of any bids prior to the selling of that item. Witman Auctioneers is not responsible for any error, delays, omissions, or any matter of discrepancy on bids through Live Auctioneers. If there would be a tie bid between the internet bidding and live bidding in the audience, the audience bid will take priority. The Auctioneers hold the final decision on that matter. 8. Payment: Payment forms are cash, money orders, and travelers checks, personal checks(with Witman Auctioneers Inc. approval). Those not known by us must provide a bank authorization guaranteeing their check. We reserve the right to hold items purchased until funds have cleared the bank. Major credit cards will be accepted, except American Express, with any purchases. Payments must be made prior to removal of items from the auction. Absentee, telephone bidders must make payment within seven (7) business days. 9. A Twenty Percent (20%) Buyers Premium is applied to all items sold. 6% Pa Sales tax will apply to ALL purchases, unless a tax number is given, and verified by the auction company. 10. All weights, descriptions, and measurements are approximate and believed to be accurate. The Auction Company does not guarentee the weights and will not assume responsibility for any inaccurate weights, descriptions, or measurements. 11. Shipping: Witman Auctioneers Inc. does not pack or ship any items in house. All items are sent through the UPS Store, a third party shipping company. Please contact Richard at the UPS Store at (717) 733-1482 or store3230@the upsstore.com for any shipping inquiries regarding any potential shipping costs prior to the auction. Witman Auctioneers reserve the rights to hold merchandise until personal checks clear. All items must be scheduled for removal within Seven (7) days or be charged a monthly fee of 5% of the purchase price. Please note: if you are successful on items it could take up to several weeks until your items are received. BIDDING ON ANY ITEM INDICATES YOUR ACCEPTANCE OF THESE TERMS AND ANY TERMS ANNOUNCED AT THE TIME OF THE AUCTION.
Bid Anywhere, Anytime. Download the LiveAuctioneers App.
Available on the App Store
Android App on Google Play