Auction ended on March 4th, 2012 UTC
21: WILLIAM JOHNSON, 1769 Manuscript Document Signed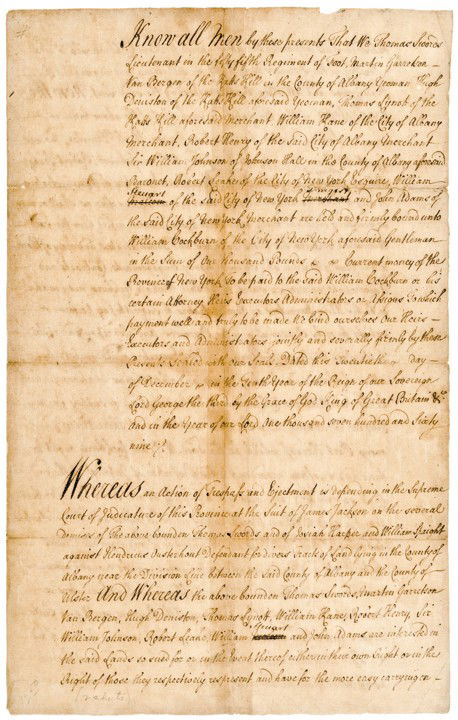 Autographs
1769 Manuscript Document Signed by Sir William Johnson
SIR WILLIAM JOHNSON (1715-1774). British Colonial Official who settled in New York's Mohawk Valley and became wealthy from the Fur Trade and purchasing land from the Indians, Superintendent of Indian Affairs, Major General in French and Indian War, Loyalist in the American Revolution.
December 20, 1769-Dated, Manuscript Document signed by Sir William Johnson and several other military Officers, 4 pages, 12.25" x 7.5", New York, Fine. This Colonial Era Document relates to a lawsuit between several citizens of New York and a dispute of boundary lines between Albany and Ulster, New York. Some of the parties named who signed on the third page include: Thomas Swords, Marten Garretson Van Bergen, Hugh Deniston, Thomas Lynott, William Kane, Robert Henry, Sir William Johnson, and several others.

This document reflects an "ejectment" case. These suits were brought on behalf of a fictitious current tenant, often called "James Jackson," as is the case here. The parties above have bonded famed surveyor and map maker William Cockburn to represent their claims before the Superior Court. Archival linen previously applied for preservation, older small repairs include a vertical strip of clear tape along the 2nd page at center with some show-through, evenly toned laid period paper the 2 pages are separate, and the signature page is tipped at its edges to a larger page. Signatures and text are bold and vivid, the entire document is easily readable. Documents that are Signed by Sir William Johnson are extremely rare and valuable to collectors.
At the conclusion of the Seven Years War, the British Government did not want to pay to support thousands of soldiers in Ireland, England and America. They encouraged the resignations of their soldiers and, as incentive, promised 2000 acres of wild land in America and half salary to each man who gave his notice. To get around the prohibition on granting more than 2000 acres of land to a single individual, Sir William used a variety of devices, one being to set up a dummy "partnership" of twenty people to purchase 20,000 acres of land from the Indians.

Bid Anywhere, Anytime. Download the LiveAuctioneers App.
Available on the App Store
Android App on Google Play