Auction ended on March 4th, 2012 UTC
13: HORATIO LLOYD GATES, Autograph Document Signed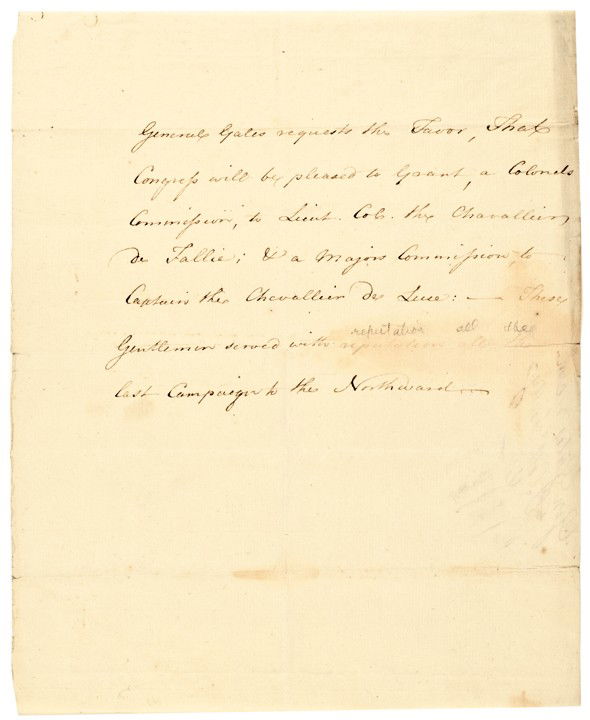 Autographs
General Horatio Gates Requests The Favor That Congress Acts to Grant Two French Soldiers Military Commissions
HORATIO LLOYD GATES (1727-1806). British soldier who served as an American General during the Revolutionary War who took credit for the American victory at the Battle of Saratoga only after General Benedict Arnold, who led the attack, was finally forced from the field when he was shot in the leg and was blamed for the defeat at the Battle of Camden.
c. August 1778 Revolutionary War Period, Autograph Document Signed in the text, "General Gates," 1 page, measuring 9.25" x 7.5" no date, no place, Very Fine. This very finely penned, easily readable document is written upon clean period laid paper, being his personal request to the Continental Congress to issue two Military Commissions. It reads, in full:

"General Gates Requests the Favor, That Congress will be please to Grant, a Colonels Commission, to Lieut. Col. the Chevallier de Fallie; & a Majors Commission to Captain the Chevallier de Luce. These gentlemen served with reputation all the last Campaign to the Northward." Docket written upon the blank reverse reads: "Gen. Gates recom. Lt. Coll. Failly."

The mentioned "Campaign to the Northward" mentioned within this letter is most probably the Saratoga Campaign, thus it would have been written circa August of 1778, as it was about the only time Gates was successfully in command. Only three words of text are very faint due to a fold line and some light tone, not affecting "General Gates" which heads this historic Revolutionary War Period request to the Continental Congress.
Horatio Gates was a British soldier who served in North America during the French and Indian War and became a Major General in the American Revolutioanry War Continental Army. He claimed victory at Saratoga (1777) and was involved in the Conway Cabal; he was Relieved of his Command and his conduct was questioned after the Battle of Camden in 1780. In 1782 General Gates was allowed back into service under Commanding General George Washington.

Bid Anywhere, Anytime. Download the LiveAuctioneers App.
Available on the App Store
Android App on Google Play