Auction ended on February 26th, 2012 UTC
IGT S+ 2 COIN SEVEN SEAS 25 CENT SLOT MACHINE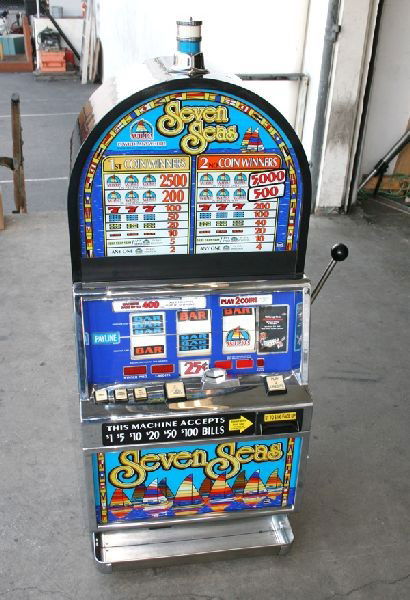 IGT S+ 2 COIN SEVEN SEAS 25 CENT SLOT MACHINE - RECONDITIONED
IGT S+ 2 COIN SEVEN SEAS 25 CENT SLOT MACHINE - RECONDITIONED
IMPORTANT-Legal Information
The laws in the following states:
Alabama
Arkansas
Connecticut
Hawaii
Indiana
Nebraska
South Carolina
Tennessee
Wisconsin
Make it illegal for any resident to own a slot machine (or video poker type machine) for non-gambling purposes. While it is legal for you to purchase such a machine, you would have to have the machine shipped to a legal State, and the machine must remain in a legal State, and cannot be transported to your home State. If you were to illegally transport the machine into your State of residence, you would be in violation of both State and Federal Law.
Please also be advised that the law does not differentiate between coins, tokens, slugs, etc. A slot machine (or video poker type machine) is illegal in your State of residence whether the machine takes coins, tokens, slugs, or any other item. We will not ship or sell to any of the above named states.
Please see below for states we can legally ship to.
Item Profile:
GOV FILE #
Asset Type:
CollectIble
Shipping and Fees
Shipping charge is determined by your state of residence and includes professional packing.

Shipping only to the following states:
Arizona
Kentucky
Maine
Minnesota
Nevada
Ohio
Rhode Island
Texas
Utah
Virginia
West Virginia

Western states such as AZ, NV rate is $350.
Mid states such as TX, MN rate is $350.
East coast such as RI, VA rate is $400
The Fees mentioned above are non-refundable if the item is returned, except if the error is ours.
Contact and Payment Information
Email
info@GovernmentAuction.com
Phone (661) 823-1543 Copyright 2010 GovernmentAuction.com