Auction ended on February 16th, 2012 UTC
12: ANDY WARHOL, Mao, 1974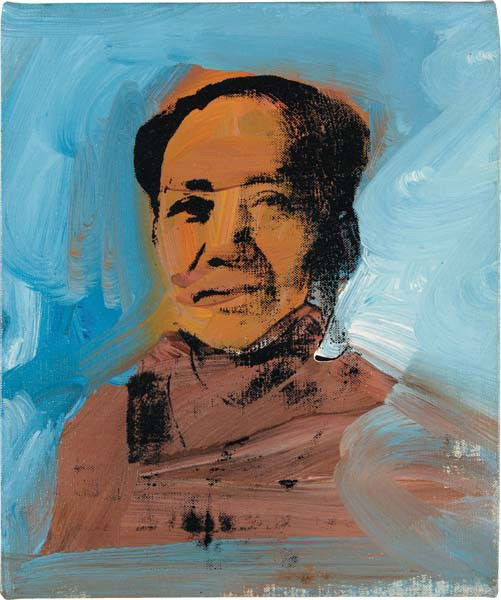 Mao, 1974. Synthetic polymer paint and silkscreen ink on canvas. 30.5 × 25.7 cm (12 × 10 1/8 in). Signed and dated 'Andy Warhol 74' and stamped with the Authentication Board seal and numbered 'A108.042' on the overlap.
Δ
‡

PROVENANCE Marvin Ross Friedman & Company, Miami Anthony Meier Fine Arts, San Francisco
LITERATURE G. Frei and N. Printz, eds., The Andy Warhol Catalogue Raisonné: Paintings and Sculptures 1970–1974, London and New York: Phaidon Press, 2010, no. 2459 (illustrated)
" Andy was enthralled by China. It was a perfect match. Here was the man who had painted the soup cans over and over in many multiples. And here we were in the nation of multiples, where everybody wore the same kind of suit." CHRISTOPHER MAKOS As two of the biggest cultural icons of the 20th century, Andy Warhol and Chairman Mao were a match made in heaven. During the Cultural Revolution (1966–76), the communist leader's official portrait was reproduced across an estimated 2.2 billion Little Red Books, making it the most disseminated image in history. So it came as no surprise that Warhol, the great chronicler of popular culture, executed a series of candy coloured, Abstract Expressionist inspired portraits in the early 1970s of the authoritarian ruler. Ubiquitous in society's collective consciousness, Andy Warhol's Mao has become our preeminent image of China's favourite son – a tribute to Warhol's lasting legacy and his uncanny ability to tap into a cultural trend. Warhol's fascination with the political figure began in 1972 as a result of President Nixon's landmark visit to the communist nation. At the height of the Cold War, the United States struck a diplomatic and public relations coup when the American President sojourned in China, leading to a historic easing of relations between the two countries. The media's heavy coverage of 'the week that changed the world' inundated the American public with images of an unfamiliar China and its enigmatic leader, Chairman Mao Tse-Tung. On 3 March 1972, Mao graced the cover of Life magazine with the headline 'Nixon in the land of Mao'. Warhol must have read this issue since when Bruno Bischofberger, the artist's dealer, suggested he create a series of portraits of famous figures starting with Albert Einstein, Warhol responded "Oh, that's a good idea. But I was just reading in Life magazine that the most famous person in the world today is Chairman Mao. Shouldn't it be the most famous person, Bruno?" And with those words Warhol came out of 'retirement' – he had 'quit' painting to focus on film in 1965 – and embarked on what would be a critically acclaimed and commercially successful body of work. As his first foray into the international political arena, the Mao paintings constitute in Warhol's oeuvre a departure from his previous highly repetitive silkscreened works of celebrities and everyday objects. Each Mao canvas is significantly individual in that it includes swathes of hand-painted colour applied in abstract expressionist style brushstrokes. These energetic expressions which nearly conceal Mao's face have been interpreted by critics and historians as a veiled subversion of a regime which outlawed creativity and self expression. Although Warhol never stated his political views, his Maos directly reference McCarthyism's post-war use of the Abstract Expressionist movement as a demonstration of American democratic freedom in contrast to totalitarian communist rule. Ultimately, the undeniable testament to the genius and power of Warhol's Mao is that it is his image and not the official portrait which is associated with the former leader. For a man widely accepted as the biggest mass murderer of the 20th century, the irony is not lost that his enduring likeness is of a chubby faced drag queen wearing fluorescent clothing and made up with luscious lips, rouged cheeks and shadowed lids. Warhol's portrait of Mao, once again underlying his trend-setting power, has influenced an entire generation of contemporary Chinese artists who have continually parodied their former leader.
Buyer's Premium

:
25%
20% up to 500000
12% above 500000